What went wrong…and ended up right?
It all started out well.
Found the recipe on Pinterest, it sounded fantastic. According to the blog post where the original recipe is, it is a popular dish in Egypt, an are of the world I am not too familiar with culinary-wise. I'm trying to expand our palettes even more than we've already expanded them. So I knew this needed to be added to a weekly menu.
I had the ingredients, I set aside time to get things done, which alone is a win because I'm usually rushing. The ingredients were a lot of items I already had, great. Matt found Allspice for me a week or two before as I had been looking at various recipes that needed it and we didn't have any at all. Otherwise other ingredients included Canola Oil, Salt and Pepper, Turmeric, Ground Ginger, Green Onion, White Onion, Cumin, Cilantro and others.
You can continue to read about my trials and tribulations or Jump to the Recipe.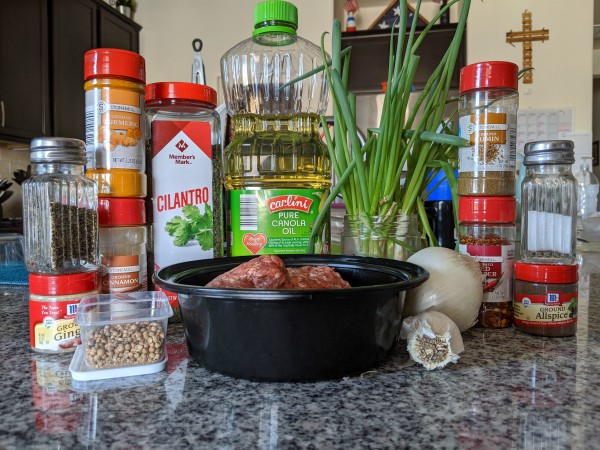 Like I said above, it all started well enough. I heated up the oil. I added the onions. I added the garlic and turmeric. The pot smelled SOOOO fragrant and delicious. I then added the ground beef, the other spices….
Then my first mistake.
I added the egg yolks to the meat mixture. I got cocky. Well, they'll be cooked.
Added protein?
I add them to Drunken Noodles and it's delicious. It'll be okay. One slip up…
Next was the phyllo dough. I hadn't used phyllo dough since I last made Baklava during our Greek adventures back in 2017. I did remember it is very fragile and to be super careful to work with it. I remember having to lay out some moistened kitchen towels to keep it from drying out too quick. So I did that, sprayed some down, I was ready to go….until I wasn't.
Second Mistake:
I had forgotten to take the phyllo dough out of the freezer the night before.
Ah yes, reading the package directions, why didn't I think of that…
Phyllo dough is found in the frozen section of the store. At our local store, it's found near the pie crusts. You're supposed to remove the package from the freezer the night before and allow to very slowly defrost in the fridge the night before using so it doesn't dry up and crumble when you go to use it.
I got it out, panicked, and then we decided to leave it out on the counter while we walked the dogs and see what happened. Our usual dog walk lasts 15-20 minutes. In my head that would equal the defrosting time in a refrigerator overnight. Makes sense, right? Nope, I couldn't unroll it without crumbling. It was still very much frozen.
So we ordered out from Five Guys for dinner instead. Back at this tomorrow.
At least the meat filling is done?
The next day
I had allowed the phyllo dough to slowly defrost overnight and was ready to attempt this again.
I cracked two more eggs, since the first two were in the filling, got my brush, laid out another kitchen towel, sprayed it, and opened up my phyllo dough. Seems ok so far.
I layered two at a time and instead of 5 inch squares I just went for the rolls that naturally divided among the sheets of phyllo dough. Next I brushed the first one with yolk and was ready to roll, literally, I just needed to spoon the meat filling onto the first one and roll.
That was a bit of a disaster, it crumbled, the meat fell out, it was just not happening.
Now years ago I would have panicked but from making Baklava in the past, a tedious dessert yet so worth it in the end, I figured this could become a layered dish.
I took the slices I had already prepared and layered them in a 9×13 baking dish, brushing with the egg yolk, and adding some of the meat filling, then repeated once more and topped with more phyllo dough. It may not be pretty but hopefully it tastes alright?
I placed the dish in the oven, crossed my fingers, and set a timer for 45 minutes about the amount of time I would bake Spanakopita or Baklava.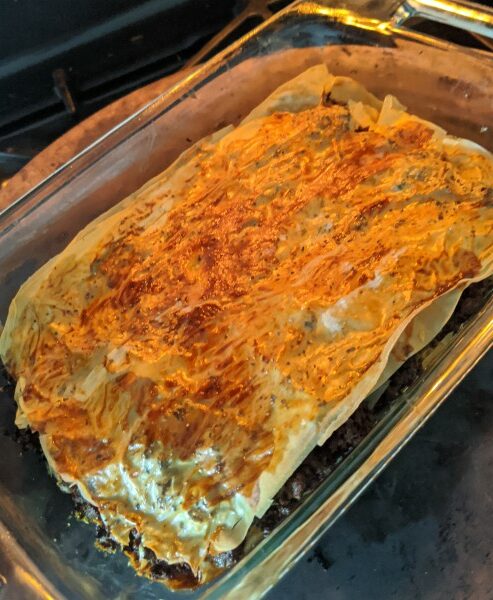 Then it was taste test time. First bite without the Garlic Aioli sauce I had successfully made the day before.
Delicious.
It's set up the same way as the rolls, but just not rolled? I then went back to the original recipe post and read that this can be done a number of ways, the author of the recipe just prefers to roll them like an egg roll. So I guess I fell into this method? The idea of folding them up in a triangle like a Samosa was intriguing though, and I may have to attempt that next time.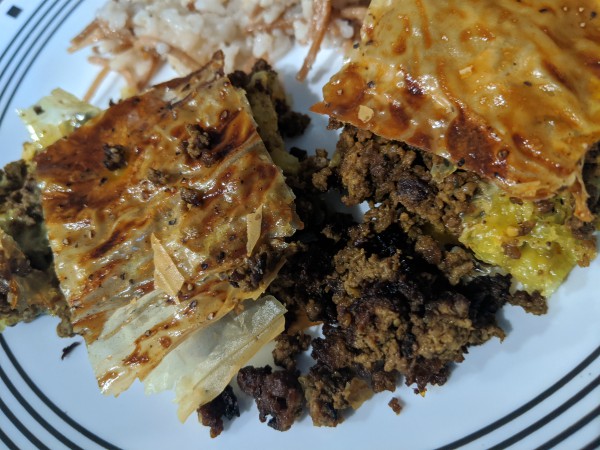 The original recipe and story behind it can be found here. But for convenience sake here you go:
Ingredients
3 lbs ground beef Use 90% ground beef
salt for taste
pepper for taste
1 tbsp plus more as needed vegetable oil for to cook veggies and ground beef
3 cups oil to fry the rolls
One onion diced
6 green onion thinly sliced
4 garlic cloves minced
1 tbs fresh turmeric grated
1 tsp cinnamon
1 tsp allspice
1/4 tsp cardamom
1/2 tsp ground ginger optional
2 tsp coriander seasoning
2 tsp cumin
2 tsp dry cilantro
1 tsp red pepper
2 egg yolks
Instructions
For the meat filling:
In a pan over medium high heat with oil add onions and cook for 2 mins or until translucent. Add garlic and turmeric and cook for one min. Add the ground beef and all the filling ingredients. Cook on medium high for 10 minutes or until brown. Drain.
For the puff pastry:
Unfold the pastry sheets on a lightly floured surface. Layer 2 sheets of dough and cut each pastry sheet into 5 inch squares
With a pastry brush, brush the edges of pastry with egg yolk. Spoon about 1/4 cup meat mixture on the end of each pastry square. Fold the 2 sides over the filling and roll until the top is reached. Working in batches, add pastry rolls to the a large frying pan of hot oil and fry until evenly golden brown and crispy, about 2-3 minutes. Transfer to a paper towel-lined plate to drain.
We paired the Sambousek with a Lebanese Inspired Rice recipe I found on Pinterest. Click the link to find out more about that. And check out the Garlic Aioli sauce (not pictured here), which I'll be finding more food to pair with because it is out of this world.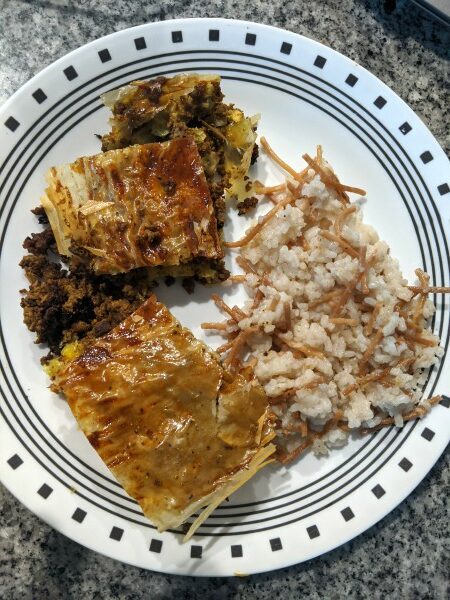 This dish used Cumin and Turmeric. Two spices that before 2019 were rarely used in my kitchen. Now it seems I'm always running out because I use them so often. I love them mixed in with eggs to add to an omelet with sweet potatoes and spinach, so much yum. Are there any spices you never touched, but now add to almost everything whether it's part of the recipe or not? Let us know in the comments!
Happy Eating!