Interestingly Delicious
I've been searching for different recipes around the world lately to save to Pinterest. I'm so excited for a new adventure we are starting and researching, so this particular Pinterest board is my new best friend. Let us know in the comments if you can figure it out.
Anyway, I stumbled upon this recipe by Feel Good Foodie. Looked interesting enough, let's go for it. But what to pair it with?
It was around the same time I also came across Sambousek. I thought perhaps all the spices in that would pair nicely with the calmer seeming rice.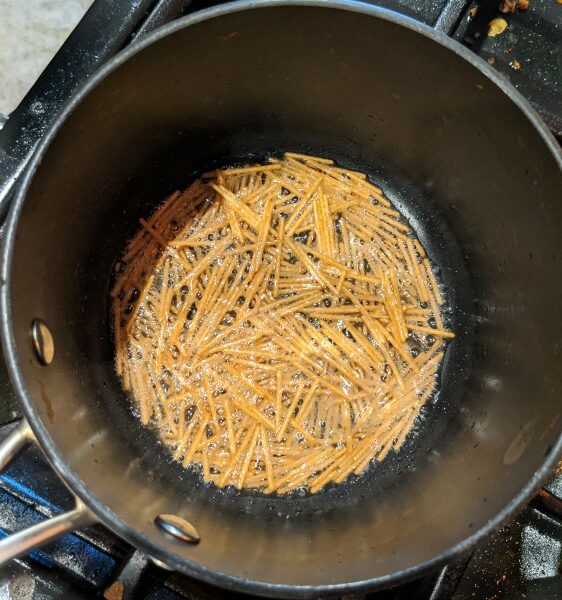 The part I was confused on was the Vermicelli pasta. We hadn't found any over the weekend, but I did find that thin spaghetti would be an acceptable substitute and we had some thin wheat spaghetti. Mixing pasta and rice? Interesting.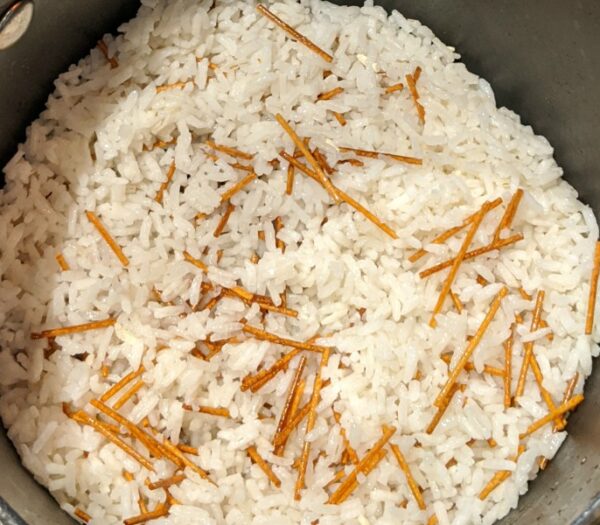 The original post and recipe are available here, story, recipe, and some tips.
Ingredients
2 cups long grain white rice
1/2 cup vermicelli pasta
2 tablespoons extra virgin olive oil
1/2 teaspoon salt
dash cinnamon optional
parsley optional, for garnish
Instructions
Rinse the rice with cold water until the water runs clear. Then transfer it to a bowl, and soak with water for 20 minutes. Drain well and set aside.
In a medium non-stick pot, heat the olive oil on medium heat. Add the vermicelli pasta and cook, stirring frequently until all the vermicelli is a deep golden brown color. Be careful not to to burn it.
Transfer the rice over the cooked vermicelli, and stir to combine and coat the rice with the olive oil. Season with salt and a dash of cinnamon, if desired.
Add 4 cups water and bring the mixture to a boil. The water will reduce in the process. Reduce the heat to low, cover the pot and cook for 15 minutes.
When the rice is fully cooked, remove from the heat and allow the rice to steam for 5 minutes. Then uncover and fluff with a fork.
Serve warm with fresh parsley, and toasted nuts, if desired.
The cinnamon was the ingredient I was unsure of. I ended up adding another dash of salt and a bit of cumin to lessen the cinnamon a bit. I think perhaps I added too much, so that one was on me.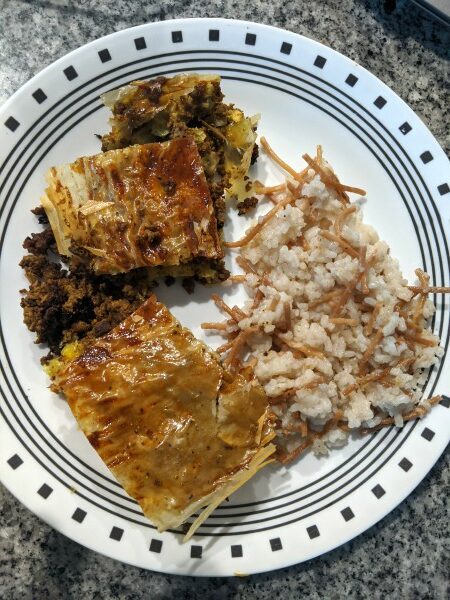 The rice went so well with the Sambousek and we even added some of the Garlic Aioli sauce I made to it which was just so delicious.
Do you make your rice in any specific ways? Does it depend on the meal or do you have a specific favorite method? Let us know in the comments!