Steak Shawarma – Changing Up One of Our Favorites
One of our favorite meals is Chicken Shawarma. This dish is full of flavor, the house smells amazing, it goes great with a fresh salad on the side. Matt was curious and wanted to know what the marinade we use would taste like with steak. So we present to you our experience with Steak Shawarma.
The Process
We went with a thin beef sirloin steak which I sliced using a pizza cutter.
I then mixed the marinade which is a combination of olive oil, lemon juice, and various spices: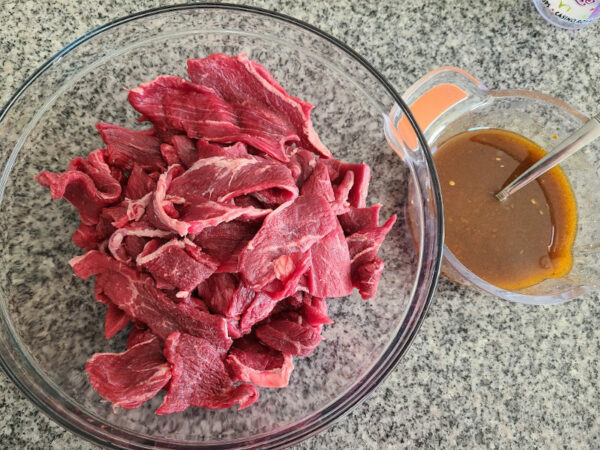 2 lemons juiced
½ cup olive oil
1 tbsp olive oil
6 cloves garlic peeled, smashed, and minced
2 tsp freshly ground black pepper
1 tsp kosher salt
2 tsp ground cumin
2 tsp paprika
½ tsp turmeric
pinch ground cinnamon
red pepper flakes to taste
The sliced steak then marinated for a few hours in the fridge. Usually I do 4-5 hours. You want to marinate the meat for at least an hour though.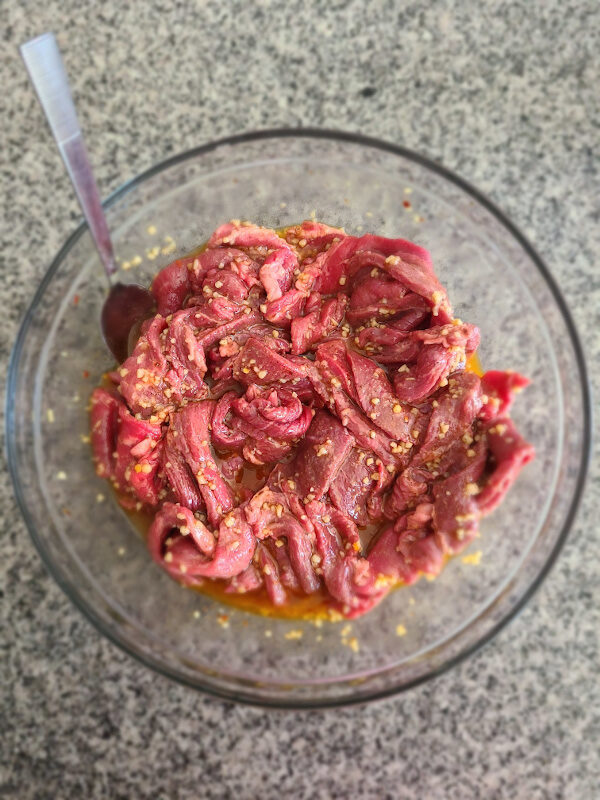 When you're ready to cook, preheat the oven to 425 degrees F. Line a pan with foil and coat with olive oil before adding the steak strips. Thinly slice a red onion and toss in the marinade. Cover the steak strips with the marinated onion slices.
Roast for about 30-40 minutes until meat is cooked through. Remove the tray from the oven and allow to rest a bit, then garnish with parsley before serving.
Steak Shawarma Recipe
Steak Shawarma
Ingredients
2

lemons

juiced

½

cup

olive oil

1

tbsp

olive oil

6

cloves garlic

peeled, smashed, and minced

2

tsp

freshly ground black pepper

1

tsp

kosher salt

2

tsp

ground cumin

2

tsp

paprika

½

tsp

turmeric

pinch ground cinnamon

red pepper flakes

to taste

2

lb

beef sirloin steak

sliced thin

1

large red onion

peeled and quartered

2

tbsp

fresh parsley

chopped
Instructions
Slice steak into thin strips.

Prepare a marinade for the steak. Combine the lemon juice, 1/2 cup olive oil, garlic, salt, pepper, cumin, paprika, turmeric, cinnamon and red pepper flakes in a large bowl, then whisk to combine. Add the steak and toss well to coat. Cover and store in refrigerator for at least 1 hour and up to 12 hours.

When ready to cook, heat oven to 425 degrees. Use the remaining tablespoon of olive oil to grease a rimmed sheet pan. Place marinated steak on tray. Add the quartered onion to the marinade and toss once to combine. Remove the onion from the marinade, and place on the pan with the steak, spreading everything evenly across it.

Put the tray in the oven and roast until steak is browned, crisp at the edges and cooked through, about 30 to 40 minutes. Remove from the oven, allow to rest a few minutes before serving. Scatter the parsley over the top for garnish.
The original recipe is from New York Times Cooking for a chicken dish that we love.
We chose to serve ours with my favorite salad. We did make a slight change on that too by switching out the red onion with chick peas. A nice change that we may be incorporating more in the future.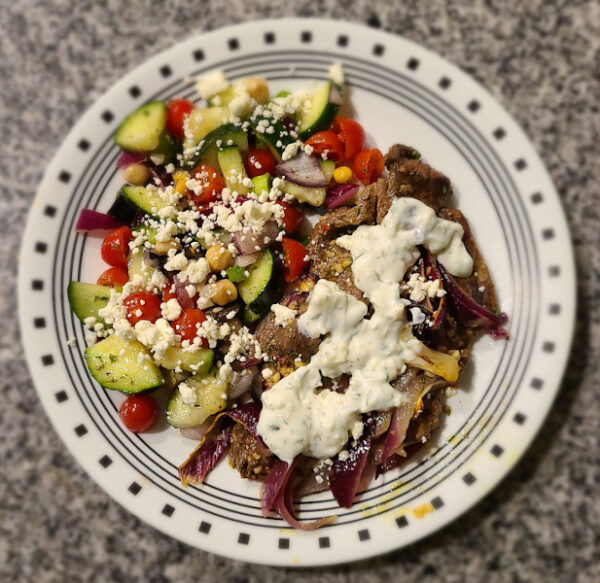 Have you swapped out the main ingredient in any of your favorite recipes? Which of our other posted recipes should we try this on next?
---
---
Connect with us on Social Media:
---
---