Ono Hawaiian BBQ in Menifee, California
Ono Hawaiian BBQ is a fusion restaurant specializing in a combination of Hawaiian, Japanese, Korean, and American cuisine. They are located throughout California and in around the Phoenix, Arizona area.
We've had a store near us for a maybe two years? It could be longer. But I've been wanting to check it out. Finally I got Matt to cave in and order for our weekly Saturday takeout night. We try to order every week from a local restaurant in lieu of going out every week like we used to.
We ordered through DoorDash, and our meal arrived a short time later.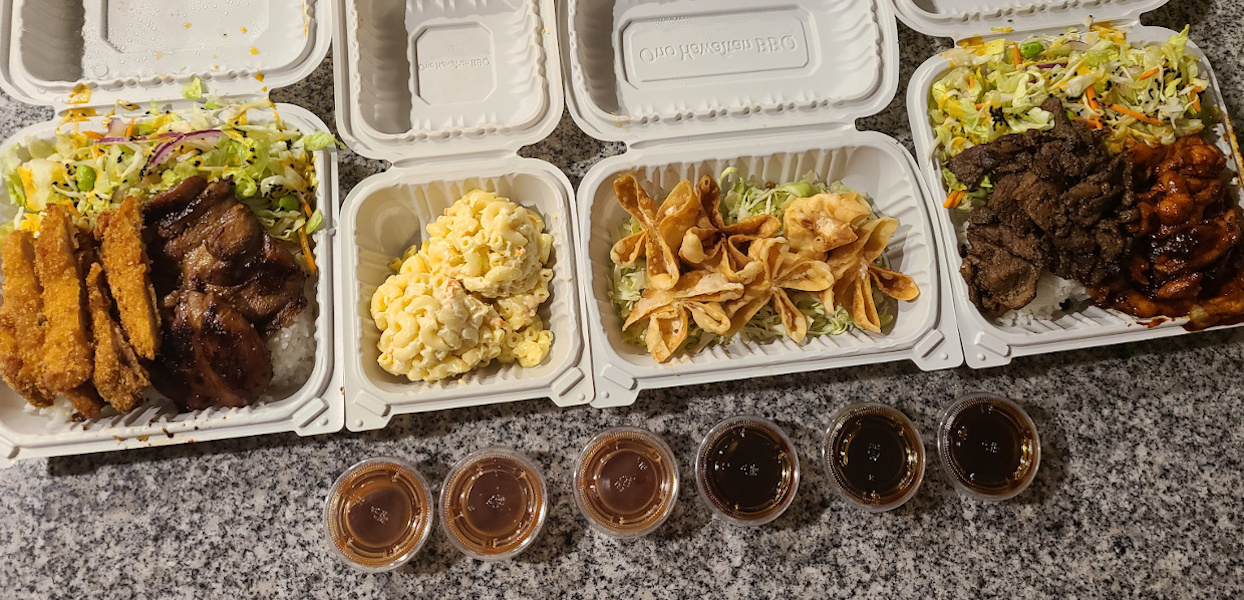 What we Ordered from Ono Hawaiian BBQ
We decided we would try a variety of items. Through Door Dash we were able to each order a two entrée special, something I didn't take notice to on Ono's website. We also added two macaroni salads and an order of Crab Rangoon. Let's be honest, if a recipe has the option of Crab Rangoon, I'm going to try them.
Macaroni Salad
Let's start with the starter. I love a good macaroni salad. Ono Hawaiian BBQ has just that. Creamy plus just enough other ingredients to make it not so boring. Macaroni salad doesn't need to be the star of the show. But it still needs to taste good. Ono succeeded in that area.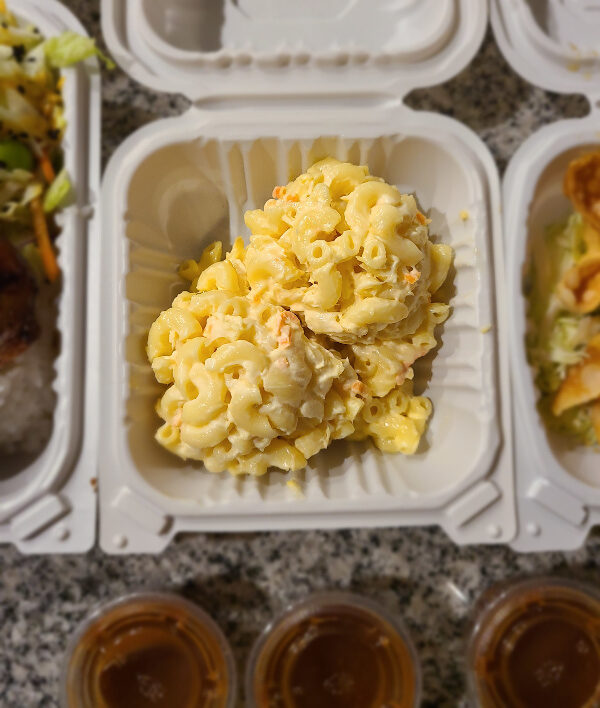 Check out my creamy macaroni salad if you're looking to make some at home.
Crab Rangoon
Like I said above, if a restaurant has this on their menu, I'm ordering it. See our very first post, S!!! Thai, for another Crab Rangoon experience. I just don't think fried can get much better. It's my personal favorite fried dish next to jalapeno poppers.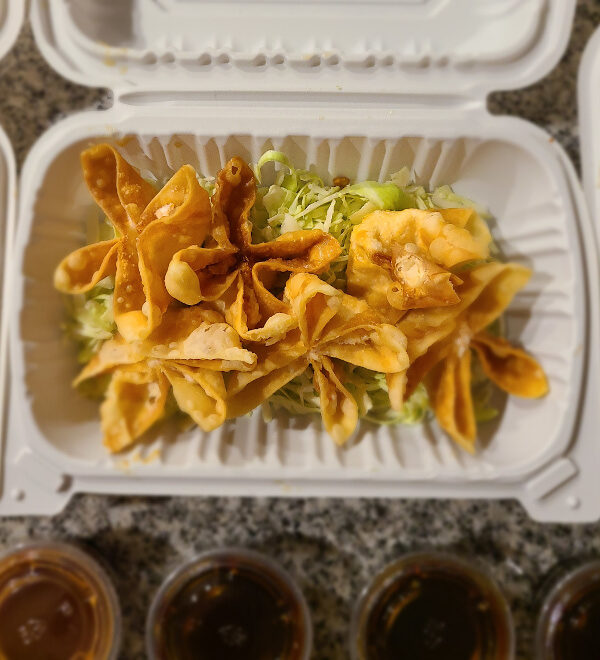 The order we got from Ono was your everyday run of the mill Crab Rangoon. If it ain't broke, don't fix it I say. Creamy melted cheese and crab wrapped in a wonton and fried to perfection.
Matt's Meal: BBQ Beef and Island Fire Chicken
Matt got the BBQ Beef and Island Fire Chicken.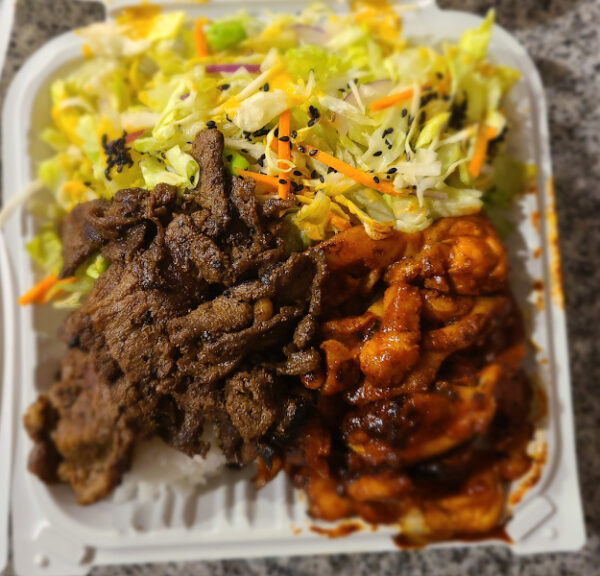 Out of the two, he chose the spice of course. But the beef was cooked well, the chicken had a nice level of spice. It went well with the macaroni salad to balance the spice and creamy to keep your taste buds wanting more.
My Meal: Chicken Katsu and Hawaiian BBQ Chicken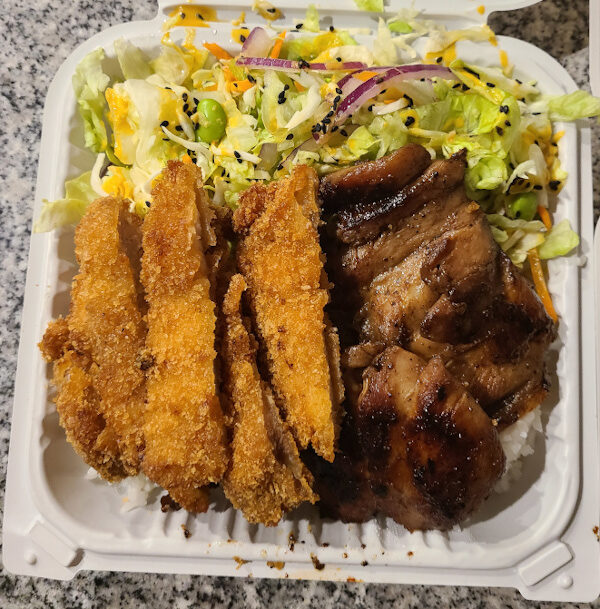 I was pleased with my meal as well. I've heard of Chicken Katsu before but wasn't really sure what it was. When I consulted google, I learned it's basically like a pork cutlet but with chicken. Can't really go wrong there. And it was what I expected; thinly sliced, breaded, fried chicken.
The other dish in my order was the Hawaiian BBQ Chicken. It is grilled boneless and skinless chicken, marinated in a BBQ sauce. It was just as expected. I was quite happy with my choices.
Ono Hawaiian BBQ – Final Thoughts
We quite enjoyed our dinner from Ono Hawaiian BBQ. It was a nice change in our dining experience. I would certainly order from them again. I would also consider their catering option for any of the dishes for a party in the future.
To find Ono Hawaiian BBQ's menu click here.
Do you live near one of these restaurants? Have you been? Would you go? Let us know!
---
---
Connect with us on Social Media:
---
---