S!!! Thai Food: Our First Adventure
Why Thai? Really, we both just REALLY wanted to try it. When we tossed around the idea of this adventure, we decided that Thai food would be the start of our adventure. It is something so different from what we normally eat, I never can get Matt to order even Chinese food with me. In fact, we moved here three years ago and have yet to order Chinese. We do get sushi from time to time, but he isn't that adventurous in that area either, California Roll is about as crazy as he gets.
I had always been curious about Thai Food. In 2009 I first tried Thai food after a work training to Bangkok Wok in Mechanicsburg, Pennsylvania. That is when I fell in love. I had dragged Matt to a Thai/Chinese fusion place three years ago but he wouldn't even taste whatever it was I got. I put together a peanut curry sauce at Ghengis Grill with no interest from Matt either.
Imagine my surprise when I proposed the idea of the monthly food adventure and he requested Thai! I was very happy to comply and push it to the top of the list. I'm not sure if I was more excited for Matt's reaction to the whole experience or for Thai Iced Tea.  S!!! (Siam) Thai Food in Temecula, California was on his mind after he and his cousin saw it in their travels one day.
What is Thai Cuisine?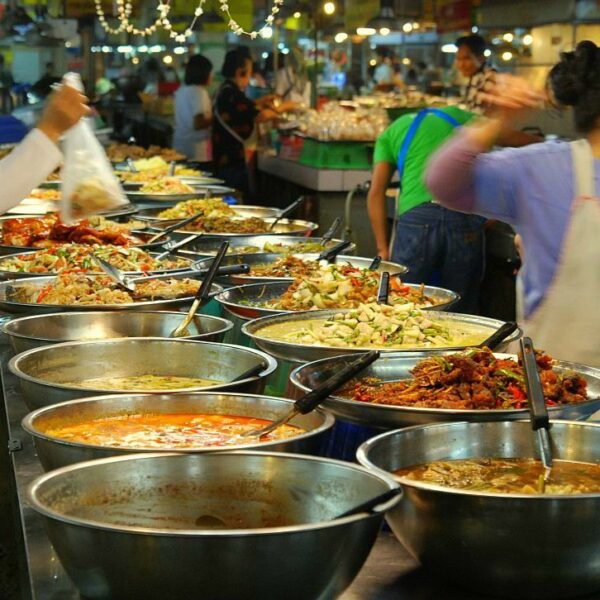 Thai cooking places emphasis on lightly prepared dishes with strong aromatic components and a spicy edge. Thai chef McDang characterises Thai food as demonstrating "intricacy; attention to detail; texture; color; taste; and the use of ingredients with medicinal benefits, as well as good flavor", as well as care being given to the food's appearance, smell and context.[1] Australian chef David Thompson, an expert on Thai food, observes that unlike many other cuisines,[2] Thai cooking is "about the juggling of disparate elements to create a harmonious finish. Like a complex musical chord it's got to have a smooth surface but it doesn't matter what's happening underneath. Simplicity isn't the dictum here, at all."

Traditional Thai cuisine loosely falls into four categories: tom (boiled dishes), yam (spicy salads), tam (pounded foods), and gaeng (curries). Deep-fries, stir-fries, and steamed dishes derive from Chinese cooking.

https://en.wikipedia.org/wiki/Thai_cuisine
Why S!!! Thai?
Matt and his cousin Brad first noticed S!!! on a night out at BJ's Brewhouse and Restaurant in Temecula. BJ's is right next to the small strip mall that houses S!!!.  This was over five years ago while he was in the area visiting, long before we had even moved here.  He and Brad both had a good laugh at the idea of a restaurant being called S!!! He says anyone that knows either of them well enough will understand why they found it so amusing.
You can find the website for S!!! here.
Time to go to S!!!
We arrived around 2pm, and after a brief issue finding parking (we had to park way at the other end of the lot near Ynez Rd), we made our way into the restaurant. We were greeted quickly and seated just inside the front door, and presented with menus.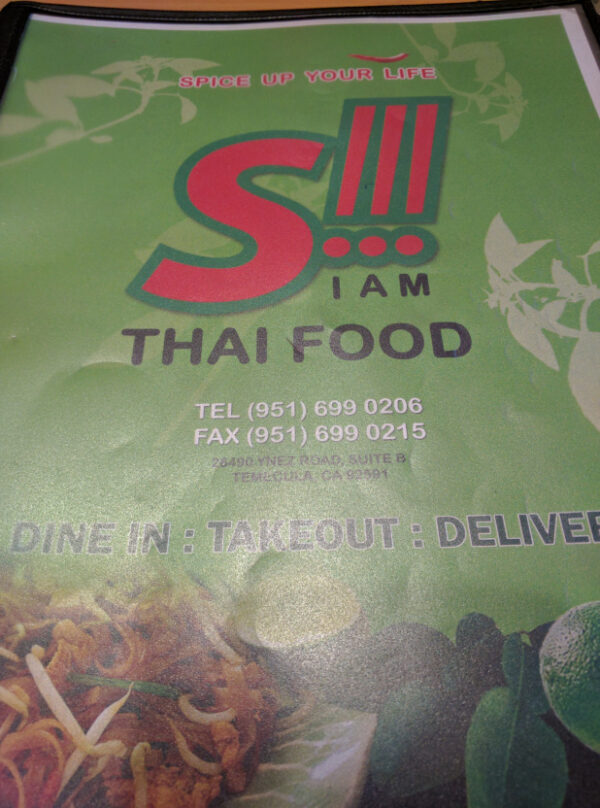 Browsing through the menu is tough, because EVERYTHING looks absolutely delicious. I order my much anticipated Thai Iced Tea.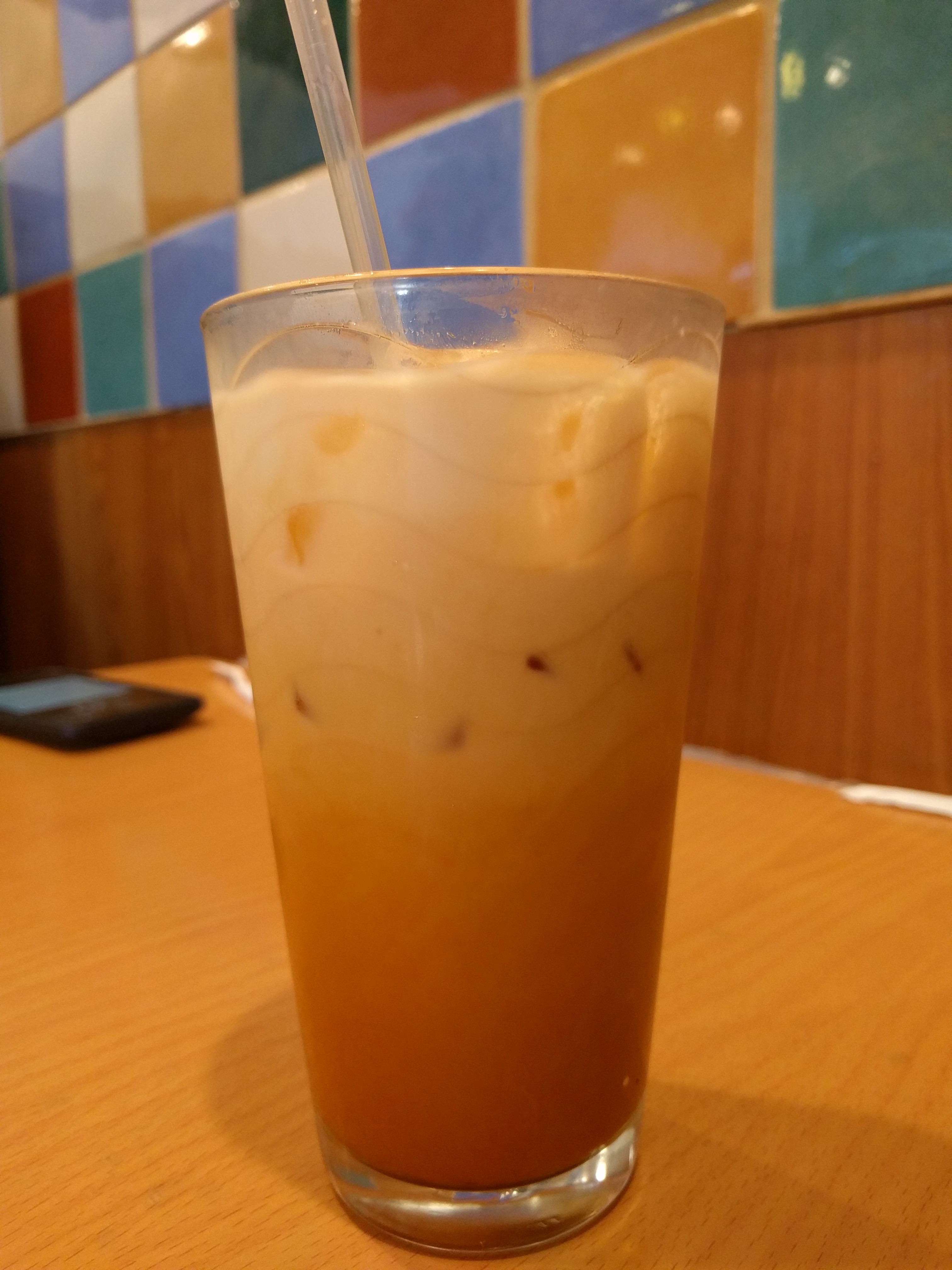 "Thai iced tea has become one of the first things foreigners discover when dining at a typical Thai restaurant. It is anative-grown red-leafed tea which is spiced with star anise seed. It is usually brewed strong and then blended with a rich swirl of evaporated milk."

http://www.academia.edu/424778/Development_of_the_tea_industry_in_Thailand
I enjoy the tea because it is so sweet, but it isn't something I could drink every day.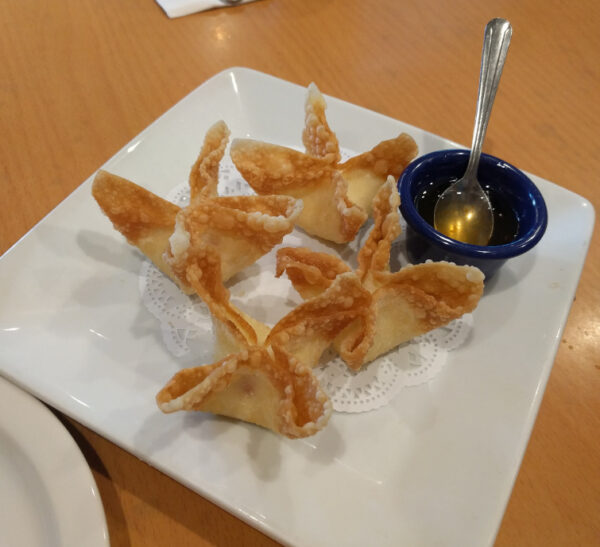 We were able to settle on an appetizer pretty quickly – Cream Cheese and Crab Fried Wontons. We had both had similar wontons at the Hong Kong Buffet in Pottsville, PA, and both enjoyed them. I've had them elsewhere too, but usually during lunch buffet at Hong Kong.
They were presented with a kind of sweet honey like sauce, which was a nice complement. I was pleasantly surprised when I took my first bite – I was expecting shredded crab mixed in with the cream cheese. These wontons actually were just cream cheese stuffed with a HUGE lump of crab meat in the middle. Delicious.
My Meal: Pra Ram Chicken
According to the menu at S!!!, the Pra Ram Chicken is described as "Broccoli, carrots, and cabbage covered with our house sweet peanut sauce with your choice of meat."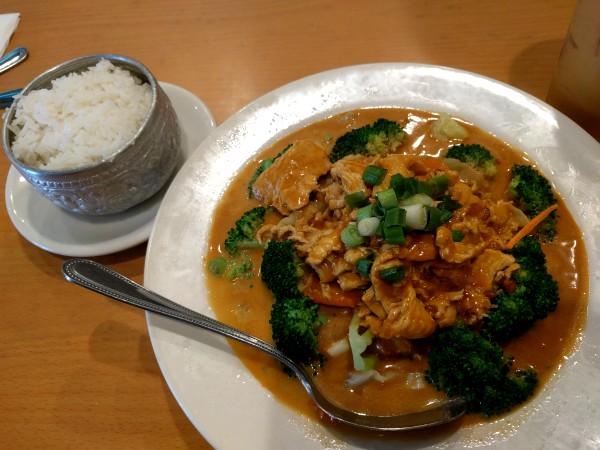 Thoughts:
Absolutely delicious, but not overwhelming. That is one problem I have heard people describe as they find issue with the peanut sauce being "overwhelming." I completely understand and I would say that this dish had a lot of peanut sauce if you like it, but, not overwhelming at all.
The rice, vegetables, and chicken: all cooked to perfection. The peanut sauce perfectly complimented each bite. I quite enjoyed every bite. There was a lot of food, and I did have to take quite a bit home.
I got two lunches out of my leftovers. I should have asked for the rice to be packaged separately. The rice was a bit more soaked than I would have liked while enjoying leftovers.
Matt's Meal: Spicy Basil with Beef
When ordering, the waitress asked how spicy Matt wanted it (on a scale of 1-4, with 4 being the hottest). Matt LOVES spicy food – so he chose level 3. He did want level 4, but knew we had a long day ahead of us, and didn't want to risk having stomach issues by going too crazy.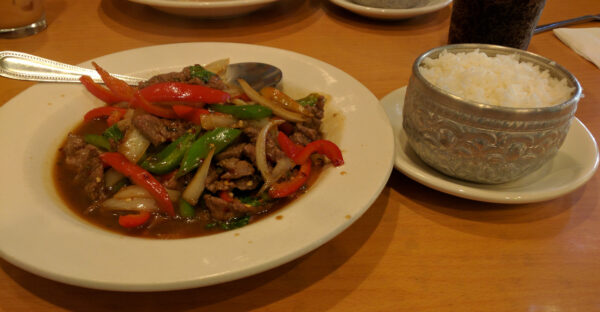 Matt's Thoughts:
"I dove right in without the rice at first, wanting to sample the flavor of the meat and vegetable mix. My immediate thought was that the dish wasn't as spicy as I was expecting, especially at level three. Delicious, but not nearly as spicy as I was expecting. That faded quickly as I continued eating, even as I mixed some of the white rice in with the vegetables and beef – the more I ate, the more the spice came through. The meal overall was excellent."
"All in all, a very successful first Thai experience. I talked with Lora during our lunch about how great this was, seeing as how four to five years ago I wouldn't have even walked through the door of this place (regardless of how funny we found the name), just because I was afraid to try new things. Now, here I am trying new things pretty much every week for the entirety of 2017."
Join us next week as we check out Palm Thai in Lake Elsinore, CA.
Do you like Thai food? What's your favorite dish? Let us know in the comments!!
---
edit: As what Matt thought at the time was an added bonus, there was such an abundance of food that we ended up with enough to take home for lunch the next day. Our Opinon: if you're going to try Spicy Basil with rice as a reheated leftover meal, try to keep the meat and vegetable mixture (and broth) separate from the rice. He took everything home in a single container, and when he went to reheat everything the rice had gotten very soggy from the broth. He wasn't able to finish much more than just the beef and vegetables, and unfortunately ended up throwing most of the rice away.
---
---
Connect with us on Social Media:
---