18 Folds – Anaheim, California
After many a trip to the nearby brewery, Monkish, I was curious about 18 Folds. Immediately I knew it was dumplings of some sort after reading how a proper Chinese dumpling has 18 folds, no more no less. 18 is considered a lucky number in Chinese culture. Intrigued, I mentioned often my desire to check this restaurant out.
Matt's mom was recently here to visit for her birthday, and we like to take her to different restaurants to try foods that are new to her. This was my opportunity. Here is our first experience and what we enjoyed at 18 Folds in Anaheim, California.
About 18 Folds
18 Folds is located in the Packing District of Anaheim, just a few blocks from the 5 Freeway. There are multiple restaurants, bars, and one favorite brewery of ours located here. We are slowly exploring the Packing District establishments, and will continue to post about them as we do.
Their website describes them as Modern Chinese Cuisine. It states that they prepare their dishes traditional to Chinese culture with local ingredients, and paying homage to their Southern California setting.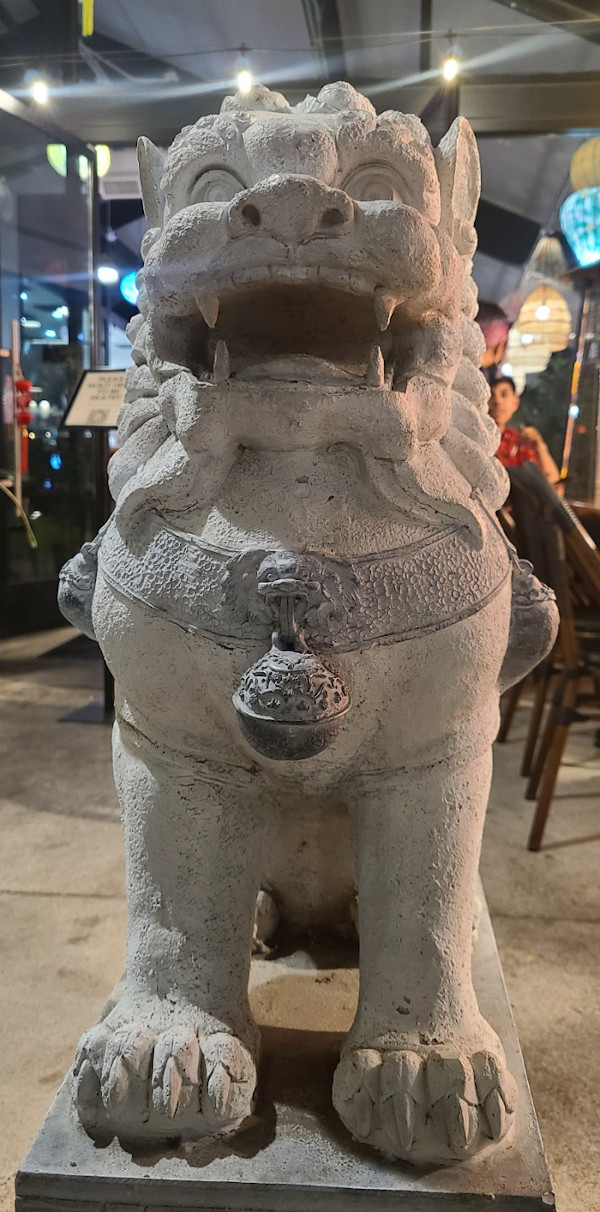 The decor is spectacular, from the stone dragon statue that greets you as you enter to the colorful lanterns. No two look alike. The lanterns are both inside and outside of the restaurant, on the ceiling, creating a wall, and hanging from the tree branches in the yard adjacent to the restaurant. They are a truly magical sight.
What We Had To Drink
Besides everyone ordering waters, Matt's mom went for an iced Jasmine tea. She was a little surprised that it didn't come already sweetened, so if you do order an iced tea and prefer it sweetened, ask for sweetener as you order.
I decided to go for one of the Boozy Boba Cocktails from the first page of their menu. The one I chose was the Lychee Bellini. This drink consisted of Lychee fruit, Lychee fruit flavor filled crystal boba, and champagne. When our server brought our drinks, she let me know that they were out of the lychee boba, but she had the bartender add strawberry boba. This was a divine drink, the bubbles of the champagne, the boba which burst with sweet strawberry flavor, and a lychee fruit (not viewable in the photo) to add to the sweet delicious flavors. If you're looking for a fun cocktail, this one is certainly it. But don't worry, I'll be sure to be trying the rest on future visits.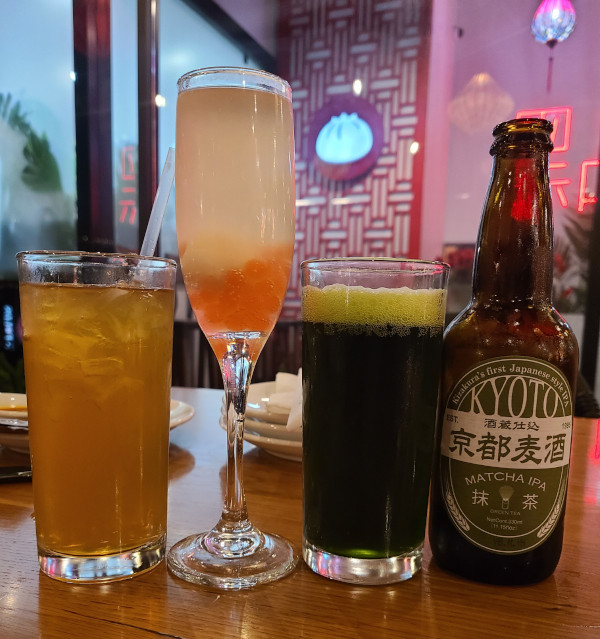 Matt went with a beer of course. He ordered the Matcha IPA from Kyoto Brewing. The bottle labels it as Kizakura's first Japanese style IPA. Neither of us has ever had Matcha before and we weren't sure what to expect. Our server said some tell her it has a grassy taste. Neither of us really noticed that. I do drink green smoothies which can tend to taste that way if there aren't enough other strong ingredients to mask the grassy flavor. But Matt didn't get a grassy taste either. If you're interested in trying a new beer, or you're a Matcha tea lover looking to combine your love of IPAs and Matcha, this is the brew for you.
Unique blend of Kyoto matcha green tea and strong hoppy style IPA beer. Unforgettable experience.

Kyoto Matcha IPA page on Untappd
Lora's Rating: 4/5
Matt's Rating: 3.75/5
Global Rating: 3.54/5
Let's Eat!
Prior to our food arriving, a plate of sauces was brought to our table. Soy Sauce in packets, Chili oil, and one we tasted to be a hot sauce, similar to a Sriracha.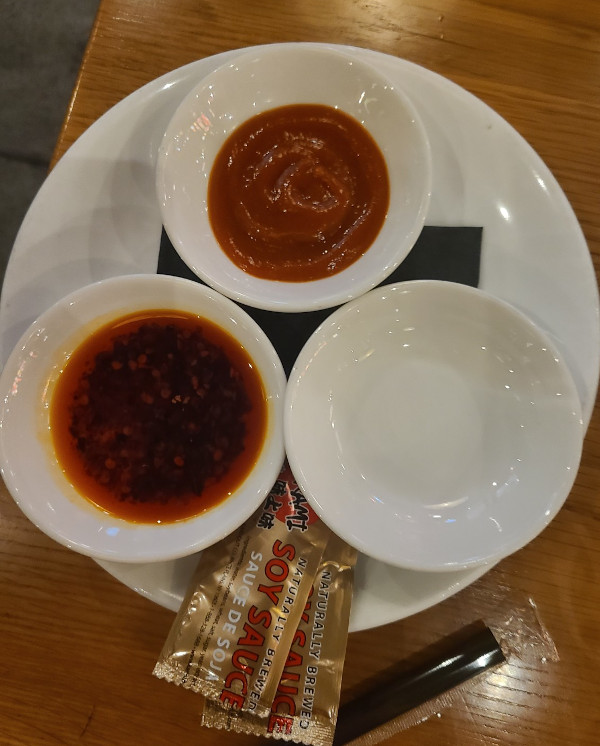 We decided to order the Kung Pao Chicken and White Rice sort of as an appetizer. Mostly for the point of trying as much as we could as a group. While, the Kung Pao had some spice flavor, it wasn't spicy. Not overwhelmingly spicy anyway. Matt's mom even enjoyed it and she does not like any amount of spice in her food whatsoever.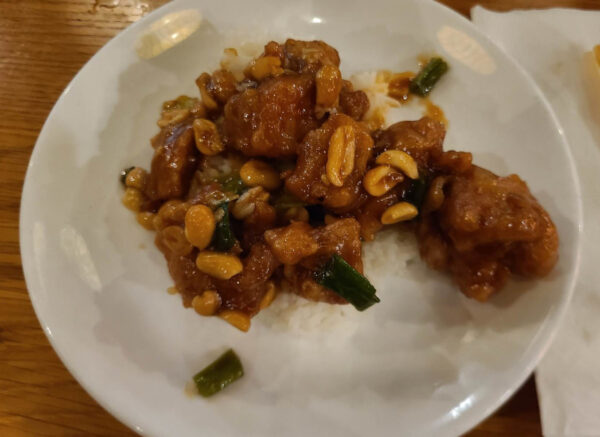 Any spice was also calmed down by the white rice that accompanied the dish. Chopped peanuts added a nice texture as well from the softer chicken and rice.
We did dip the chicken in some of the sauces, but honestly it held itself in flavor. If you like a nice low level of spice full of flavor, but not necessarily spicy, this is a great starter dish.
The 18 Folds Party Platter Explained
Since there were three of us, and we wanted to try as much as possible, we decided to order the Party Platter. This is a collection of what we believe to be some of their more popular dishes meant to be shared, and in smaller amounts, so that there can be more variety. It is served in a giant steamer. On the menu, it states this dish is good for two guests. In our experience it was also good for three. Although it appears pricy at almost $60, when you see the amount of food you get, you'll understand why.
What you'll find included in the Party Platter:
Soup Dumplings (4)
Szechuan Soup Dumplings (4)
Shu Mai (4)
Cream Cheese Wontons (4)
Spicy Shrimp Wontons (10)
Chicken Egg Rolls (6)
And Now Presenting, the 18 Folds Party Platter: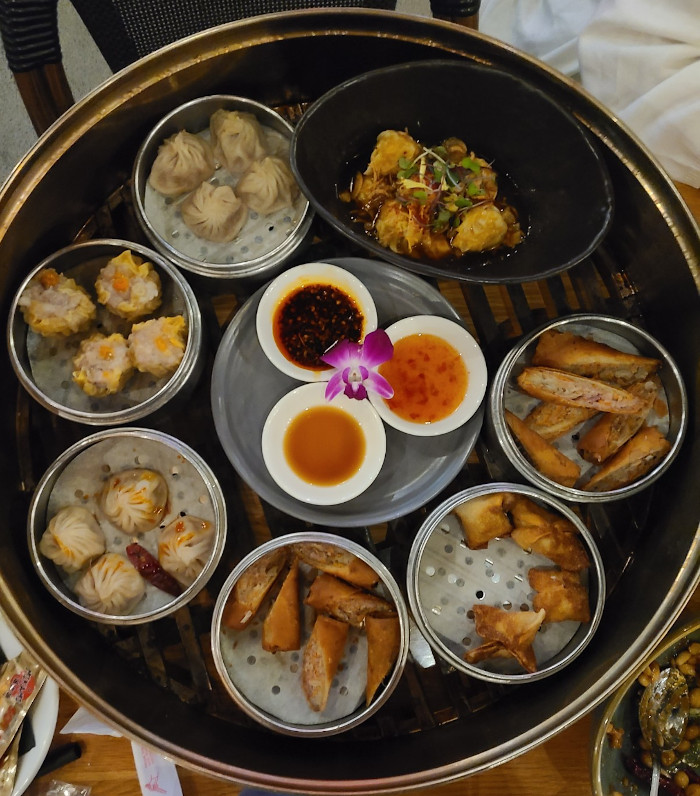 Look at this! I mean, just take it for a few minutes . Look at all of this deliciousness. The Party Platter also came with three sauces: the chili oil we believe is the same we received earlier, a sweet chili oil, and black vinegar which we had not previously heard of.
Starting with the black bowl to the top and going counter clockwise we'll review each dish:
Spicy Shrimp Wontons
Wontons are a type of dumpling, they seem to have thinner dough than a traditional dumpling. These particular Spicy Shrimp Wontons have the obvious shrimp filling and have been boiled or probably steamed. They were served in the black bowl that you see in a spicy sauce or broth and topped with edible flowers and shallots. I didn't feel the need to dip them in any of the provided sauces as they provided a ton of flavor on their own.
Chicken Egg Rolls
Chicken and veggies are wrapped in a thin dough and fried. These egg rolls were filled with flavor, I'm partial to egg rolls though. They were nice and crunchy with a the veggies and chicken perfectly cooked inside. These are on either side of the next dish as there are 10 of them (5 cut in half it appears). While the menu recommends the sweet chili oil for these, they also worked with the spicy chili oil.
Cream Cheese Wontons
I am also partial to cream cheese wontons. They are filled with a beautiful creamy filling and fried to perfection. These went well with the sweet chili sauce which the menu recommended. The cream cheese wontons are followed by another bowl of the Chicken Egg Rolls, so we will skip to the Szechuan Soup Dumplings.
Szechuan Soup Dumplings
These are dumplings with the 18 folds. Soup Dumplings are filled with meat and soup broth. When you bite into the dumplings you get a flavor explosion of the filling and broth.
But how does the broth get IN the dumpling?
The broth is made into a gel, which when steamed, becomes liquid form again. Find out more about Soup Dumplings from this article on Mashed.
These particular soup dumplings contain spicy Szechuan peppercorns and pork . We found the flavor to be nice with a bit of heat, for us the heat was not overwhelming at all. Even though there was broth, we did find ourselves using soy soy sauce with these as well.
Shu Mai
Different from the other dumplings and wontons, Shu Mai have an open top. These particular Shu Mai contained pork and shrimp inside an egg wrapper amongst other ingredients and spices. These were full of flavor, the dumpling, being steamed, was soft, the meat inside was also nice and soft, not crunchy or overcooked at all. They went well with all sauces as well.
Soup Dumplings
Similar to the Szechuan Soup Dumplings, these contained ginger as the main spice instead of the peppercorns. We did enjoy the soup dumplings with each of the sauces as the calmer flavors paired well with everything.
Our Favorites From 18 Folds
Since there were three of us with different tastes, we obviously had favorite dishes. So, here they are:
Matt preferred the chicken egg rolls and spicy shrimp wontons. He said he also loved the cream cheese wontons but he loves cream cheese wontons on any normal day. I find it important to include them though because if you also love cream cheese or crab wontons, these are up to par with the cream cheese wontons you know and love from other establishments.
Matt's Mom's favorites were the cream cheese wontons and the regular soup dumplings. She doesn't like spice at all so the Spicy Shrimp Wontons and Szechuan Soup Dumplings were not something she was a fan of. However, she did try them before making that decision. And isn't what what trying new things is all about?
Finally, my favorites by far with the Spicy Shrimp Wontons and the Shu Mai. The flavors from both were fantastic, both were new and different foods for me. I've had wontons like the cream cheese ones, and in wonton soup, just not in this spicy version with the spicy sauce/broth. So new but not? A new version I guess. I also loved the cream cheese wontons, but they're already a favorite of mine.
---
Hungry For More?
If you liked this post, check out all of our restaurant posts.
---
18 Folds – Final Thoughts
There is so much more to try on this menu. I also think I'm in love with Shu Mai, so I'll need to return for more of that. We can't wait to return to try more and share with all of you what we have next! Are you in the area of Anaheim, will you be checking out 18 Folds sometime soon? And what will you be ordering?
---
Connect with us on Social Media:
---