Potato Recipes for Every Meal
The potato is such a versatile food, you can enjoy it with every meal, hot or cold, sliced, diced, mashed, boiled, baked, and grilled. In this post we will share some interesting and intriguing potato recipes from around the world. Some of these recipes you may know and love, some may be totally new to you. We think you'll find special interest in the potato desserts at the end! Yes, potato based desserts.
I've noticed over the years that many of us are so set in our ways with how we prepare certain foods that the thought of doing it differently is "weird" or "wrong". Things actually said to me when I've mentioned different recipes I grew up with, that others from different cultures have told me "that's now how you eat that." One of my main goals with this site in general is to squash those ideas. Just because your tastebuds don't enjoy it, doesn't mean it's wrong for an entire culture to enjoy it.
I've compiled some recipes from different sites, and threw in a few of my own of potato recipes popular around the world. Though I had many to choose from, I ultimately decided on these 16.
You'll find them sorted by meal type.
---
BREAKFAST
When I think of potatoes at breakfast, my mind goes right to hash browns. My guilty pleasure is McDonald's hash browns. They remind me of morning breaks during cheer practice over the summer, filling the car up with my friends and running to the McDonald's by our high school for that (in 2000) 50 cent hash brown. They're still a morning road trip favorite of mine.
Here's a few other ways to enjoy potatoes for breakfast:
Easy Breakfast Potatoes from Yellow Bliss Road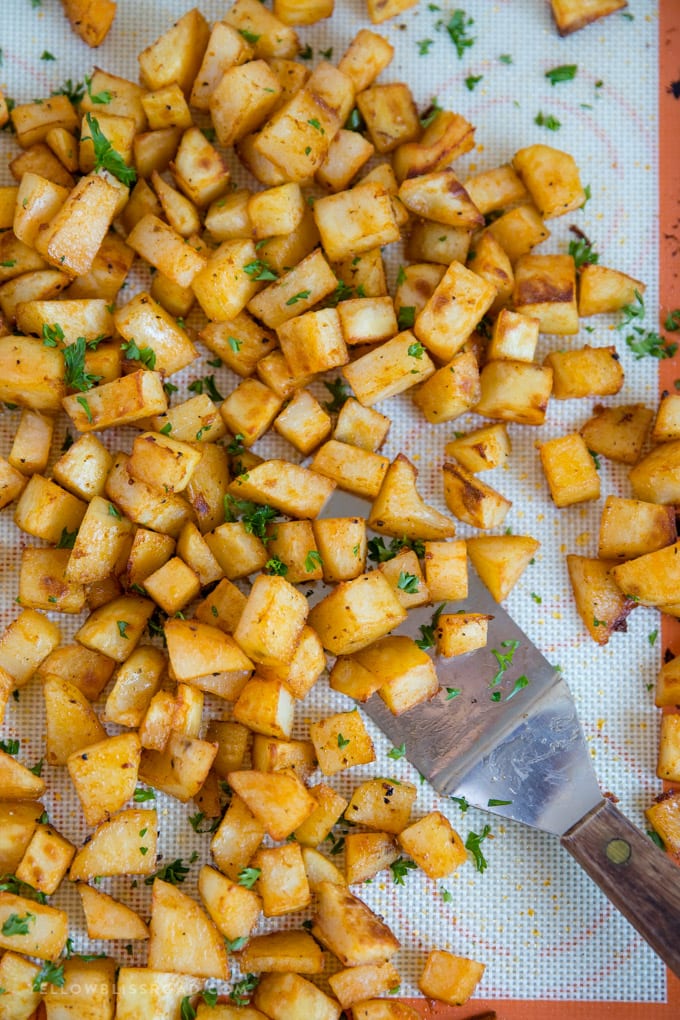 These Easy Breakfast Potatoes form the blog, Yellow Bliss Road, remind me of diner potatoes. Perfectly crispy and seasoned, ready to be served alongside a sunny side up egg with toast and sausage. If you couldn't tell, those are my recommendations of how you could enjoy them. What would you serve with these Breakfast Potatoes?
Authentic Irish Potato Farls from Gemma's Bigger Bolder Baking
It seems these are as close to an Irish Boxty as I've ever seen. Made from leftover mashed potatoes these Farls (aka Fadge, Boxty, Griddle Cake, or Potato Cake) appear to be super simple yet hearty and delicious.
Twice Baked Breakfast Potatoes from Spoon Fork Bacon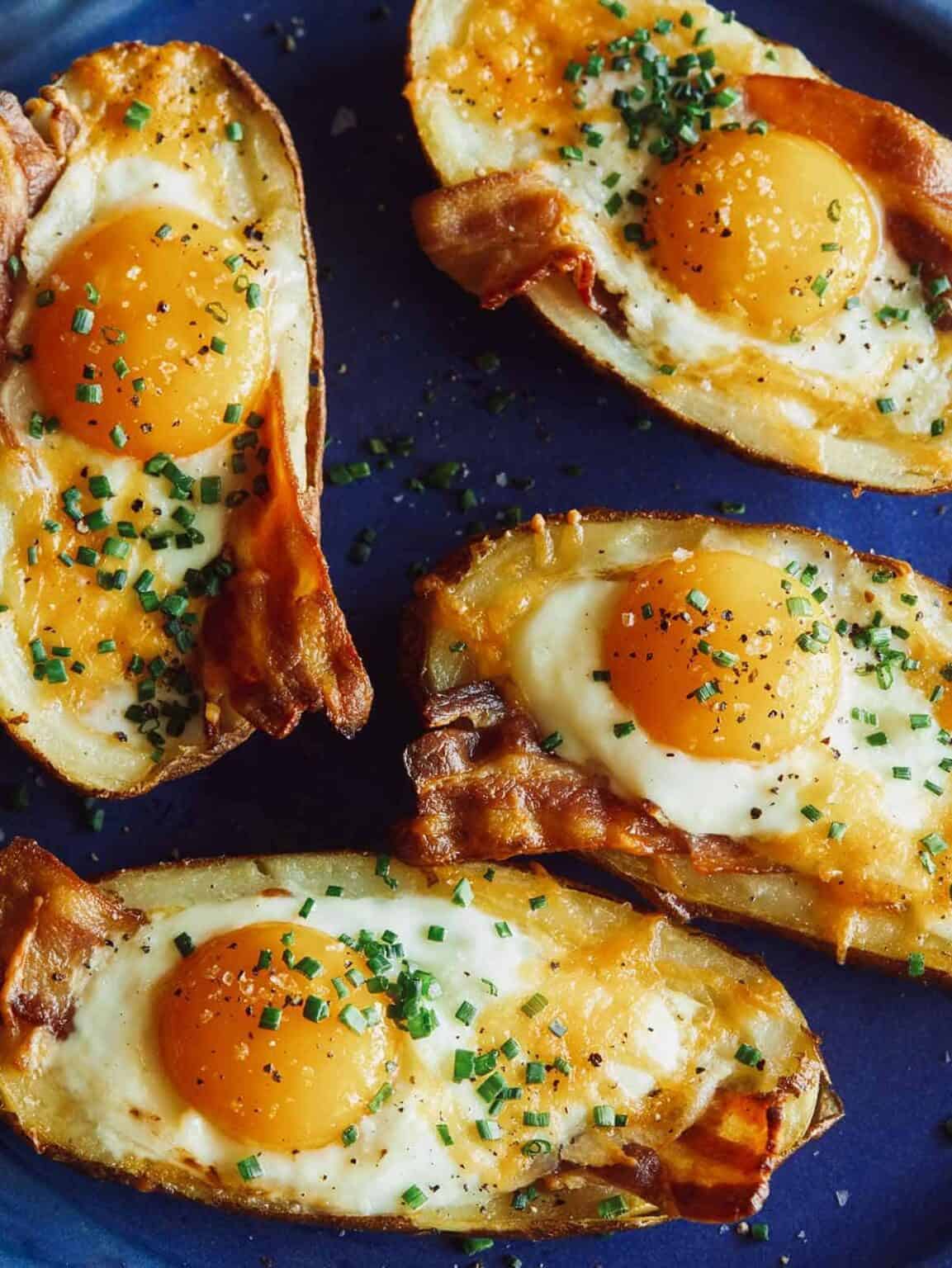 How cute are these? Your entire breakfast is held within this twice baked potato! It's like an edible bowl! I think I'll be taking a crack at these (no egg pun intended) this weekend.
---
SOUPS
During colder months, most of us want to warm up with a nice bowl of our favorite soup. Here are some soups featuring potatoes that you may find interesting.
The Ultimate Creamy Potato Soup from Sugar Spun Run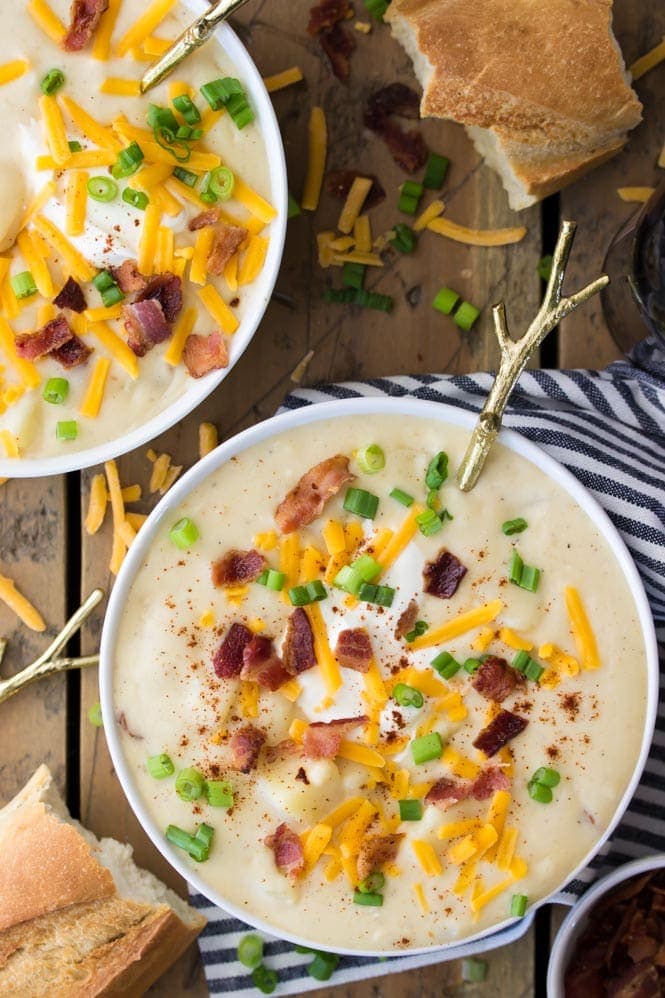 Sugar Spun Run hits it out of the park with this creamy potato soup that just gives all of the cozy feels. To me this feels like your favorite winter sweater but in soup form. Is that a weird way to describe it? Let me know.
Colcannon Soup from The Travel Bite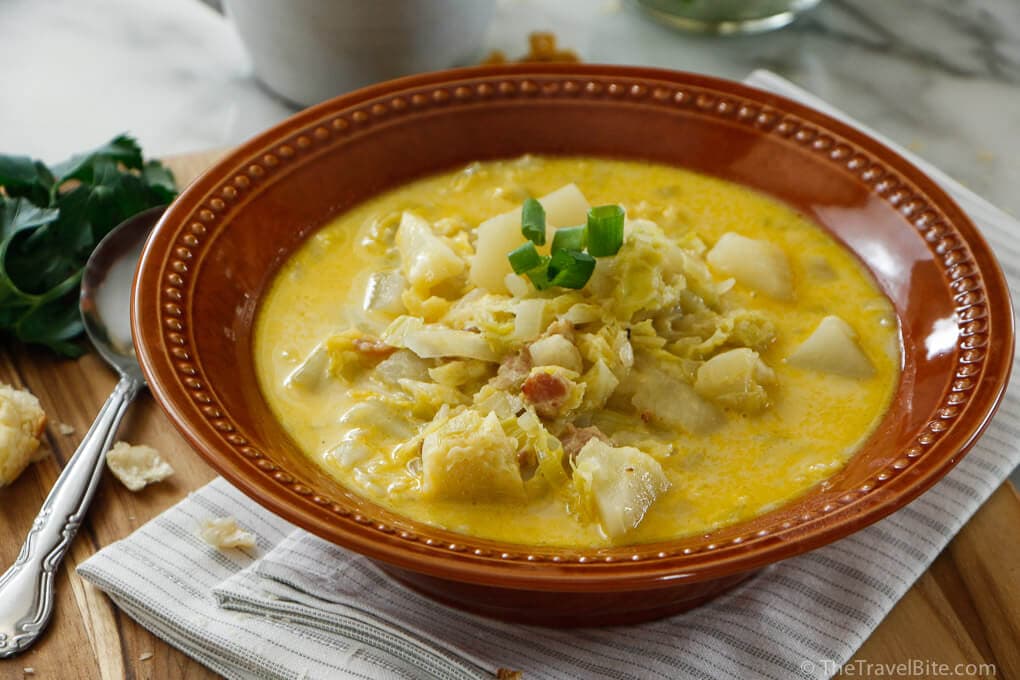 While colcannon is usually a side dish featuring mashed potatoes and cabbage, this recipe tweaks that turning it into the star of the meal. This soup looks to be so creamy and comforting.
Mexican Cheese and Potato Soup from Grecobon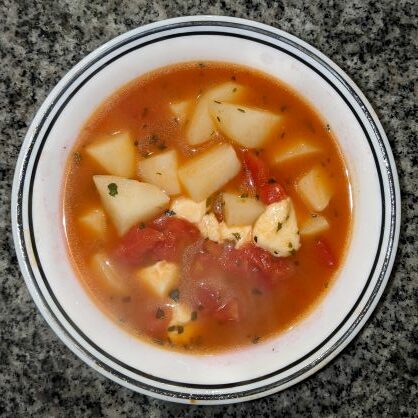 This was a favorite of my mom's from a local Mexican Restaurant. On their menu they called it "Mexican Cheese Soup" so if you know it as something else, great. But others have tried to correct me saying that's not what it's called. But, it's what Casa de Tellez in Pottsville, Pa (Minersville really if you know….) called it.
Dutch Yellow Potato Soup from the Produce Moms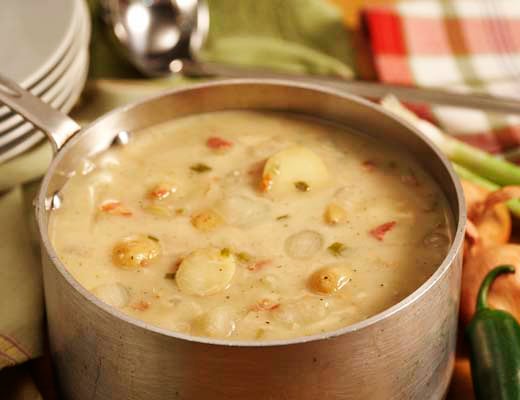 With the combination of bacon, garlic, white and green onions, jalapenos, and of course the heartiness of potatoes, this soup will certainly warm you up on a chilly fall or winter night. It's absolutely stunning without appearing overly heavy.
---
Salads
Growing up in America, I'm so used to a creamy based potato salad. Honestly, up until recently I wouldn't eat creamy potato salad. However, that has changed, and I now have my own recipe, which you'll see below.
Creamy Potato Salad from Grecobon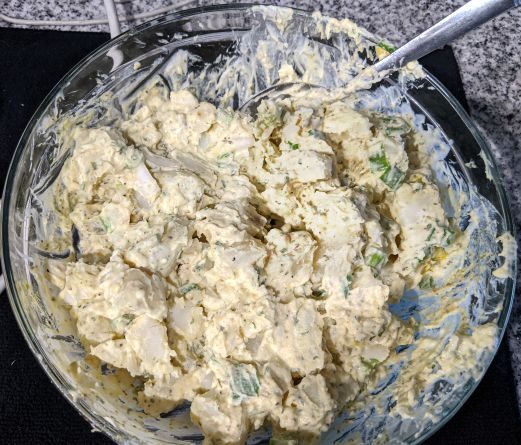 Tasked with the challenge of coming up with a potato salad for dinner, I browsed some other recipes and took inspiration from the macaroni salad which Matt loves. This was my result. A bit of mayo combined with yellow and spicy brown mustards adds the perfect compliment to a steak or some hamburgers right off the grill.
French Potato Salad from Curious Cuisinière!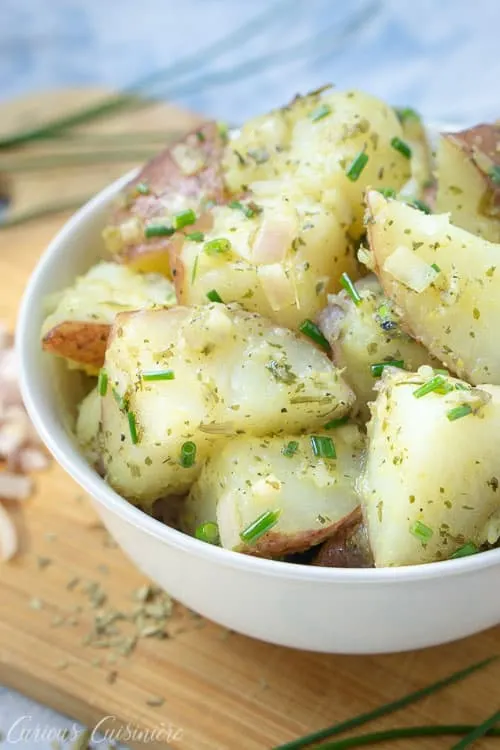 Because of it's red wine vinaigrette dressing base, this potato salad can be served at room temperature. No worries about getting it back in the fridge right away or accidentally upsetting your guests' stomachs! The combination of herbs and the red wine and vinaigrette/mustard combo certainly creates a robust flavor profile in every bite!
Spanish Potato Salad from The Food Network and Bobby Flay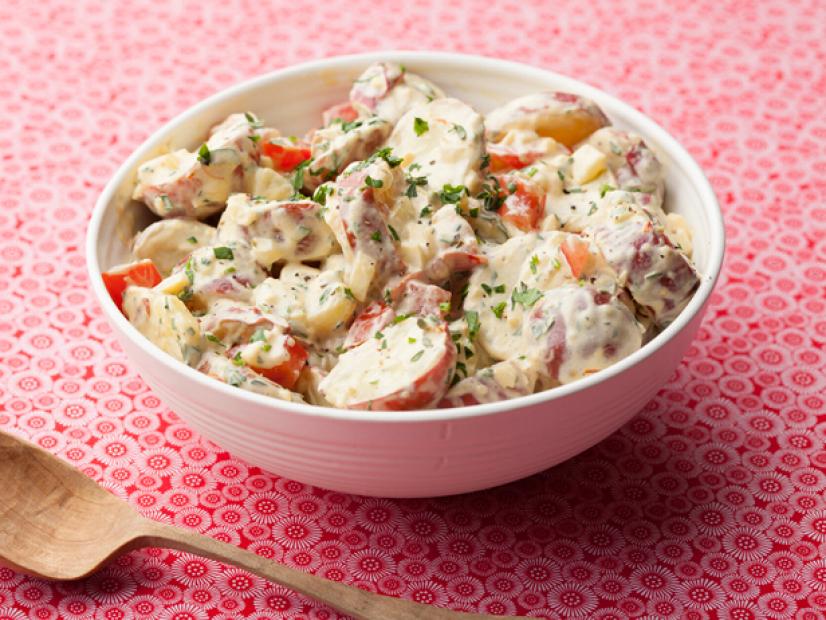 This recipe was just too interesting to pass up. What's even better, is that it appears to only have two steps! The saffron will certainly add some flair to what might possibly be your new favorite potato salad!
German Potato Salad – Kartoffelsalat from Grecobon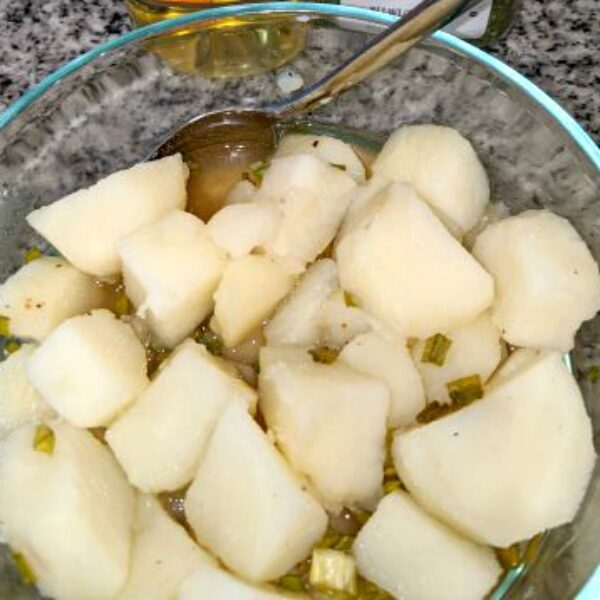 This one is served warm; an interesting change from what most of us are used to. It is the Swabian region of Germany's take on potato salad with so much beauty in it's simplicity. Serve along some Schnitzel to transport yourself to an Oktoberfest celebration.
---
Main Dishes & Sides
Since potatoes are a staple of many cuisines, we couldn't continue this post without some main dishes featuring them.
Greek Classic Moussaka from Dimitra's Dishes
If I want to find any recipe that is Greek in origin, I'm consulting Dimitra's Dishes. Between her website and YouTube channel, I've amassed quite the list of mouthwatering Greek dishes. Think of Moussaka as something akin to a lasagna. It is comforting, flavorful, and will fill not only your stomach but your soul.
While I do have my try at this dish on this site, but the recipe is hers so I am featuring that one here. Watch every video on her YouTube account, you'll be sure to find some new favorites as well!
Bleenies, aka Potato Pancakes from Grecobon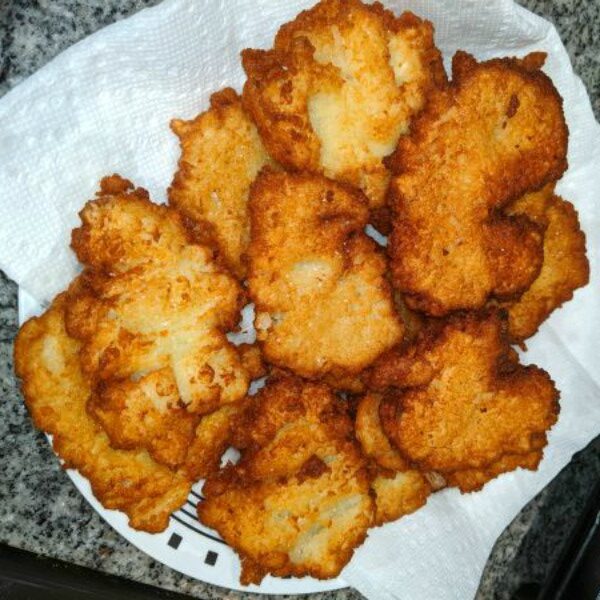 Similar in concept to the Farls from Ireland, mentioned above, we grew up calling them Bleenies. This was in Schuylkill County, PA, other parts of the world know them (or a variation of them) as Latkes, Kartoffelpuffer, Patatnik, לאַטקע, and more. I prefer them with ketchup while Matt goes straight for the sour cream as a topping. Which would you use?
Mushroom Stuffed Potato Cakes from Nadia's Healthy Kitchen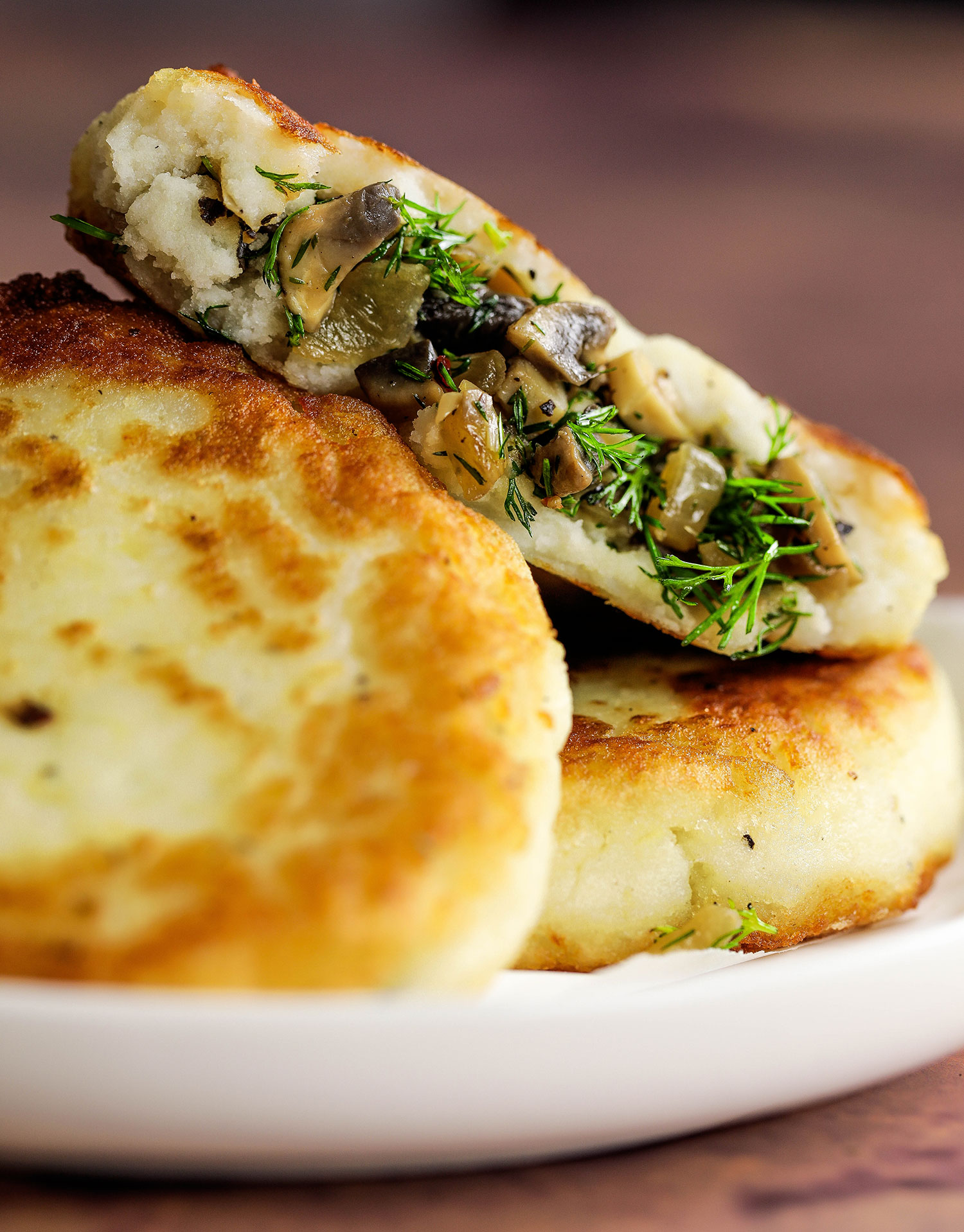 I do not know the origin of these, but I do know they look AMAZING. I can't wait to make these! They look so savory, and the combination of mushrooms, onion, dill, and garlic… chef's kiss! What would you pair them with?
---
Potato….DESSERTS?
Yes, you read that right. Who would have thought to use potatoes as an ingredient for a sweet treat? Here's two recipes that may pique your interest!
Old Fashioned Potato Candy from My Country Table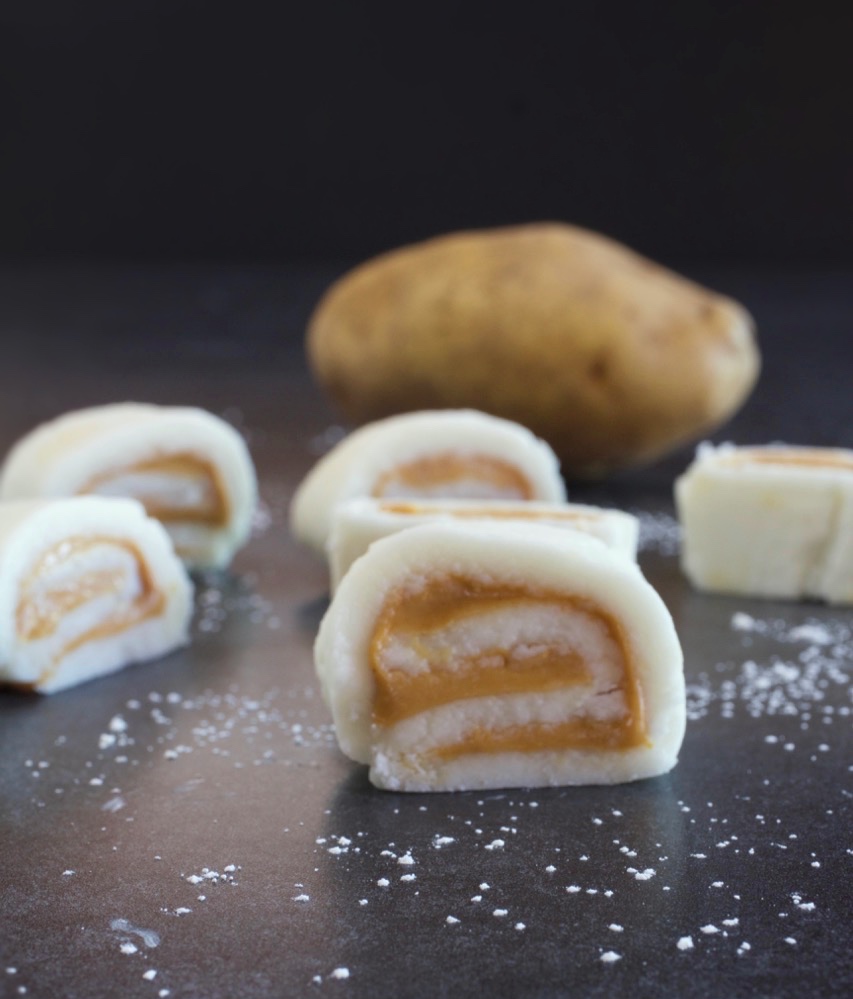 I grew up eating potato candy, later learning another name for it is Flitch. It's so simple, with very few ingredients and is always a crowd pleaser. Plus it's just adorable with the little swirls.
Vintage Chocolate Potato Cake from The Imperfectly Happy Home
Chocolate Potato Cake? This recipe speaks to my heart and soul! The blog says this recipe dates back to 1912, I'm curious to know more. Have you heard of this? Do you know the story behind it? Let us know in the comments!!!
---
Check out all of our other recipes and see if anything speaks to you the way these spoke to us.
---
Connect with us on Social Media:
---