Slater's 50/50 is Bacon Heaven
Over ten years ago now, I saw Slater's 50/50 featured on Bacon Paradise on The Travel Channel. On one of my many trips to Southern California before moving here, I visited the original Slater's in Anaheim Hills. In the years since, we've visited the original as well as several other locations.
I'm a big fan of Slater's in general, but it's not Lora's favorite – so we don't visit very often. Tonight, though, we decided to make our firest visit to the Riverside location, which just opened last year.
Slater's uses bacon in or on just about everything on the menu. Their namesake is the 50/50 Burger, which is half ground beef, half ground bacon. Years ago, they also did a rotating Burger of the Month, which was a different themed burger each month. As an example, one of their previous Burgers of the Month was a Gyro Burger. It seems they have discontinued this program, but their regular menu is still very good.
Burgers. Bacon. Beer.
In addition to being super popular for burgers and bacon, Slater's is also a craft beer lover's paradise. The Riverside location also has a new "tap wall," which is (as the name implies) a wall of taps. Usually, you load money onto a wristband and pour your own beer from each tap. You are charged a per-ounce fee based on the beer you choose and how much you pour.
Lora and I had visited several bars with this feature pre-COVID, but most of those locations closed after the pandemic. This is the first one we've seen open since, and we're excited to go back at some point and sample some beers from the wall.
Slater's 50/50 Vampire Dip
One of my favorite things on the menu (and in the world) is the Vampire Dip, which is a garlic, artichoke and melted cheese dip served in a bread bowl. Pita bread and veggies are served for dipping. Pro tip: you can also use the vampire dip on your burger and/or fries, if you go that route. You can also eat the bread bowl.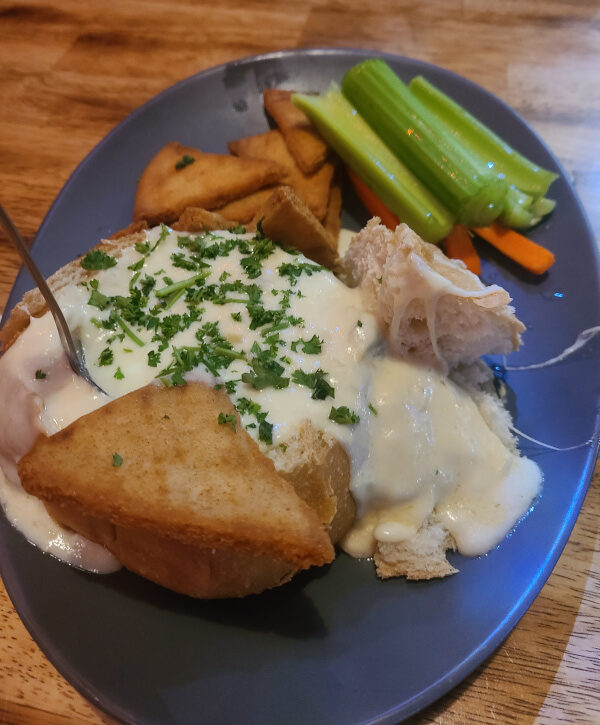 Slater's 50/50 Peanut Butter & Jellousy (Matt)
I've had several of Slater's burgers over the years, but my go-to is usually the Peanut Butter & Jellousy burger. As you can probably imagine from the name, this is a beef burger topped with peanut butter and jelly, along with two thick cut strips of bacon. To make it even better, they use strawberry jelly, which is my favorite (I cannot stand grape jelly).
As a side, I chose regular old french fries, but I did choose to "Slaterize" them. You can do this in one of three ways: Shmanimal (bacon island dressing, melted bacon American cheese, chopped grilled onions), Garlic Parmesan, or Bacon Chili Cheese. I am always looking to try chili whenever it's on the menu, so I went with the last option.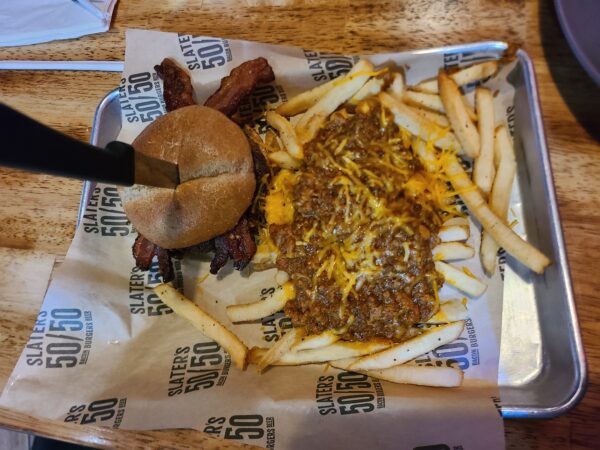 This was my first time having Slater's chili, even after all these years, and it did not disappoint. This chili is on the same level as Red Robin chili, which is probably my favorite chain restaurant chili (although they keep making me sad by taking it off of their menu). This will definitely be something I order the next time we visit, probably just in a bowl by itself if possible rather than as a topping for the fries. It's that good.
Hi-Brow Burger (Lora)
I got the Hi-Brown Burger. It is described on the menu as "Black Canyon Angus beef, melted swiss and blue cheeses, baby arugula, caramelized onions, horseradish, bacon-jalapeño jam and roasted garlic aioli on a brioche bun with A1 on the side."
Two things were different than the menu described. When I think caramelized onions, I think very thinly sliced onions cooked in oil in a pan until translucent then browned. As you can see near the bottom of the photo, that's not what I got. They were thick cut, and I'm not sure they were cooked at all, if they were it wasn't for very long. Everyone who knows me knows I don't like raw onions, its a texture thing. But I'm not going to send food back over a misrepresented garnish. I'm especially not sending food back at Slater's. That story is coming in a moment.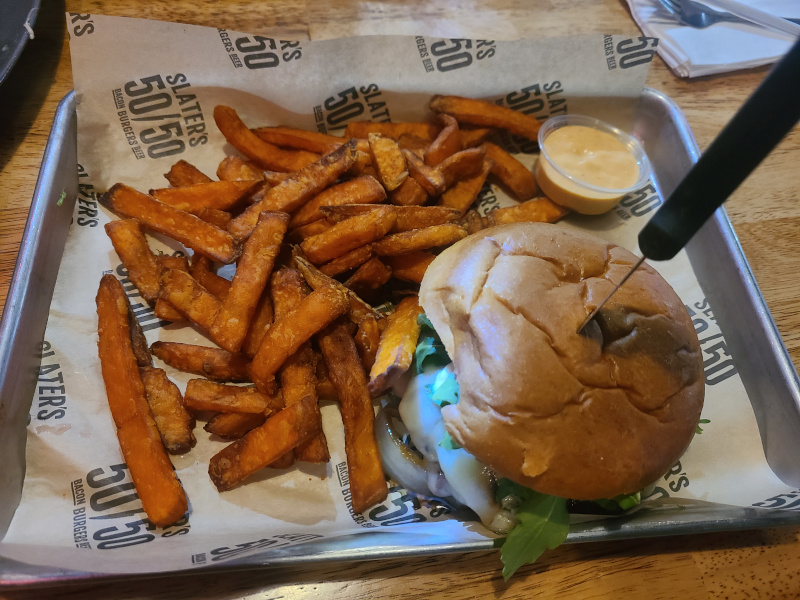 The second item that was different from the menu description, was well missing. There was no A1, not on the side or on the burger. I didn't realize that until writing my portion of this post. I'm not sure how that would have changed the taste of the burger.
Now, what I did receive (minus the onions) was pretty good. The bacon-jalapeño jam and horseradish had a nice kick which complimented the garlic aioli and cheeses. The burger was cooked perfectly. The sweet potato fries were cooked nicely – crunchy on the outside while still nice and chewy inside. This reheated well in our air fryer as lunch a few days later.
Lora's First Slater's 50/50 Experience
On my very first trip to California, we had dinner at Slater's. This was at the Anaheim Hills location which I'm told has since closed. Perhaps this is why.
Not sure what burger I even ordered, but it came to the table cold. No, not cold – FREEZING. Not immediately from freezer to plate, but it hadn't been near a grill in some time. When I could finally get the attention of the wait staff and brought this to their attention they told me I must have let it sit too long before eating it. I stared at the worker in disbelief. "You're telling me, I sat here long enough for what you claim is a freshly cooked burger to….freeze?"
They offered to remake it for free. Gee thanks. I told them I was no longer interested in eating any food from their establishment, and had Matt take me for fast food on the way home because I was still hungry. So, because I prefer to be brutally honest here, this has been the experience that has haunted me every Slater's visit for the last 10 years. Matt has had nothing but amazing experiences here, and I've been two other times with no issues. But I do tend to hold restaurant grudges.
Seriously, I had a similar experience at Burger King in 2012 and haven't had a burger there since. This was the BK in Pottsville, PA, and I've refused a burger (other than the Impossible Burger) at any BK nationwide since.
Slater's 50/50 If You Love Bacon
If you love burgers, bacon, and beer, you should definitely check out Slater's 50/50 at some point. They have 11 locations throughout the southwestern US, mostly in California.
Check out some of our other Bacon related posts!
---
Connect with us on Social Media:
---