Ras El Hanout – Moroccan Spice Blend
This spice blend is so flavorful and easy to put together with many spices you probably already have. Ras El Hanout basically translates to "top shelf" and that it is. Literally it translates in Arabic to "top/head of the shelf" but you get it. In this post we will show you how to make it and some ideas of how you can use it.
To put together this spice blend I looked through a variety of recipes, combined the ingredients they used most often, and added in those I already had and like. Many use Cardamom which I'm not a fan of, so I omitted it. However, feel free to add it, if it's a flavor you enjoy. One recipe used rose petals! I'm intrigued enough to try this and will absolutely update this post to reflect that addition.
About Ras El Hanout
Ras El Hanout is a spice most commonly found in Morocco, Algeria, and Tunisia. All three countries are on the northern tip of the African continent. It is a versatile spice combination. This blend can used as a meat rub, stirred into rice dishes, couscous, tagines, and soups.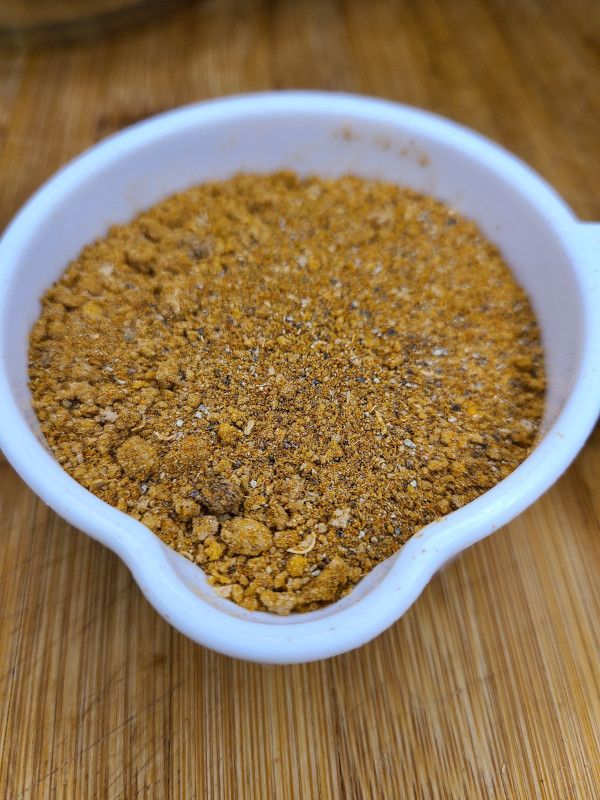 Like many regional foods the spice/flavor combination varies from region to region and family to family. Most recipes include cumin, cardamom, ginger, coriander, paprika, and turmeric. (information source: Wikipedia)
Now, the use of salt and sugar are apparently not the generally accepted practice in this spice blend. However, I did. Because the recipes I researched, and my first few batches of this spice, did use them. They are easily omitted if you want a more traditional blend.
It takes minutes to put together and adds a ton of flavor to any dish.
The Ingredients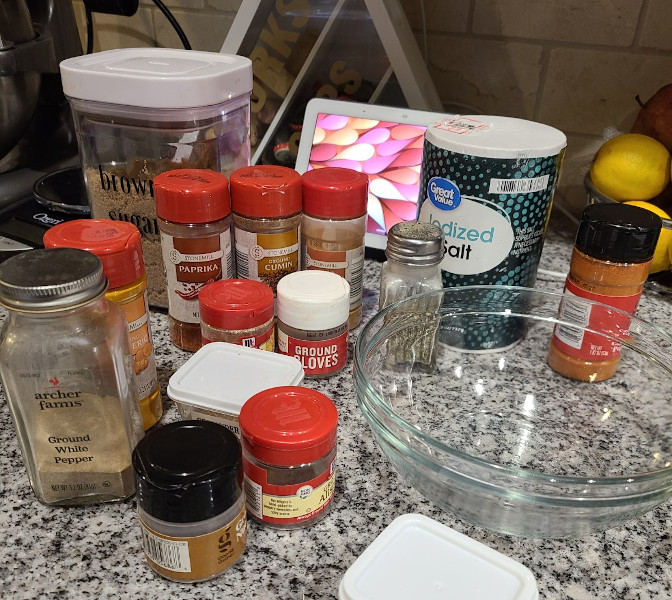 Brown Sugar – Again, this is not the generally accepted practice to add sugar. It does bring a nice subtle sweetness to the blend, but if you want to go more traditional, then omit it. Next time I need to make this I'll be omitting the sugar to see what the difference is for my tastes.
Cinnamon and Cloves – They add a nice woody flavor and are commonly used in African spice blends.
Cumin and Paprika – These spices add a savory flavor to any dish or spice blend. They are common ingredients in Ras El Hanout.
Coriander, Ginger, and Turmeric – As mentioned above these are some of the most common ingredients in this blend. They all have anti-inflammatory properties as well.
Salt, Pepper, & White Pepper – These three help bring the spices together. Black pepper aids in the activation of turmeric's anti-inflammatory properties. The salt can be omitted as it is not considered as one of the common practices with this blend.
Nutmeg – Nutmeg adds a warm and nutty flavor.
All Spice – Similar to Nutmeg, Cloves, and Cinnamon, All Spice adds a a warmth to dishes and spice blends. It also has some medicinal benefits for digestive issues. If you're interested, you can read about the benefits of all spice.
Cayenne – Add a nice amount of heat to the blend. Use more or less depending on your taste preference.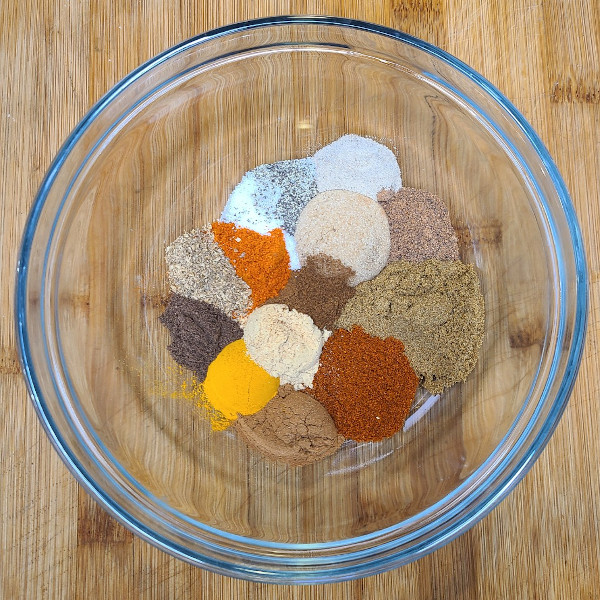 Dishes We've Made
I want to use this in so much more. I hope this list continues to grow. Obviously you can see that so far I've only used it with chicken. I'm working on that.
Some Ideas on Using Ras El Hanout
burgers, greek yogurt for dip, scrambled eggs, fish
Because this spice blend is so versatile you can use it on pretty much anything. Some recommendations I've seen across other blogs and learning about Ras El Hanout include:
Mix in with Ground Meat for Burgers.
Use as a rub for lamb or salmon.
Stirred into stews or tagines.
Mix into rice, couscous, or even potato side dishes.
Add to Greek Yogurt to use as a dip for fried foods or kebabs.
Use as a seasoning for roasted chickpeas to pack a punch of flavor into each bite.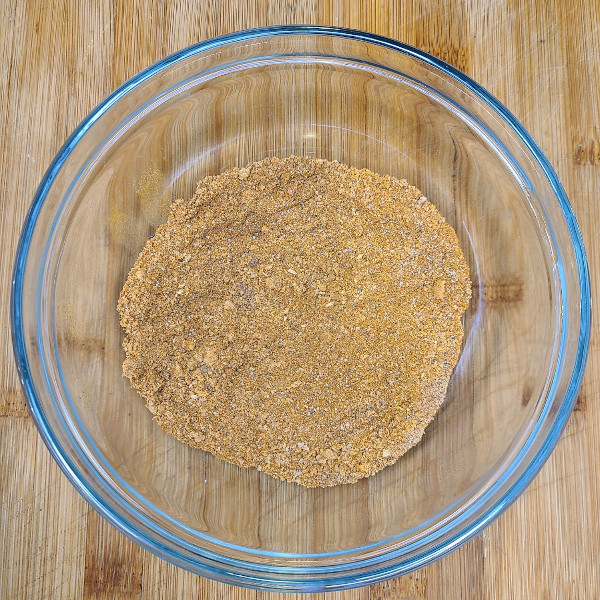 Ras El Hanout Recipe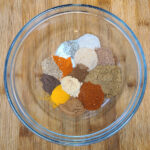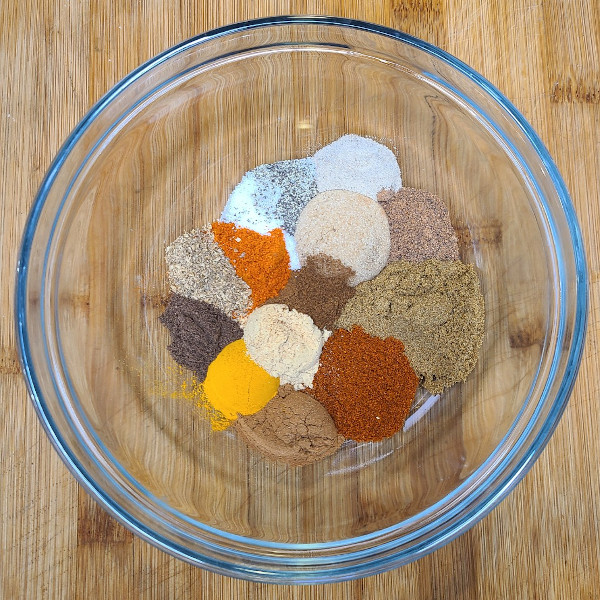 Print Recipe
Ras El Hanout
Very versatile and aromatic spice blend originating in Morocco, Tunisia, and Algeria.
Equipment
Mixing Bowl

Whisk

Airtight Container
Ingredients
1

Tbsp

Brown Sugar

3

tsp

Cumin

2

tsp

Paprika

1

tsp

Cinnamon

1

tsp

Ground Ginger

1

tsp

Turmeric

¾

tsp

Black Pepper

½

tsp

Cloves

½

tsp

Salt

½

tsp

Ground Coriander

½

tsp

All Spice

½

tsp

Ground Nutmeg

½

tsp

White Pepper

½

tsp

Cayenne Pepper
Instructions
Add all ingredients to a mixing bowl, whisk, and store in an airtight container for up to a year. Makes a little less than a half cup.
Final Thoughts
I can't say enough good things about this spice blend. I need to experiment with some of the recipe ideas mentioned above and report back! You can get very creative with this blend and add a flavor punch to a myriad of dishes.
---
Connect with us on Social Media:
---