Pumpkin Recipes for Every Meal
Fall: leaves changing colors, chunky sweaters, football, chilly weather, and of course PUMPKIN! Pumpkin flavored everything is out this time of year: coffee, ice cream, cereal, candy, you name it.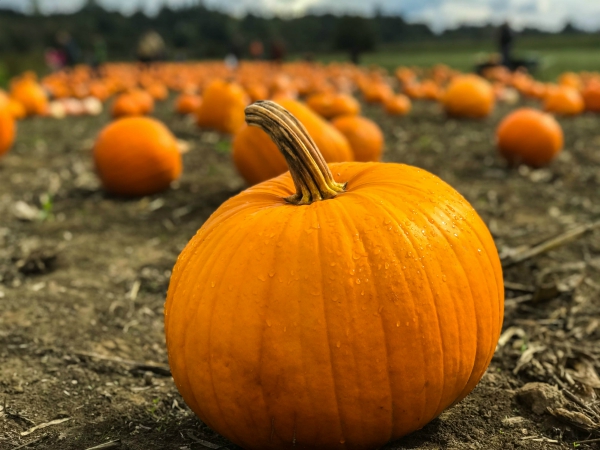 Thanksgiving is rapidly approaching. The thought occurred to me that while I love pumpkin pie, I wanted to see what the rest of the world does with pumpkins.
I've compiled some recipes from different bloggers who shared recipes from around the world. Some are just adventurous and curious like we are with food, and some are from the country they are sharing a recipe from. Though I had many to choose from, I ultimately decided on these 9.
---
BREAKFAST
Is breakfast the most important meal of the day? That answer varies depending on where you are in the world.
Unfortunately many of us tend to skip this meal or grab something quick on our way out the door. Make breakfast memorable one morning with either of these pumpkin options. Serve them during a nice weekend with family, or assign a household member to make them Thanksgiving morning to set the theme for the day.
Nhopi – Zimbabwe
Nhopi, a recipe from blogger Princess Tafadzwa, is a porridge like dish. In her post, Princess Tafadzwa states that while her grandmother makes this dish for lunch, she enjoys it as a dessert. I've always thought of porridge or anything like it as a breakfast dish so I listed it here. Ready in just 25 minutes with just a few simple steps and ingredients, Nhopi may just become a new favorite.
Olad'yi – Russia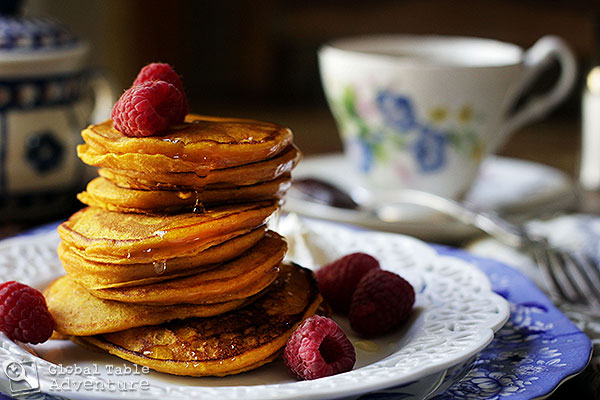 I mean, would you look at these pancakes? Aren't they a dream? Olad'yi are similar pancakes as we would know them here in the US. This is another simple recipe with ingredients you probably have most of already. Top with honey or fruit (or both), and you are ready to start your morning. This is a pumpkin (obviously) variation fit for fall.
The blog where this recipe comes from, Global Table Adventure completed a similar journey to the one we started by cooking at least one dish from every country in the world. We hope in 2020 to reignite our journey and take it to the next level.
There are three recipes from Global Table Adventure in this post. I've spent hours going through this website ogling over all the deliciousness she has made over the years.
---
LUNCH/SOUPS with PUMPKIN
Chillier months are here in most parts of the US. While I couldn't find anything I deemed to be a lunch specific meal, I did come across some soups. Have them for lunch, add them to dinner, however you want.
Caribbean Pumpkin & Coconut Cream Bisque – Saint Vincent and the Grenadines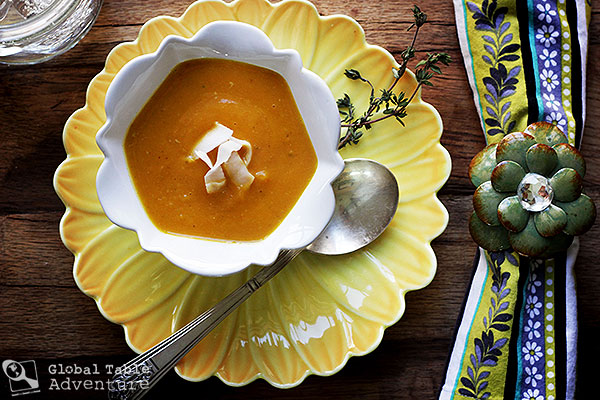 Caribbean Pumpkin & Coconut Cream Bisque, the second recipe from Global Table Adventure. This soup brings a taste of the islands without straying too far from pumpkin season. With Pumpkin, Ginger, and Coconut, the aroma will fill your house with love. Better yet, there are only two steps to this recipe, aside from prep.
Canh Bi Do Nau Suon Heo – Vietnam
Canh Bi Do Nau Suon Heo, Vietnamese Kabocha Squash Soup with Shrimp comes from the website Vicky Pham. This is a Vietnamese focused recipe blog. This particular recipe uses Kabocha pumpkins, the green ones. They may be in the store as Japanese Pumpkin, but you can substitute with butternut squash if need be. Traditionally, Canh Bi Do Nau Suon Heo is served as a side dish to steamed rice. It appears that you'll make the main part of the soup all in one pot, and just keep adding ingredients in increments.
---
DINNER
I can't help but be fascinated with recipes from other countries. What they do with ingredients that we don't think to here always amazes me. That's what started this Journey Around The World via Food, the curiosity over other cultures. While we aren't always making new dishes from other countries on a regular basis, I'm still reading up on food and cultures of different countries.
Pumpkin Yellow Curry – Myanmar
Pumpkin Yellow Curry, from the website krumpli. This vegan dish cooks in just 30 minutes. While the ingredients are simple, it still packs a flavor punch. From my research, pumpkin curry is noted to be a popular dish in Myanmar.
Challaw Kadu – Afghanistan
Challaw Kadu, Afghan Pumpkin with Meat and Yogurt Sauces and Rice, is from the site, Julio's Delicatessen. According to the blog, this is "America's favorite Afghan dish." Looks simple and straight forward. Pumpkin with meat sauce and a yogurt sauce. Another dish paired with rice, the aroma while cooking this should fill your house with all the fall feels.
---
PUMPKIN DESSERTS
While I went with two recipes for breakfast, lunch/soups, and dinner, I couldn't choose just two desserts. All of these sound like they need a place at my table next week!
Kar' Assaly – Egypt
Kar' Assaly: Egyptian Pumpkin Pie. This dessert excites me the most. It looks so inviting and perfect. The recipes comes from what appears to be an older blog, Wanderlust Queen. Browsing through the archives of this site, I'll be visiting here a few times to try some recipes she has featured.
Pumpkin base is topped with a sweet béchamel sauce. Pumpkin, cinnamon, walnuts, honey. All of the goodness mixed together.
Pampoenkoekies – South Africa
Pampoenkoekies, South African Pumpkin Fritters, are from the blog, Immaculate Bites. This site features African and Jamacian recipes and has been added to my Bookmark list because of this recipe above.
In less than 30 minutes you'll have delectable treats. Top with caramel sauce for the ultimate flavor experience.
Sankaya – Thailand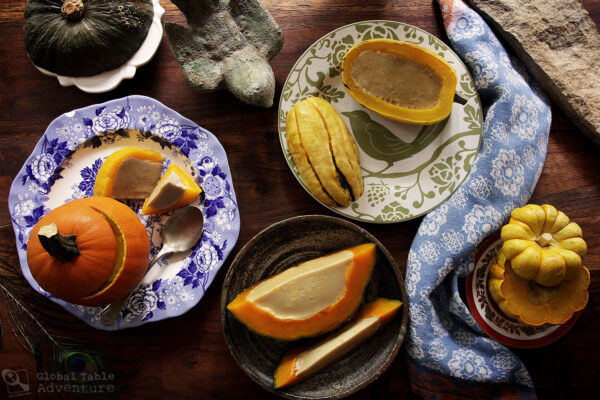 Sankaya: Thai Pumpkin Custard. The final recipe from Global Table Adventures, and the final recipe on this list. For this dessert, you're going to serve the custard inside the pumpkin! This would make for quite the surprise at the dinner table!
---
Pair any of these recipes with a Pumpkin beer from this list!
Check out all of our other recipes and see if anything speaks to you the way these spoke to us.
Feeling like an adventure? Here's the How To Guide on how to celebrate a proper Tom Hanksgiving. Yes you read that right.
---
---
Connect with us on Social Media:
---