Halupki, Gołąbki, Голубці, Kohlrouladen….
Halupki, like Halushki, is a dish that I grew up with, not realizing it was not as common everywhere else. This is a popular dish in Schuylkill County, Pennsylvania that you will find at many parties, picnics, weddings, fundraisers, and especially at home around the holidays.
Looking up Halupki on wikipedia results in a one word result: Gołąbki, the Polish name for this dish.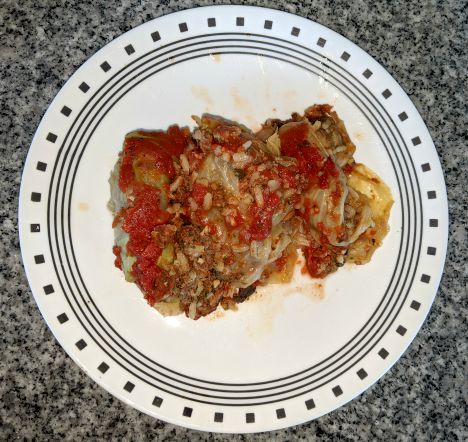 Halupki Around the World
This dish is comprised of cabbage leaves, or some other sort of edible leaf. The leaves are stuffed with filling, and a regional sauce. Here are some similar dishes I've found around Europe (information from wikipedia):
Gołąbki, golombki, golumpki, golabki, golumpkies, golumpkis, gluntkes, or gwumpki in Poland
Holubky in Slovakia.
Töltött káposzta in Hungary.
Голубці – Holubtsi in Ukraine.
Голубцы – Golubtsy in Russia.
Balandėliai in Lithuania.
Kohlrouladen in Germany.
Kåldolmar in Sweden.
Sarma in Serbia.
Sarmale in Romania.
Regionally in the United States, I've also seen them referred to as Pigs in a Blanket and Blind Pigeons. But these terms may be for other meals in other areas.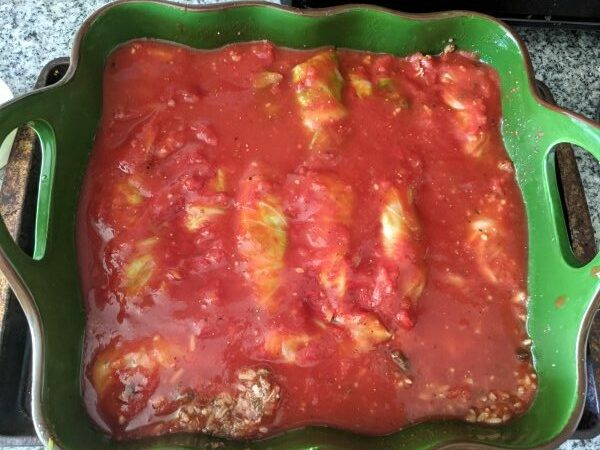 Stuffed cabbage variations exist worldwide. I discovered many other versions I am interested in trying while preparing this post. Those listed above are just some similar to what I've made.
Learn about the worldwide variations here.
Finding a recipe…
I didn't have an exact recipe to follow originally. Searching around between other recipe sites, food blogs, and youtube, I came across this recipe from Jenny Can Cook. This is the blog of former talk show host, Jenny Jones. She writes that it is her father's recipe.
The Process
This recipe taught me about cutting the core out of the cabbage prior to boiling. This has saved me so much time, as previously when making Halushki, I would have to remove the cabbage from the pot, chop a bit off and then put the inside back in the pot as it hadn't boiled quite yet.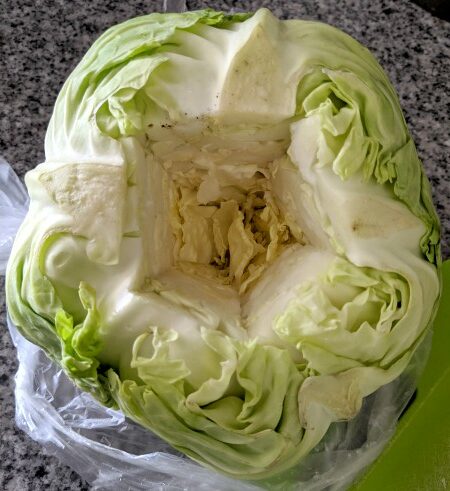 What grabbed my attention about this particular recipe me were the mushrooms. The halupki I grew up with certainly didn't have mushroom. I love mushrooms, so this intrigued me. Once the meat, rice, and herbs mix with the mushrooms, I get so excited, the aroma, the excitement of the meal to come….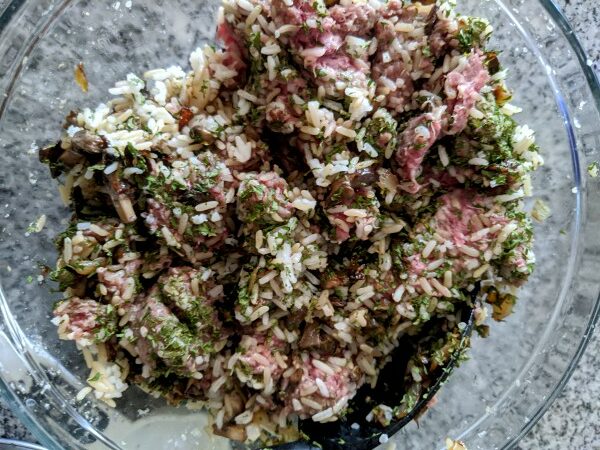 She explains about slicing off the spine of each leaf to later aid in the rolling. So as to not waste any parts, I added it to the browned outer leaves, and the inside leaves too small to roll as a bed for the rolls, so they weren't sitting right on the pan and didn't stick at all.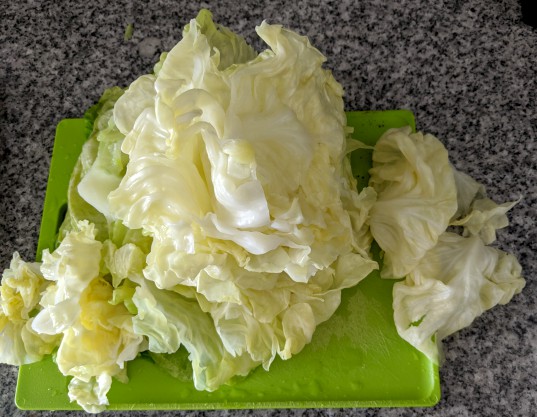 Rolling the Halupki
The part I was most afraid of was the rolling. Although tedious, it really is no issue at all. If doing this for the first time, you'll have to have some patience.
I lay the filling inside, roll the bottom (the part closest to me) over the filling, tuck the sides over and then continue rolling and make sure to lay them on the seam so they don't unravel. What I haven't mastered yet is perfectly spooning out the right amount of meat in proportion to the quantity of cabbage leaves so there is no left over of either filling or usable leaves. Perhaps with time.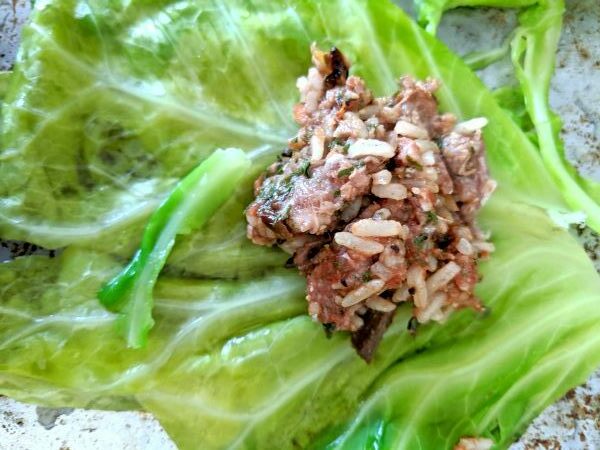 You can find the original recipe above. This is my variation: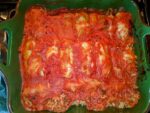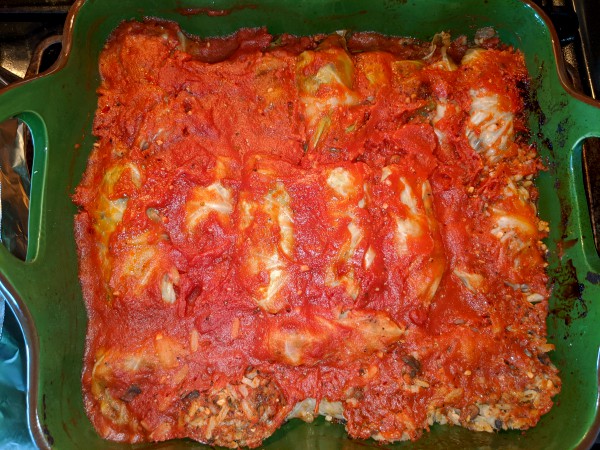 Print Recipe
Halupki
Ingredients
1

large head of cabbage (about 3 lbs.)

or use 2 smaller heads

1

Tbsp

olive oil

1

cup

diced onion

2

cloves garlic, minced

2

large mushrooms finely diced

(1 1/2 cups)

1

lb

ground beef

1

cup

uncooked instant rice

¼

cup

chopped parsley

12

oz

tomato sauce

1

8 oz

can tomato paste

2

Tbsp

ketchup

1 ½

tsp

salt

pepper

to taste

¾

cup

beef stock

¼

cup

cabbage water
Instructions
Bring a large pot of water to boil. Cut center core out of cabbage and place, core side down, in boiling water. Cover and simmer for 10 minutes.

While cabbage simmers, heat oil in pan over med-high heat and sauté onion and garlic 3-5 minutes until browned. Add mushrooms and cook another 2 minutes. Transfer mixture to a large bowl to cool.

Remove cabbage to a rimmed baking sheet, keeping water in the pot. Gently remove leaves from cabbage, cutting away from the core with a small knife. Set aside the best 16 unbroken leaves and cut off the thick spine in the center for easier rolling. Set all remaining broken or small cabbage leaves aside. (If the core is too firm, return it to boiling water for a few minutes to soften).

Mix the tomato sauce, paste, and ketchup together in a bowl.

To cooled onion mixture, add meat, rice, parsley, salt & pepper and half of the tomato mixture. Combine well.

Add spines and a few leaves to the bottom of the pan.

Place about 1/4 cup of filling in each leaf, roll, and place seam side down in a 13 by 9-inch pan.

Add stock and cabbage water to tomato mixture, pour liquid over rolls and lay some leftover leaves on top if you have any. Cover pan tightly with foil, and bake for 1 1/2 hours. (Place pan on a cookie sheet in case it drips).

Remove from oven and let rest 30 minutes or better still, refrigerate overnight. (They freeze well.)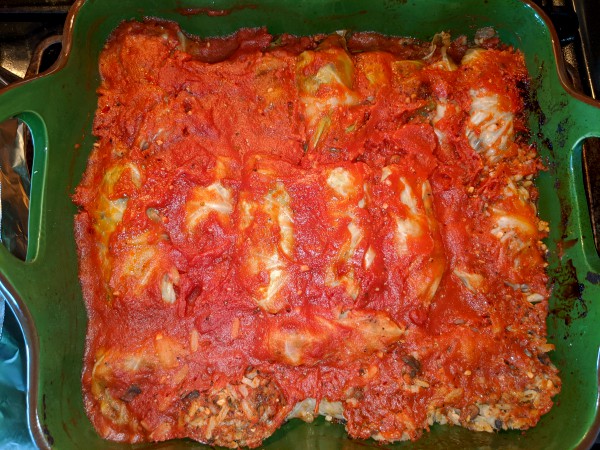 I created a three part tiktok last time I made Halupki. This time I used all the sauce on the inside, and while it looks different, know that it is just as delicious! The musical artist on each video is Hrdza, a Rusyn band from Slovakia that I have loved for a couple years now. I always play their music when making this dish or Halushki.
Is this version similar to the one you are familiar with? Do you make a different version? Or, is this a totally new dish to you? Let us know in the comments!
Tip: try your own homemade tomato sauce for this if you have the time, it makes quite the difference!
---
Connect with us on Social Media:
---