Marinated Mushrooms – A Mexican Inspired Side
The recipe I used as reference calls these Mexican Style Mushrooms, but its a Southwest style cookbook. I know a lot of Southwest cooking is inspired by Mexican cuisine, but for the sake of not knowing for sure, we will just call these Marinated Mushrooms.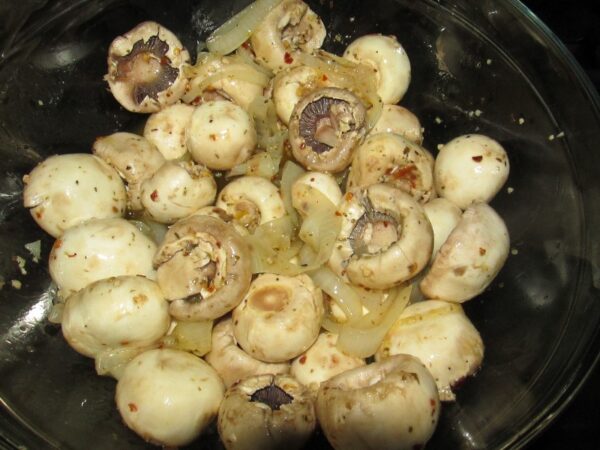 What You'll Need
Listed below is what I used, you can always alter based on what you have on hand, ingredient or equipment wise. Whatever works for you.
Equipment
You'll really just need a nice sharp knife, maybe a slicer or mandoline if you have one, cutting board, and a medium sized pot.
Marinated Mushrooms Ingredients
Mushrooms- Obviously they're the main ingredient here. You'll want them to be about 2-3 inches nothing bigger. Make sure to clean and stem them. If you prefer your mushrooms smaller, slice them each in half.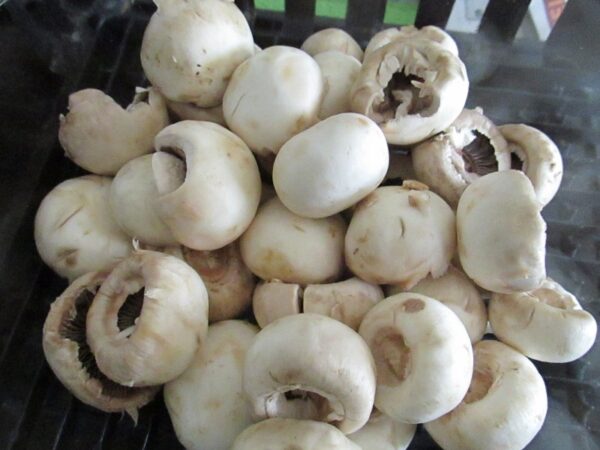 Olive Oil, White Wine Vinegar, Garlic, Crushed Red Pepper, Chili Powder, Oregano, Salt, Pepper, Cumin – This is your marinade. A little bit of heat plus the aroma of the cumin and garlic makes this a mouth watering side.
Onion – Originally when I made this I sliced the onion as directed. I would in the future slice way thinner, or dice the onion. But that is a personal preference since onion is certainly not my favorite vegetable. It's the texture for me.
White Wine Vinegar – Adds a nice tartness to the dish.
Garlic, Crushed Red Pepper Flakes, Chili Powder, Cumin, Oregano, Black Pepper, and Salt – The spices when combined add a nice flavor punch since the mushrooms have a more subtle flavor. Along with the vinegar, they have a nice bit of heat without being overwhelming.
Let's Get to Cooking!
Start by slicing or dicing your onions to your preference. Next clean and stem your mushrooms and add them to a heatproof bowl and set aside. Then add the olive oil, vinegar, garlic, crushed red pepper, chili powder, oregano, salt, pepper, and cumin to a medium sized pot and bring to a boil. Once this mixture is boiling, add your onions. Stay close and stir frequently. It will be ready when the onions just begin to soften.
Pour this mixture over the mushrooms, cover and allow the mixture to marinate for at least two hours at room temperature to cool down and to absorb all the flavors of the marinade. After about two hours, or when the bowl is cool enough, you can add to the fridge to chill until ready to serve.
Marinated Mushrooms Recipe
Print Recipe
Marinated Mushrooms
A Mexican and Southwest cooking inspired side dish. These can be made ahead to save you some time in the kitchen later!
Equipment
1 Sharp Knife, Slicer, or Mandoline

1 Cutting Block

1 Medium Sized Pot
Ingredients
1

onion

sliced thin and separated or diced into small pieces

12

oz

package of 2-3 inch mushrooms

cleaned and stemmed

½

cup

olive oil

½

cup

white wine vinegar

2

garlic cloves

minced

½

tsp

crushed red pepper flakes

½

tsp

chili powder

½

tsp

cumin

½

tsp

oregano

½

tsp

black pepper

¼

tsp

salt
Instructions
Slice onion thinly or dice into small pieces as per your preference.

Clean and stem mushrooms. Slice in half if you prefer. Transfer mushrooms to heat proof bowl and set aside.

Add olive oil, vinegar, garlic, crushed red pepper flakes, chili powder, cumin, oregano, salt, and pepper to medium sized pot and bring to a boil.

Once boiling add onion. Stir frequently until onion begins to soften.

Once onion begins to soften, remove from heat and pour over mushrooms. Cover loosely and marinate at room temperature for about two hours or until bowl is cool to touch if you need to wait longer.

Chill until ready to serve.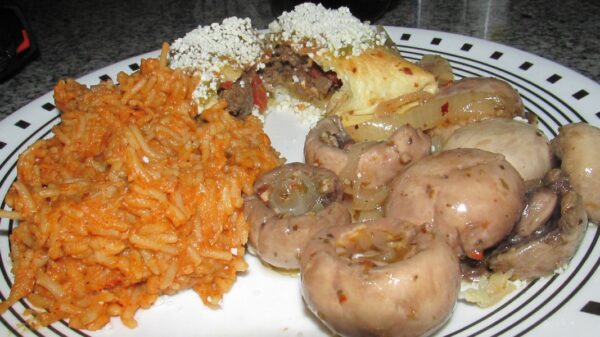 Marinated Mushrooms – Final Thoughts
This is a great side dish you can make hours ahead of time or even the day before. Leftovers can be chilled and stored for up to 5 days or so.
We originally served this alongside beef chimichangas and Spanish rice. I highly recommend this combination.
If you make this recipe please let us know, tag us on social media!
---
Connect with us on Social Media:
---