CiCi's Pizza – Not Our Original Destination
I feel compelled to write this review. Considering this was in fact our substitute for the awful service we received at Shamrock Irish Pub in Murrieta, I'll give it a shot.  CiCi's Pizza is a pizza buffet chain with 429 locations across the United States. There are only two in the state of California.  Both of them happen to be nearby, and one happens to be across the street from Shamrock.  My cousin also happens to live nearby the Murrieta location. We often drive by it on our way to his house. I've often found myself thinking "Hey, maybe one day for lunch we should give CiCi's a shot." This seemed like as good a time as any.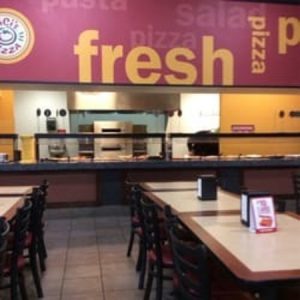 I've had previous experience with CiCi's, back when we lived in Pennsylvania.  My friends and I would often go to Allentown on weekends, and there was a CiCi's location in Whitehall. Anyone from the Lehigh Valley knows is where most of the shopping is located, notably the Lehigh Valley Mall and all of its surrounding retail establishments.  The first California location I've visited was pretty much exactly what I expected and remembered about the food and inside of the restaurant.
Chuck E Cheese for adults….
The inside of the restaurant is interesting because they have a rather large arcade in the back corner.  Lora mused while we were eating that I had brought her to Chuck E Cheese for adults. That's really not what I see CiCi's to be. More it's just a pizza chain that happens to have an arcade in it.
The food itself is very basic, just as I remembered.  The one thing I do remember that this location didn't seem to have is any of their interesting concoction pizzas. Like mac and cheese pizza, for example.  I did have a slice of what appeared to be Philly Cheesesteak Pizza, which was alright but rather bland.  They also had what they call a "deep-dish" pizza, which just appeared to be some breadsticks with pizza toppings.  I tried the Garlic Parmesan, which was actually very, very good.
As for their more conventional pizzas, the stuffed crust pizza with pepperoni was very good. In my opinion anyway for a chain restaurant. As was the regular New York style pepperoni pizza. If you're not sensing a theme here, I do love pepperoni on my pizza.  My only real complaint (as is pretty much the case with any chain pizza) is that everything was very greasy.
Besides Pizza…
They also have soups, salad, and pasta.  I do remember the pasta being decent from my previous visits. Though I wasn't really in the mood for salad or pasta, I did have a bowl of the chicken cavatappi soup, which is basically chicken noodle with cavatappi as the noodles.  It was decent, but I suppose it's pretty hard to mess up chicken noodle soup.
All in all, for $20 for the two of us (including drinks), I can't really complain.  It is what it is, a cheap pizza buffet chain.  Thanks Shamrock Irish Pub, you saved us some money on our first "Irish" month lunch!
Restaurant.com: Save on Your Next Meal