Chicken Penne Primavera – Another Easy Aldi Dinner
In April I posted about my love of the grocery store Aldi and their Beef Stroganoff Cheesy Skillet Dinner Kit. For tonight's dinner we chose another of their meals – Chicken Penne Primavera.
Aldi's low prices explained.
Aldi keeps their prices low with practices which keep minimal staff on hand to provide you with cost effective quality groceries.
As a review, you use a quarter (which you'll get back) to release a cart, ensuring that everyone returns their cars. This doesn't tie up an employee's time chasing carts around the parking lot. They place items on the shelf in the packaging boxes, making stocking quicker.
Lastly, you bag your own groceries. For someone like me, who worked in two grocery stores before, this is a dream. I'm not fond of other people packing up my groceries. We love that we can find most of what we want from Aldi and shop there weekly.
Aldi is also the parent company of Trader Joe's.
Chicken Penne Primavera Skillet Meal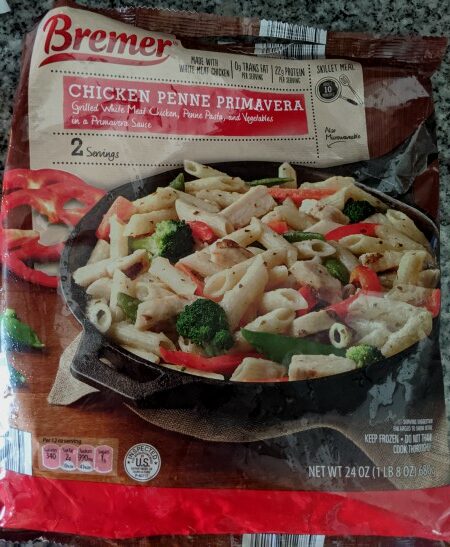 When we purchased the Chicken Penne Primavera originally, we tossed it in the freezer, like we do with most other pre-made meals I forgot to get it out of the freezer the night before we planned to eat it, so I had to defrost it a bit first in the microwave. I emptied the package into a microwave safe bowl and put it on defrost for 20 minutes. There was a sauce in there which also froze of course and needed to defrost as well.
Once it defrosted I could that it had a nice variety of vegetables: broccoli, peppers, carrots, and more.
After that I just microwaved it on high for 10 minutes as I was busy with other things. I could have easily cooked it on the stove, but this seemed to work just as well.
Thoughts on Aldi Chicken Penne Primavera:
This was a smaller sized meal, but the pasta was just filling enough for the two of us. We added some Parmesan cheese once it was plated.
I do think we will be buying it again, as it is great for days where you're too busy to spend time at the stove. Next time however, I'll be adding more chicken, and probably serving with side salad.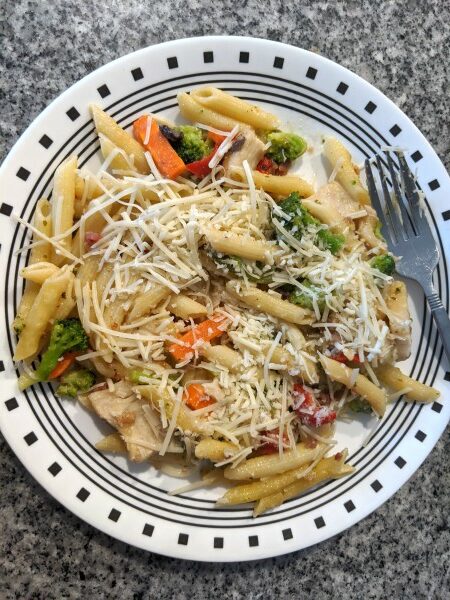 Check out some of the other easy pre-made meals we've made recently.
Do you keep pre-made meals in the freezer for nights like this? Do you shop at Aldi? Let us know in the comments below!