Beef Stroganoff Cheesy Skillets Dinner Kit: An easy dinner kit from Aldi!
We love the grocery store Aldi. For those of you unfamiliar, Aldi is a well known grocery chain in Germany, quality products at low prices.
How are they able to make the prices so low?
To make those prices so low, they use minimal advertising and store decor, they place the cases of food on the shelves in the boxes to eliminate the need to have tons of staff on the floor for long periods of time unloading everything and taking up room in the aisles. They also require you to use a quarter to "rent" your cart while at the store, put a quarter in the mechanism on the bar, and it releases the cart from the cart in front of you.
Also, a difference from the usual American grocery store, is the checkout process. It's fast, so don't blink, they scan the products (which you'll notice Aldi products have multiple bar codes to make scanning quick and easy) and put them right into a cart already at the end of the belt while you're still unloading from your cart. You'll pay, get the newly filled cart, and leave them the cart you used to shop. You'll then head to a bagging area and bag your own groceries, you'll have to bring your own bags, or they have them available for a few cents per bag. Upon loading your groceries into the car, you'll return the cart (saving money not having to have staff out in the lot all day collecting and returning them), lock it into the cart in front of it, and receive a quarter back.
Many turn their nose up at Aldi in our area. They think low of it. I can't understand that at all. I grew up with Aldi on the east coast, I find it to be cleaner, more efficient, and after working in two grocery stores myself, I prefer to bag my own groceries anyway and will direct the bagger elsewhere at any other store.
Enough about Aldi, let's get to the food.
One of Aldi's store brands is Reggano. They have their own version of the popular Hamburger Helper meals, called Reggano Cheesy Skillets Dinner Kits. Very similar to what you see at your neighborhood store or the big name stores, but at a much lower price. The kits come with the seasonings and sauce and dried pasta. You just need, water, oil, or milk, or a combo of some of them in addition to whatever meat is recommended.
We chose the Creamy Beef Stroganoff variety.
Ingredients:
1 pound ground beef or turkey
1 cup water
1 1/4 cup milk
Contents of Reggano Cheesy Skillets Dinner Kits – Creamy Beef Stroganoff package
Instructions:
Brown and drain the meat.
Add water, milk, pasta, and seasoning packet, bring to a boil, reduce heat and allow to simmer for 8-10 minutes until pasta is tender and liquids are aborbed.
Remove from heat, add cheese packet, stir, and serve.
This is an easy, delicious meal, reminds me of college when I was low on time and money, but something I still enjoy 15 years later.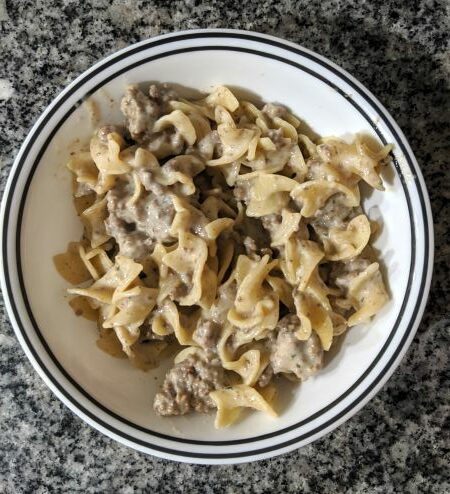 Do you shop at Aldi? Why or why not? Let us know in the comments below!