Chicken Kebabs with Moroccan Seasoning, Grilled
Not sure what to make for dinner, we decided on grilled chicken kebabs with Creamy Potato Salad. This meal ended up being a combination of recipes that turned out so perfect.
I remember my parents making kebabs during the summer, grill is going, kiddie pool in the yard, family visiting. Awesome memories came rushing back by just deciding to make one particular dish. It's crazy what food can do.
To Marinade or not?
I remembered that when I made the Moroccan Inspired Chicken last month, that there was a ton of seasoning left. So, I used 3 teaspoons of that with some olive oil, lemon juice, and minced garlic to create a marinade for the chicken. I left it in the fridge for about 5 hours to soak up the flavor. You want your chicken to marinade for at least 30 minutes.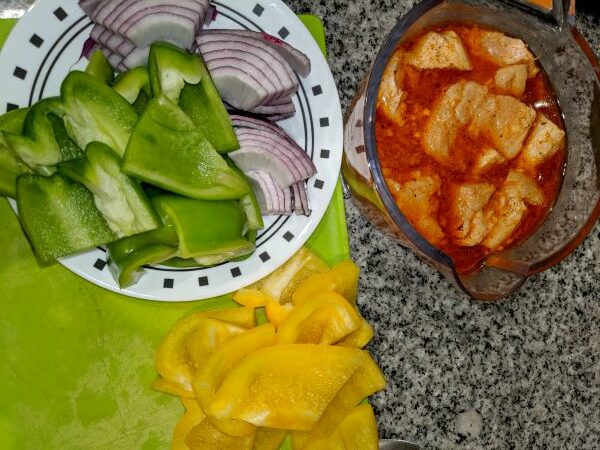 The Ras El Hanout smells so amazing, and I definitely need to use it with more dishes.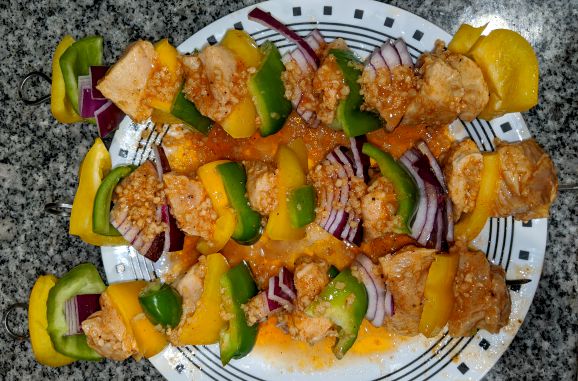 I used metal skewers instead of wooden, because that's what I happen to have. Assembly went well and they were ready to go on the grill.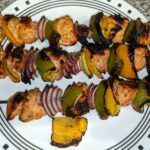 Print Recipe
Chicken Kebabs, Grilled with Moroccan Seasoning
You can easily prepare this dish for any time of the week, making the seasoning a few days ahead of time, and prepping the chicken hours before grilling. Delicious and aromatic.
Equipment
Grill

Grill Mats *see notes for link

Wooden or Metal Kebab Skewers *see notes for link
Ingredients
1

lb

boneless chicken breast

cut into bite size pieces

2

Tbsp

olive oil

1

lemon

juiced

3

garlic cloves

minced

3

tsp

Ras El Hanout

Recipe available on our site! See Notes.

1

large red onion

cut into thick slices

1

bell pepper

cut into thick slices

high temp oil for greasing grill
Instructions
Mix olive oil, lemon juice, garlic, and Moroccan seasoning together in a medium bowl.

Cut chicken into bite size pieces, add to bowl, stir to cover and refrigerate for minimum 30 minutes but up to about 8 hours.

Slice onion and pepper into thick slices. You can do this right before grilling or hours ahead of time and refrigerate until ready to use.

Alternate chicken with veggies on skewers, pour remaining marinade over kebabs.

Grease grill, or use grill mats, with a high temperature oil and turn on to a medium-high heat.

Grill kebabs for about 15 minutes, turning every few minutes so each side is evenly cooked.

Remove from grill, and use caution when removing if using metal skewers. Serve with rice or salad of your choice.
Notes
The potato salad paired so nicely with the spices of the kebabs. A lovely creamy compliment.
I forgot to mention to Matt to grease the grill so they did stick and burn just a tad bit. But, I don't think that affected the taste at all.
For a better explanation of high temp oils for grilling check out this article from The Globe and Mail.
Of course afterwards we remembered the grill mats that Matt's mom bought us for Christmas. We will be using those next time. She got them from QVC and those particular ones are no longer available, here is a listing of some for you to check out.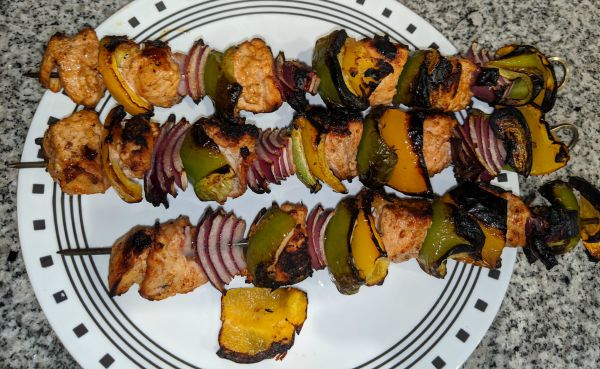 The end result was fantastic! The flavors in the Moroccan spice really come through on the grilled chicken! Matt already asked when we would be making them again!
Do you grill often? If so, what do you like to make on your grill? Comment below to let us know!
---
Connect with us on Social Media:
---