Moussaka – The Ultimate Comfort Food
I've been wanting to see what Moussaka is all about since we began this journey back in 2017 and celebrated our appreciation of Greek Food that February. To me it looked like a Greek Shepherd's Pie, and with that you just couldn't go wrong.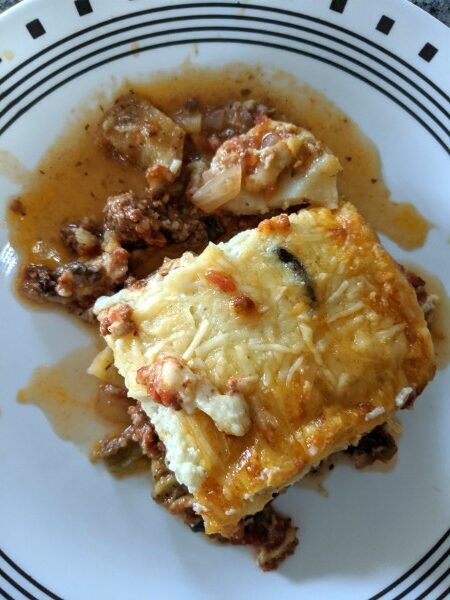 When I decide to make anything Greek, I now consult one of my favorite food blogs, Dmitra's Dishes. She makes all of the recipes so much less intimidating by her youtube videos. I'm a visual person, so sometimes just reading a recipe doesn't exactly explain everything to me. I love that she really explains each dish, what it should taste like, what to watch for as ovens vary, consistencies, and methods.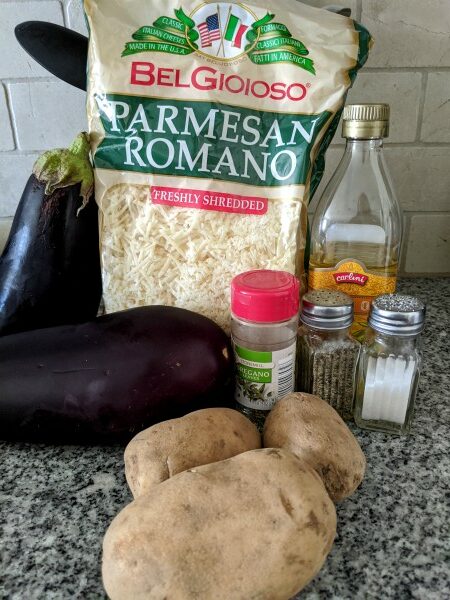 Getting Started
The first step for the Moussaka was to prepare the meat sauce and Bechamel sauce that would be needed for the dish. I was never a meat sauce fan, not with spaghetti, or beefaroni, and certainly not lasagna… until now. So many flavors. So amazing.
And the Bechamel sauce! I was afraid the first time I made it, and even messed it up a bit but only because I didn't pay attention. As long as you are diligent and focused, you've got this.
Next onto the dish itself. I started with roasting the eggplant and potatoes. Some of the eggplant stuck to the pan, I will have to oil them better next time and keep an eye on them. I did two pans of the eggplant and squeezed all the potatoes slices on to a pan together.
Moussaka Assembly
Next was assembly of the layers. Potatoes, Cheese, Eggplant, Cheese, Meat sauce, Eggplant, Cheese, Bechamel, Cheese. Everything looked so delicious, the house smelled amazing and I couldn't wait for it to finish cooking.
The house filled with the aroma of every single herb and spice and the meat sauce and the cheese. I anxiously awaited for the timer to go down to zero so I could pop this out of the oven.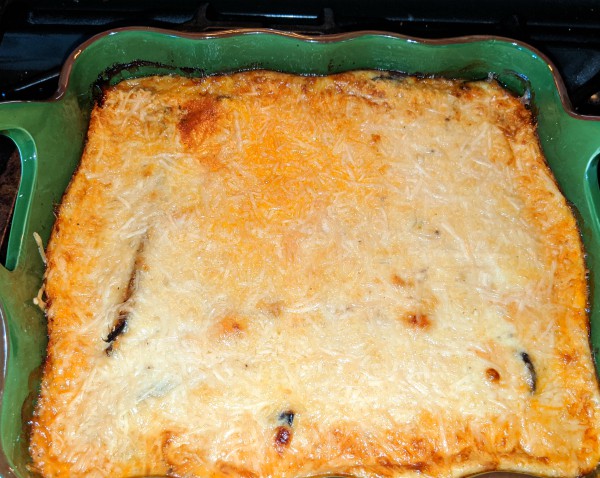 Then, you must torture yourself some more by waiting til it cools and sets a bit. We decided that was a good time to take the dogs for a walk, and by the time we got back dinner would be ready to go.
The Recipe
As I stated, this recipe is from Dmitra from Dmitra's Dishes, you can find the original post here with everything included. I've also made the ingredients and instructions available below.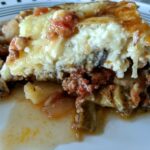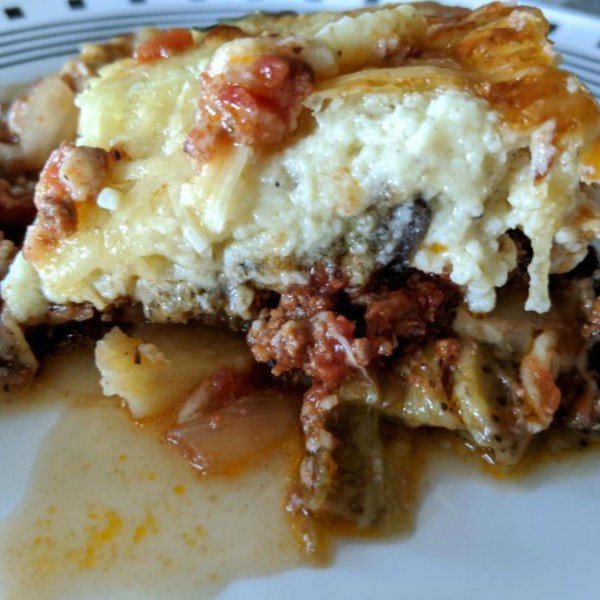 Print Recipe
Greek Moussaka
Ingredients
3

Eggplants

cut into 1/2 inch slices

3

Potatoes

peeled and sliced

2

cups

Parmesan Cheese

Olive Oil

for brushing on vegetables

Salt & Pepper

Dried Oregano
Other Recipes
2

batches

Basic Meat Sauce

see notes for link to recipe

1

batch

Bechamel Sauce

see notes for link to recipe
Instructions
Preheat the oven to 475 degrees.

Place the sliced eggplant and potato slices on three baking pans.

Brush the eggplant and potatoes with olive oil and season both sides with salt, pepper and oregano.

Bake 15-20 minutes or until cooked and golden. Do not over cook the eggplant or it will fall apart and begin to melt. Make sure that it becomes golden on both sides.

Place the roasted potato slices on the bottom of a 9 x 13 inch baking pan. Use a deep pan. Sprinkle grated cheese over the potatoes.

Top with a layer of roasted eggplant slices and sprinkle grated cheese over them.

Top with the meat sauce and spread.

Make a final layer of roasted eggplant over the meat sauce and top with the béchamel sauce.

Sprinkle any remaining cheese over the sauce if desired.

Adjust oven temperature to 375 degrees.

Bake 45 minutes – 1 hour until the cream is golden brown on top.

Allow to rest for about 45 minutes before slicing so that the pieces hold their shape.
Check out this video to help you when making it!
SO. MUCH. YUM
Everything I had hoped for and more. The ingredients melted together so harmoniously, the potatoes and eggplant made the perfect base and the cheese melting in between almost as if to bond them together. Moussaka is definitely the ultimate in comfort foods! I will be sure adding this to a future weekly menu!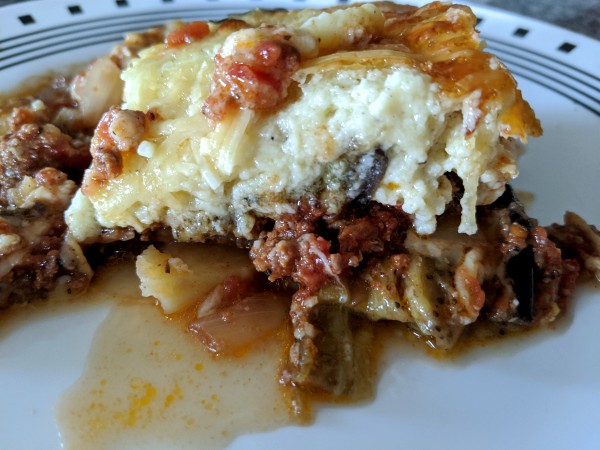 Do you think this is a dish you would consider trying? If so would you make your own attempt at it in the kitchen or try it in a restaurant/someone's home first? Let us know in the comments!