German Potato Salad – Served Hot, Not Creamy
Usually when people think of potato salad, the image of a picnic comes to mind. The salad we think of is usually Creamy Potato Salad. It's the one that if left in the sun just a few minutes too long will cause digestive issues no one wants to talk about. Though I love this version, and make it regularly, it's nice to have some variety. German Potato Salad, Kartoffelsalat, has a vinegar base and is best served hot or warm.
While making Chicken Schnitzel for dinner this week, what better to pair with then a nice serving of Kartoffelsalat?
Potato in German is Kartoffel [karˈtɔfl].
Salad (or lettuce depending on usage) in German is Salat [zaˈlaːt].
Put them together and you have a super fun word to say: Kartoffelsalat.
*Fun variation on Salat: da haben wir den Salat! means "now we're in a fine mess/in a pickle."
The more you know.
Swabian Style
The recipe for Swabian Kartoffelsalat is from the website Five Heart Home. Check out their post for the original version, and the nutritional information. I have tweaked it a bit to my liking as you'll see below.
We had a bag of your regular, every day potatoes already in the pantry, so I used those instead. It tasted great even with that change from the recommended yellow potatoes. I also am not a fan of regular white onion, so while I did dice a tiny bit of onion, very very small, I also made use of the fact that I dried green onions in the oven yesterday, and that was my excuse for using them in place of some of the chopped white onion. Again, I also had white onion, not yellow.
The recipe hails from the Swabian region of Germany. This region is located at the southern end of Germany, bordering Switzerland. This the part of Germany some of my family is from. Swabian cuisine can be described as simple and rustic.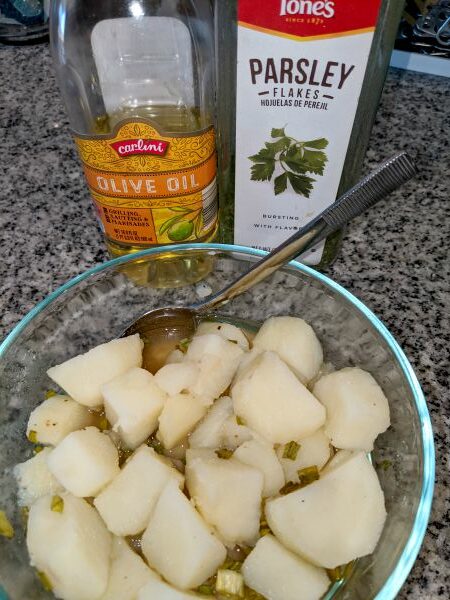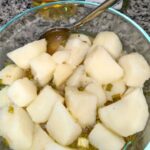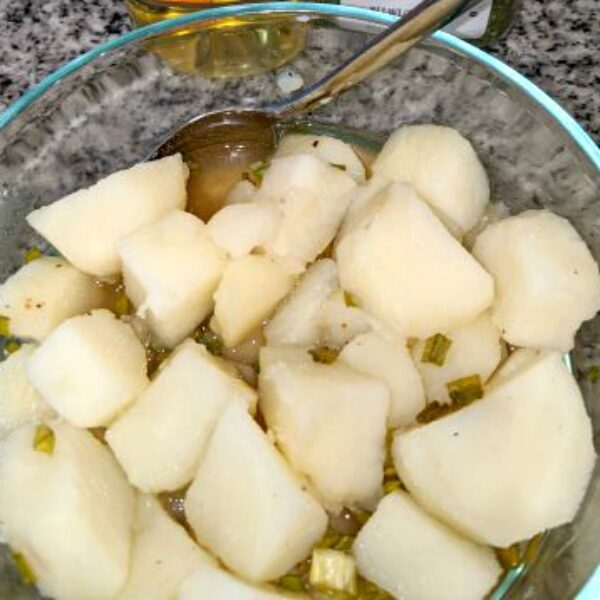 Print Recipe
German Potato Salad – Kartoffelsalat
Ingredients
2

lb

medium potatoes

1

tsp

salt

for boiling

½

tsp

salt

for flavoring

¾

cup

beef broth

¼

cup

white wine vinegar

2

Tbsp

diced green onion

black pepper to taste

3

Tbsp

sunflower or canola oil

parsley
Instructions
Scrub potatoes and place in a large pot. Fill the pot with enough water to cover the potatoes by an inch or so. Bring to a boil over high heat, add 1 tsp salt when water boils.

Boil potatoes until tender: 15-20 minutes,depending on size of the potatoes. Drain potatoes and allow to cool enough to handle.

Peel potatoes using a small paring knife and cut into 1/4-inch slices.

Add potato slices in a large bowl and pour the warm beef broth over the top. Top with the vinegar and green onion. Season with 1/2 teaspoon salt and black pepper, to taste. Use a large spoon and stir gently to coat.

Cover the bowl with plastic wrap and marinate at room temperature for 30 minutes. Stir in the vegetable oil and parsley and prior to serving. Use a slotted spoon to serve to keep liquid in bowl.

If making the night before, you may cover and refrigerate overnight. Take it out 30 minutes before serving to warm to room temperature. Remember to gently stir before serving.
In my experience for the two of us, this doesn't bode well outside of the first day. I cut the recipe in half and we still have leftovers. Hopefully I just remember to eat them in the next day or so. The recipe posted is the full recipe, but for just two of us, I used about half of each ingredient.
Will you give this variation a shot? Or are you sticking to the creamy style? Let us know below in the comments!
For another non creamy salad option try this Moroccan Inspired Cucumber Salad we love!
---
---
Connect with us on Social Media:
---