Kirkland Signature Ravioli Lasagna Bolognese: Childhood Comfort Food
Growing up, I often visited my aunt and uncle who lived in the Bronx, NYC. They often took me to a restaurant near their house which I remember only as "The Wedge." They closed years ago (I want to say it was in the early 2000s if not earlier), but one of my favorite lasagna recipes of all time came from that restaurant. This Kirkland Signature Ravioli Lasagna Bolognese from Costco is the only thing I've found in 20+ years that even comes close.
Costco Kirkland Signature Pre-Made Meals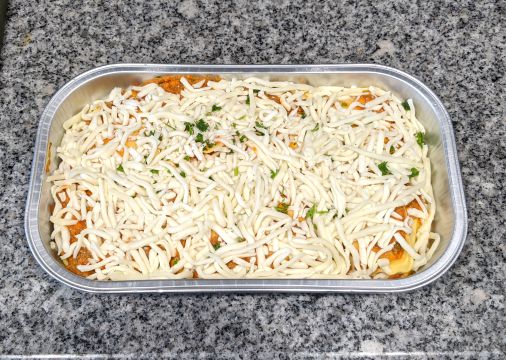 Costco has a lot of these pre-made meals in their cold food section, back near the meats and rotisserie chickens. Since it reminds me of my childhood, this is one of my favorites (although we don't get it often because Lora isn't too fond of it).
Make It Your Own Lasagna Bolognese
Don't be afraid to make modifications! One of the things we always do is add extra cheese (because extra cheese makes everything better). This time, we added some extra mozzarella as well as some shredded cheddar. You can, of course, add whatever cheese you might like. Normally I would just add mozzarella and parmesan, but tonight we were low on parmesan – that's why I added cheddar.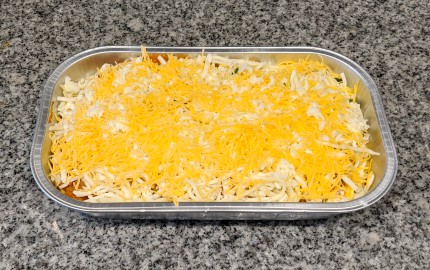 It's super easy to cook this. You just need to pre-heat the oven, and then tent the tray with some aluminum foil. I always spray the underside of the foil with some cooking spray first. This helps make sure it doesn't stick to the added cheese.
Once you have the foil tent on the tray, just pop it into the oven for 60-70 minutes. The instructions say to use a thermometer to check the temperature, but we've found that 65 minutes is usually a pretty good sweet spot. YMMV, of course.
Final Result: Cheesy Ravioli Lasagna Perfection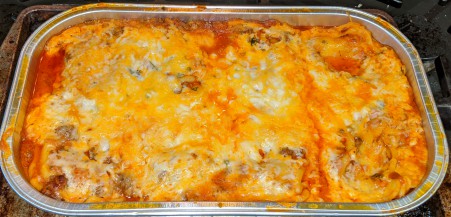 This was the end result, fresh out of the oven. I wish I had gotten a cheese pull picture, because all of the extra cheese makes for a great one when you dig into this.
Also, this Ravioli Lasagna Bolognese freezes extremely well – so you can buy a few (if you so choose) and throw some in the deep freezer for later. All of Costco's pre-made meals freeze really well, actually, as far as we've seen.
And if anyone out there reading this remembers the Wedge in the Bronx (and their lasagna recipe), please feel free to comment. I'd love to be able to recreate that lasagna recipe, if possible, exactly as it was 20+ years ago. I've barely found anything online, except for some trademark info (of the logo I remember, or at least think I do), a chowhound discussion, and a few coupons using that logo from old NY newspapers in the late 90s. Links to follow.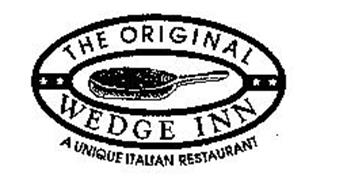 https://trademark.trademarkia.com/the-original-wedge-inn-a-unique-italian-restaurant-74533478.html
https://www.chowhound.com/post/wedge-inn-bronx-793090
https://www.newspapers.com/newspage/473632003/
Check out our other Costco Kirkland Signature reviews, and enjoy!