Mole Sauce
A friend of our's made some mole sauce this weekend and shared some with us. I've never had it but have heard it is delicious.
What's Mole Sauce?
Let's consult wikipedia on that:
…is a traditional marinade and sauce originally used in Mexican cuisine. In contemporary Mexico the term is used for a number of sauces, some quite dissimilar, including black, red / Colorado, yellow, green, almendrado, de olla, huaxmole, guacamole, and pipián. Outside of Mexico, it typically refers to mole poblano.

Generally, a mole sauce contains a fruit, chili pepper, nut, and such spices as black pepper, cinnamon, or cumin.[1] A type of green mole known as mole verde is made with pumpkin seeds and green chile.

https://en.wikipedia.org/wiki/Mole_sauce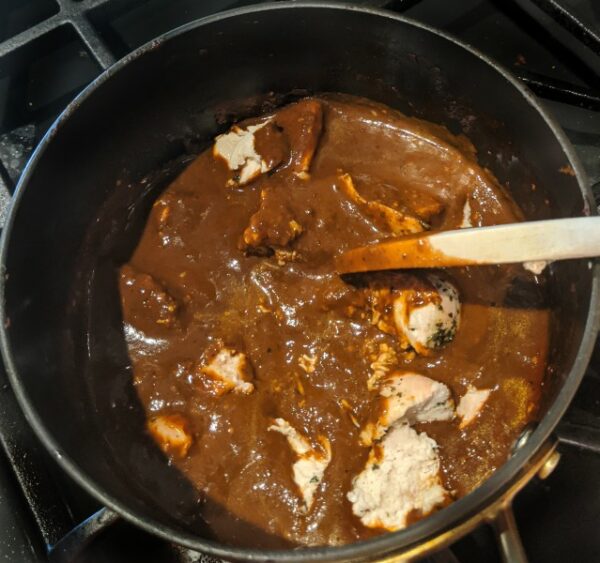 Inspiration
Prior to preparing dinner, I did some searching and came across two blog posts that I found interesting enough to hold on to.
Holy Mole Sauce by Gimmie Some Oven
DOÑA MARIA® MOLE RECIPE by Mexico in My Kitchen
Holy Mole Sauce by Gimmie Some Oven
What I enjoyed about this post was not so much the recipe, because we had already been given some. I liked the section where she mentioned ways to serve mole Sauce. I knew chicken was involved, but should I cook the chicken in a large pan and then pour the sauce over? Should I cook and shred the chicken then add the sauce? What about putting all of it in the crockpot?
I guess you could do all of those. But I chose her option of 'Baked Proteins'. That's how we will do it.
DOÑA MARIA® MOLE RECIPE by Mexico in My Kitchen
I liked her idea of boiling the chicken with some chopped vegetables. In this case she is using a paste, but we were told to thin the sauce out with some milk. I could have probably done it with the broth that would have been left over from the chicken boiling, and will keep that in mind for the future.
Both of these blocks have now been added to my bookmarks!
Easy Dinner
This particular dinner was easy because the hard work has been done already. The mole sauce has been made, and I'm using refried beans and Spanish rice I have left over from a previous meal. It was 108° today and I had just worked out for 45 minutes.
First I sliced three chicken breasts in half, and put them on a foil lined, sprayed pan. Then I seasoned each side with salt and pepper. I drizzled a bit of olive oil on each piece and sprinkled with cilantro.
In the oven they went at 425° for 25 minutes.
Once they were done, I emptied the mole sauce into a sauce pan and thinned out with about a half cup of milk, maybe a third. On medium high heat, I warmed up the sauce and stirred fairly regularly. After a few minutes, it started to bubble a bit.
I sliced each piece of chicken during this time into 3-4 smaller pieces.
Once the mole sauce started bubbling, I added the chicken. I then turned the burner to a medium-low heat and set a 5 minute timer. Keep an eye on the sauce pan to make sure it doesn't burn and keep stirring. This part is really just to let the sauce saturate the chicken a bit and blend them together.
Finally it was time to plate, and eat. We added cheese of course. Because: cheese.
Final Thoughts
This was my first time enjoying mole sauce. I enjoyed the complexity of the flavors. A little sweet, a little spicy, but wholesome as well.
If you don't have a friend to share some homemade mole sauce with you, you can always purchase some ready made.
How do you serve mole sauce?