Nidi di Rondine – Heaven in Every Bite
Nidi di Rondine or in English: "Swallows Nests", look like delicious little pasta roses. This delectable dish comes from San Marino. Never having heard of San Marino myself, I was curious. San Marino is a Microstate completely landlocked by Northern Italy. It was founded in 301, and its constitution was enacted in 1600, making it the oldest constitution in the world still in effect.
If I'm dreaming about Italy, this perfectly sets the scene.
Swallow's Nest Pasta
I came across Nidi di Rondine on a few websites. When cooked, the dish resembles a Swallow's Nest, hence the name. It is comprised of lasagna noodles, Bechamel sauce, fontina cheese, a leafy green herb or vegetable like basil or spinach, and tomato sauce. The noodles are laid flat and assembled then rolled.
Eventually I settled on two recipes that were almost exactly similar. One came from the blog International Cuisine, another blogger exploring the world through food. The second recipe I came upon was from Jovina Cooks, and Italian cuisine based site.
The only difference in the recipes was the addition of nutmeg in the first. I'm always up for adding spices to dishes, so this was a welcome addition.
The Process
You'll want to start with boiling the pasta so that it may rest and cool while you make the Bechamel sauce. Both recipes say to only boil a few lasagna noodles at a time. I was brave and did all 12 at once. It was fine. But if you want to do 3-4 at a time, that's fine too. Next, you'll want to lay the noodles out on a towel and flip after a few minutes to dry.
Bechamel sauce has become one of my favorite sauces. It's very rich and flavorful. It's a little intimidating to make at first, but once you get it right, it's a very useful sauce to have in your recipe book.
Enjoy Bechamel sauce in this delicious Moussaka dish.
Once the sauce is made and the pasta has cooled on a towel, it's time to assemble. You'll spread the sauce over the noodles, then follow with the grated cheese, meat, green leafy item, and finally sliced cheese.
I generalized some ingredients because you can substitute as you wish for those items.
Carefully roll up each noodle/ingredient combination into a cylinder. It will resemble a rose. Place carefully in your baking dish and continue the process for each following noodle.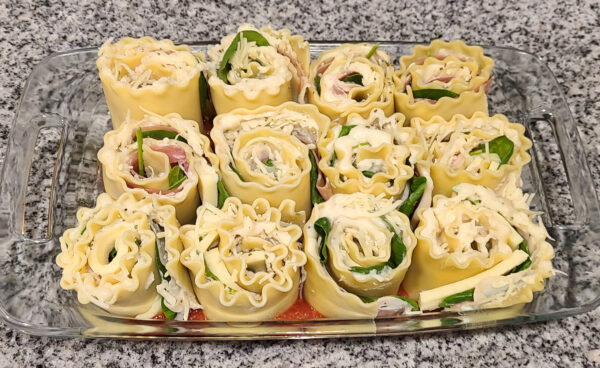 Bake at 375 for 30 minutes or until the tops are crisp and golden.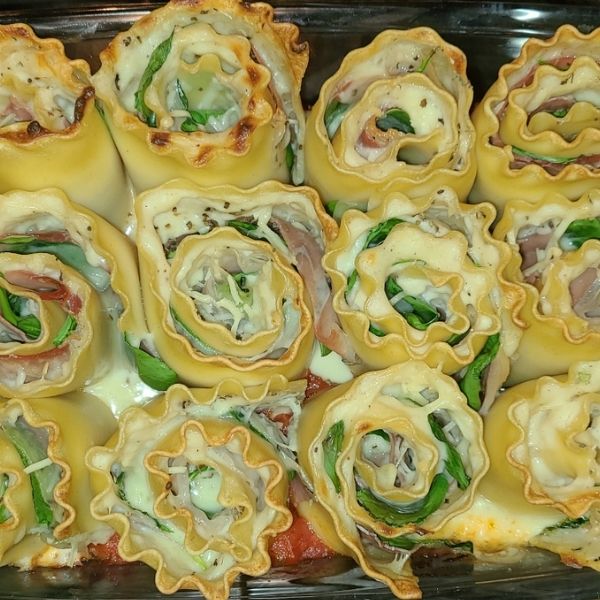 Recipe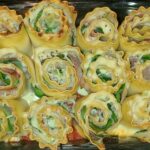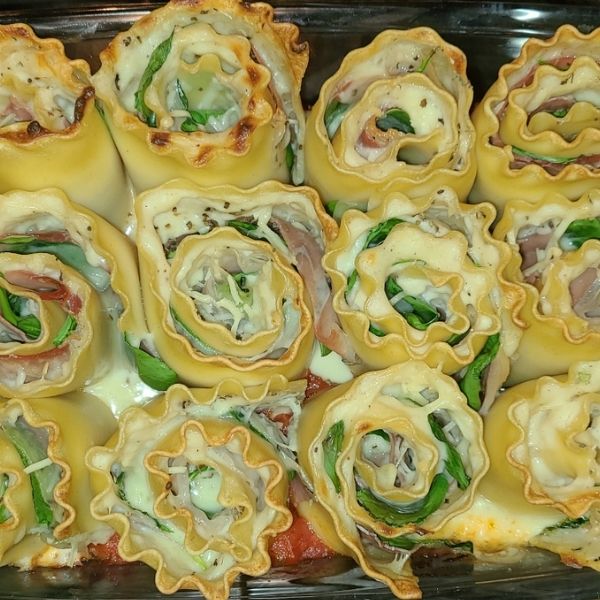 Print Recipe
Nidi Di Rondine
Ingredients
12

lasagna pasta noodles

¾

lb

Prosciutto di parma

sliced thin

1 ⅓

cup

Fontina cheese

thin slices

12

fresh Basil leaves

1 ½

cups

marinara sauce

Parmigiano Reggiano

to sprinkle on top
Bechamel Sauce
3

tbsp

all purpose flour

2

tbsp

butter

1 ½

cups

milk

⅛

tsp

grated nutmeg

2

tbsp

Parmigiano Reggiano cheese

grated

salt to taste
Instructions
Bechamel Sauce
Whisk the milk and flour in a saucepan, then add the butter and place the pan over moderate high heat. Keep whisking until sauce thickens

.Season with salt, nutmeg and the 2 tablespoons of grated Parmigiano-Reggiano cheese.
Pasta
Cook a few lasagna pieces at a time in salted boiling water.

Remove with a slotted spoon and place on kitchen towels.

Turn them over to dry on both sides.
Assembly and Baking
Pre-heat the oven to 375°F.

Coat the bottom of a large baking dish with 1 cup of marinara sauce.

Spread a layer of béchamel on the pasta pieces, then sprinkle with grated Parmigiano-Reggiano cheese and place slices of prosciutto, then basil, then fontina cheese on top.

Roll up each in piece into a cylinder.

Place them close together cut side up in baking dish. Continue the process until the dish is full. If you have space left use crumpled balls of foil to fill in the space and keep the rolls upright.

Bake for 30 minutes or until the top of the "roses" are crisp and golden.
We served our Nidi Di Rondine with a salad. That first bite was perfection. The Bechamel sauce blended magically with the melted cheese and Prosciutto.
Feeling the urge to try something new? Give this dish a try and let us know below how it went!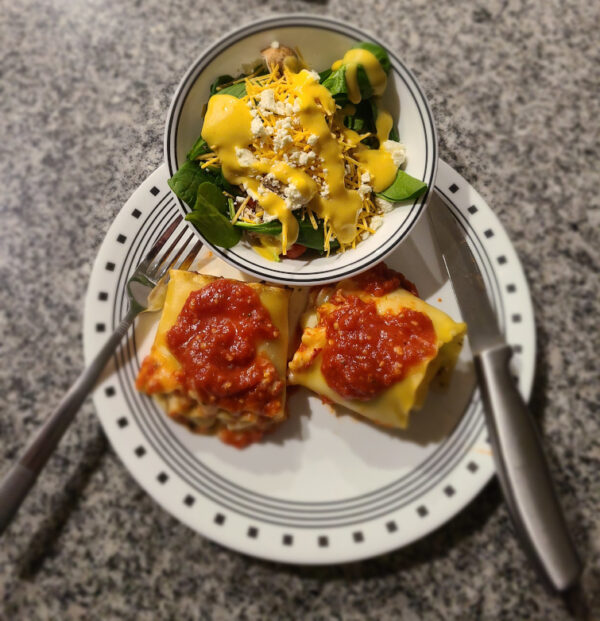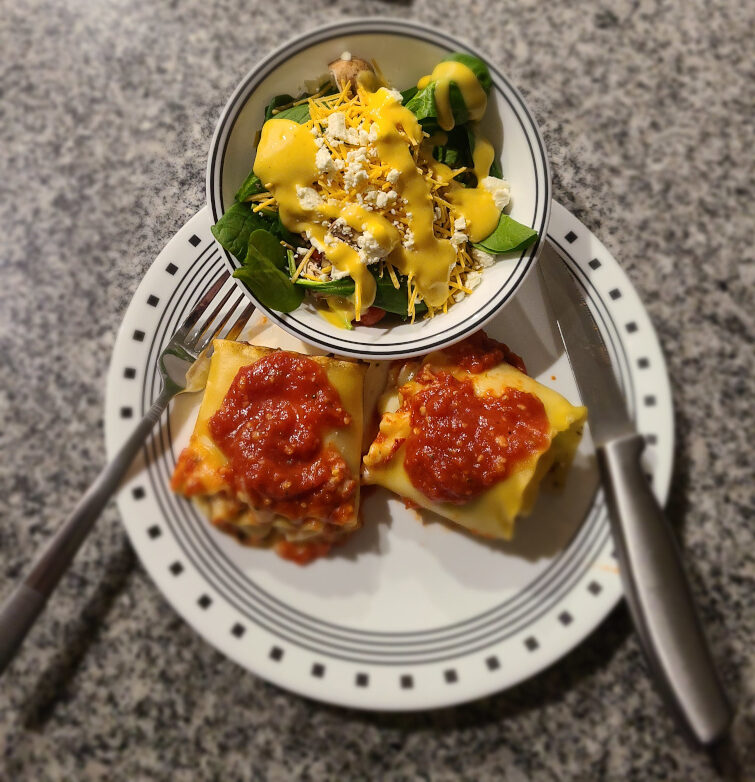 ---
---
Connect with us on Social Media:
---
---