Fresh Vitamix Tomato Sauce – Never buying canned again
I was once told that once you find a recipe to make homemade tomato sauce, you'll never want store bought again. A few weeks ago, we made Homemade Roasted Tomato Sauce for our first attempt and it was delicious. After paging through our Vitamix Cookbook, we saw their recipe and decided to give it a try with tonight's meal of Chicken Cacciatore.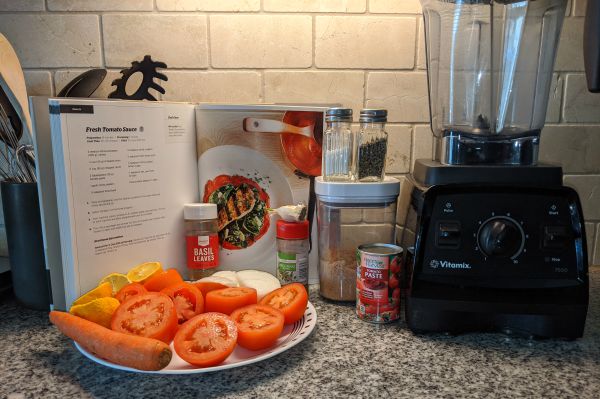 This Vitamix has been one of the best purchases we have ever made. I had no idea how much you could do with it, from sauces, to smoothies, to soup that cooks RIGHT IN THE BLENDER! There is also a separate container for dry mixing that I want to use soon as well. I was unaware of this function as I'm sure many are.
Along with the Vitamix parts, you also receive two books, one of which we used for this sauce, pictured above, it is full of recipes for you to use in your Vitamix. The below recipe is from that book.
Ingredients:
6 medium Roma tomatoes (400 g), halved
½ cup (40 g) chopped onion
1 teaspoon dried oregano
1 teaspoon fresh lemon juice
1 teaspoon firmly packed brown sugar
4 teaspoon salt, plus more to taste
Ground black pepper to taste
½ cup (65 g) chopped carrot
2 Tablespoons (30 g) tomato paste
1 garlic clove, peeled
1 teaspoon dried basil
Instructions:
Place all ingredients into the Vitamix container in the order listed and firmly secure the lid.
Select Variable I or the Purée program
Start machine, slowly increase to its highest speed, and blend for 1 minute, or start machine and allow programmed cycle to complete.
Pour into a saucepan and simmer for 35 to 40 minutes over medium heat. Season to taste with additional salt and pepper.
Note: because we were using this sauce with a slow cooker meal, we skipped the last step, as the sauce would be cooking along with the dish anyway.
Do you make your own sauces? What's your favorite sauce recipe? Let us know in the comments below!!