Chicken Cacciatore – From the January 2012 Issue of Slow Cooker Favorites
We have multiple Chicken Cacciatore recipes. I finally had to book mark and write in the pages of the book to remember THIS was the one we really liked! With easy prep early in the day, allowing for the chicken to cook all day in the sauce, making the house smell absolutely FANTASTIC, this is easily one of our favorite meals.
We decided to make our own tomato sauce in our Vitamix and see how that went. It was amazing!!! Check out that post here: Fresh Vitamix Tomato Sauce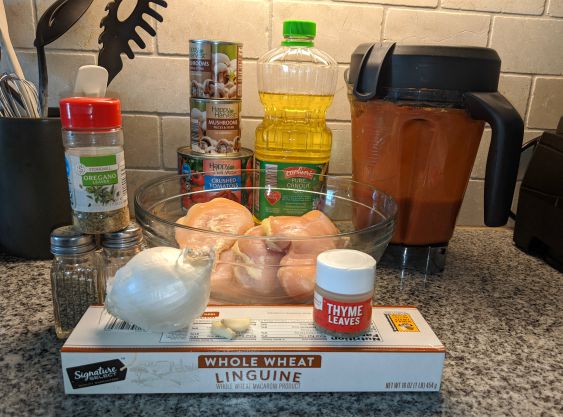 Ingredients
1/4 cup vegetable oil
2 1/2 to 3 pounds chicken tenders, cut into bite-size pieces
1 can (28 ounces) crushed Italian-style tomatoes, undrained
2 cans (8 ounces each) Italian-style tomato sauce
1 onion, chopped
1 can (4 ounces) sliced mushrooms, drained
2 cloves garlic, minced
1 teaspoon salt
1 teaspoon dried oregano
1/2 teaspoon dried thyme
1/2 teaspoon black pepper
Hot cooked spaghetti
Instructions
Heat oil in large skillet over medium-low heat. Working in batches, brown chicken on all sides. Transfer chicken to CROCK-POT slow cooker
Add remaining ingredients except spaghetti. Cover, cook on LOW 6 to 8 hours Serve over spaghetti
MAKES 6 TO 8 SERVINGS
We really like mushrooms, so we use two cans. I have used fresh before, but for convenience sake, we use the cans with this specific recipe.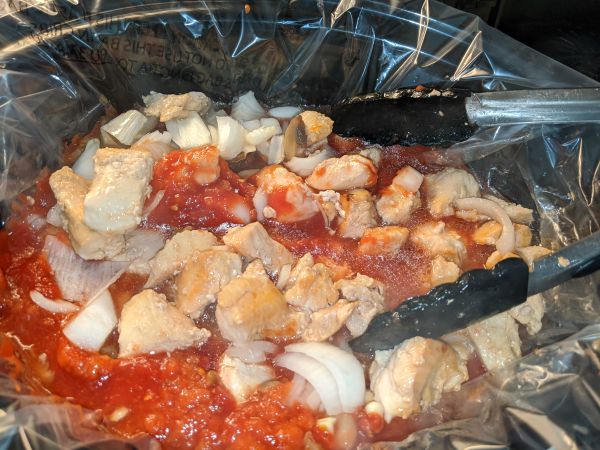 If you have a slow cooker, you NEED slow cooker liners. These make cleanup and storage so simple. Afterwards you just need to carefully lift the liner out of the slow cooker and pour into whatever storage container you'll be using. And for cleanup, there's no scrubbing, usually I just put it in the sink and give it a quick wipe, then you're good to go!
We served it over linguine, but you can use any type of pasta you prefer or have.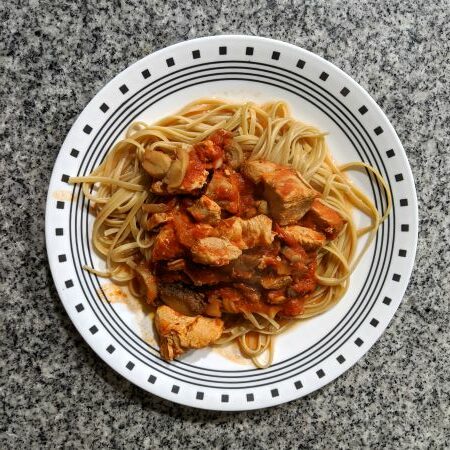 Let us know in the comments below if you've tried this dish and what you think!!!
Products Mentioned: