This post may contain referral links. If you use these links to sign up for any service or make a purchase we may earn a commission at no extra cost to you. Thanks.
Home Chef – Great for New Dinner Ideas and Busy Families
Staying with my cousin, David, and his wife, Lisa, this past fall, I noticed they received a weekly delivery of Home Chef. Having no experience with any meal delivery services previously, I inquired. Lisa explained that they receive a weekly delivery with two meals. She can choose ahead of time from a pre-decided menu, or Home Chef can choose for them. You let them know how many servings you need, choose your meal, and customize your meal selection. This works perfect for their family since both parents work very busy jobs and with three extremely busy teenagers, time is of the essence.
Intrigued, I asked her to send me the info. She sent me her referral email which gave us one box from Home Chef for free! What better way to try a new (to us) service?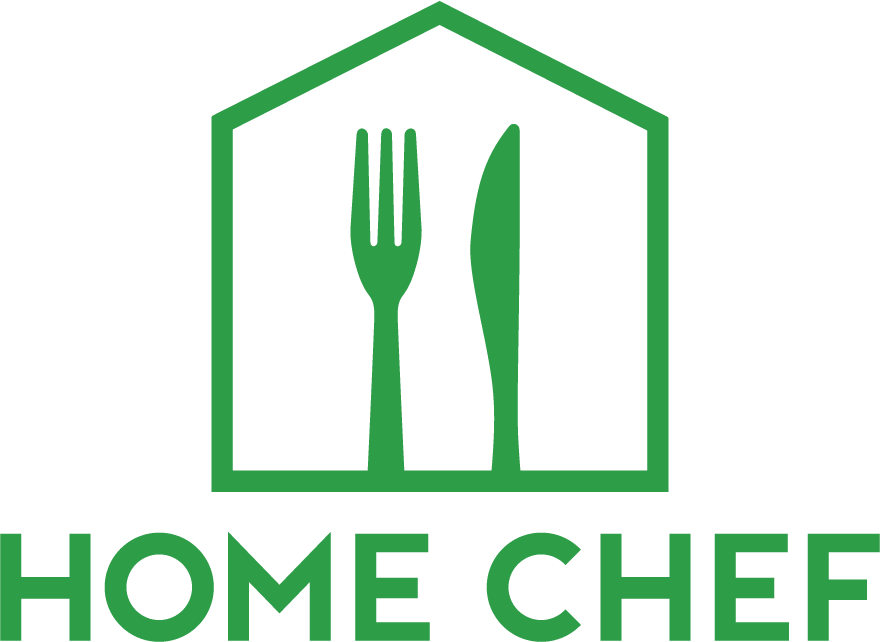 Prices per serving can vary depending on how many servings are needed and the protein selected. Seafood is more expensive per serving, we haven't selected any seafood options yet despite there being some delicious looking meals.
We signed up, filled out our profile, and selected our first month's meals. In the rest of this post I'll share our personal experience. For a comparison of Home Chef vs Hello Fresh refer to the website DeliveryRank.com's review. They did a very extensive review and comparison of the programs. And without being able to say it better myself, I send you to them.
Home Chef Meals Featured In This Post
I'm not going to give the recipes here, if you want the exact recipe for any dish, sign up for Home Chef! You'll get $35 off your first order using our referral code! For the purpose of this post, I'm just reviewing each of the meals, what we thought of them and what we served along side of them. You can browse through the entire list of meals one by one, or use the list above to select a specific meal. Perhaps you're already a Home Chef member and you are considering some meals for your own upcoming delivery. Or perhaps you're curious about the delivery service and want to browse what is available.
December 2020 – Italian Sausage and Roasted Tomato Cream Cavatappi & Smoky Pork Tacos
Our first delivery! We were excited and curious as to what to expect. I got a text from Fed Ex that morning that my package was on it's way. I'm not sure if we set that up with Home Chef or because I have a Fed Ex account already.
Italian Sausage and Roasted Tomato Cream Cavatappi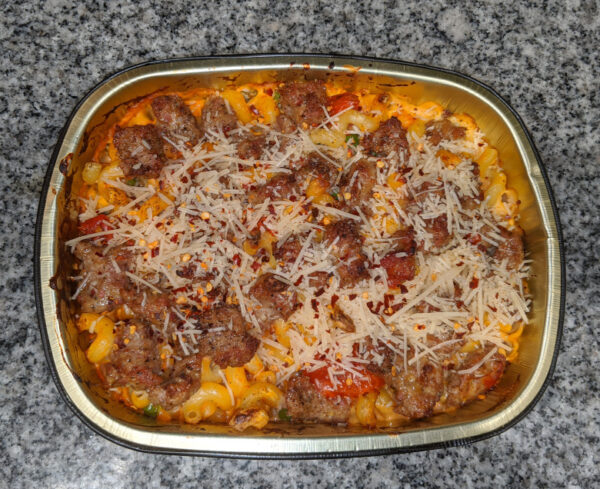 Our first dish was a great starter. It was an oven ready dish with minimal prep work. All we had to do was open each ingredient and add to the tray. The most work involved was removing the sausage from it's casing. Each ingredient was premeasured and individually packaged.
This dish was ready in less than 30 minutes. It was full of flavor, the pasta was perfectly cooked within the sauce, and everything blended together so nicely. This is a dish I would consider making a version of on my own.
Smoky Pork Tacos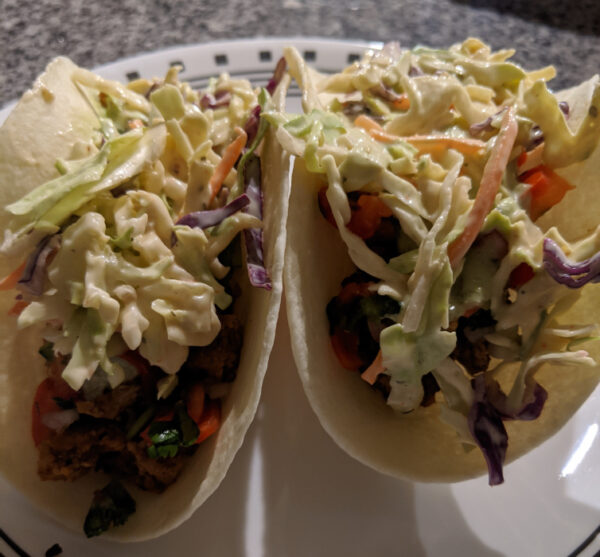 Tacos!!!! We make ground turkey tacos monthly. So it was a nice change to try out a different taco recipe. I see this as a bonus for trying Home Chef. You're having meals you're comfortable with but with a change in some of the ingredients. This forces you out of your comfort zone to try new things and combinations.
Also relatively easy, these Smoky Pork tacos had more ingredients and a bit more prep work. There were vegetables to chop and meat to cook. Not a problem. This was actually my first time working with shallots. Admittedly, whenever a recipe calls for shallots I just use whatever type of onion I have in the house. No more, I'll make a valiant attempt from now on to include more shallots in our meals and expand upon our onion family horizons.
Everything went smoothly and the instructions were easy to follow. Isn't this Pico de Gallo just so pretty?
All together this meal took about 30 minutes to prepare, maybe a little longer since I was snapping pictures at every step of the way. I personally enjoyed the slaw as a topping. I've seen it in fish tacos, but had never considered it for any other style.
We really enjoyed these tacos and they would be great for a quick light meal. We did find ourselves still a bit hungry later in the evening. So it would have been helpful to have some sort of side dish to accompany them. But that may just be us.
January 2021- Fiesta Steak Mushroom Flautas & Creamy bbq pulled Pork Penne
So, things get lost. That I totally get. Mail is crazier than ever. We've had a few packages over the last few months show up a day late, no biggie. We got a text that this order would be delayed a day. Not a problem, we just made something else. But then more days came and went, no Home Chef delivery. On their end, it had shipped, but it was somewhere on a Fed Ex truck. Each package comes with a gel ice pack to keep it cool for transport and especially if delivered when you're not home, it should be good a few hours sitting and waiting on your porch. But they're not meant to keep the food cold for days.
I contacted both Home Chef and Fed Ex. Fed Ex kept giving me other tracking numbers in their chat system through twitter. I then spent over an hour on the phone one day trying to get someone to help. Both people I got on the phone told me they had to speak to their manager about my package. I stressed to them that it was food that was now bad. The first person gave me yet another new number to track and that they'd have someone from some other department contact me, then they passed me to a survey without giving me the opportunity to respond. I called back, gave all my info plus all the new tracking and case numbers I was given. The second person had to speak to their manager also, and then hung up on me. Thanks FedEx.
Home Chef to the Rescue!
Home Chef; however, issued a refund, and a credit towards our next delivery. This wasn't their fault. I found that commendable and do hope that they'll go after Fed Ex for a refund.
The box did eventually arrive two weeks later. We opened it to get the recipes out, and then it went right in the trash. The smell was horrendous.
Alas, here are the dishes I was supposed to receive in my January order:
Fiesta Steak Mushroom Flautas
Don't they look delicious? Thankfully I saved the recipe and I'll be making them on my own.
Creamy BBQ Pulled Pork Penne
Also looks delicious. Thanks Fed Ex…
February 2021- Black & blue Steakhouse Risotto & mojo Pork Tacos
And we're back. This month's meal arrived without issue. This delivery also included my favorite meal to date.
Black & Blue Steakhouse Risotto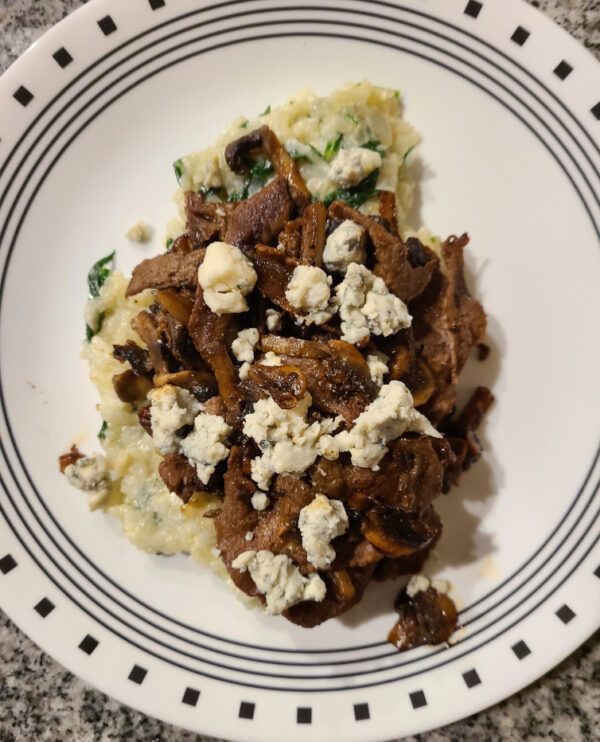 This was my very first time making risotto. Luckily I researched a bit beforehand. I learned that you need to keep stirring and keep adding water little bits at a time. Risotto cooks very differently than your everyday rice. A lot of work, but oh so worth it.
This recipe also included mushrooms and spinach, two of my favorite vegetables. The mushrooms went in with the meat while the spinach was added to the risotto near the end.
Everything came together smoothly and was so full of flavor. Matt's already said he wants this dish again.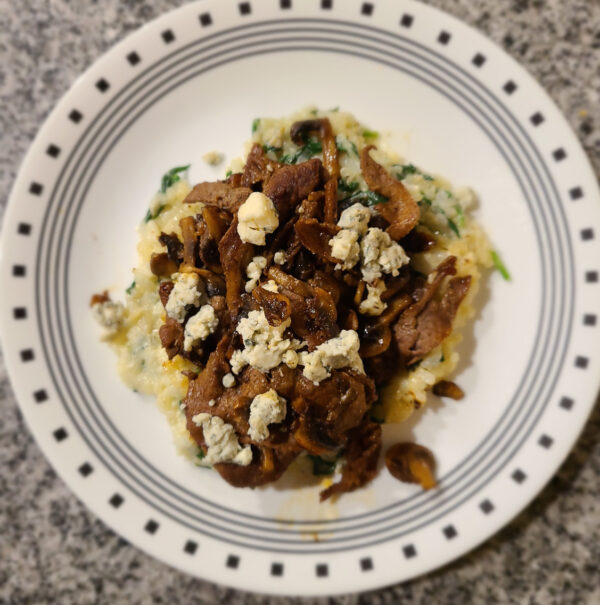 Mojo Pork Tacos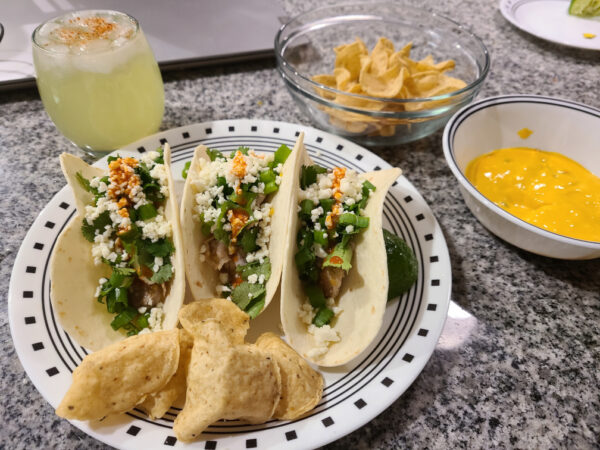 Tacos again! This one threw me for a loop since it included oranges. As adventurous as I like to think I am with food, I still have such a long way to go! I served these alongside some chips and cheese dip, with a margarita to wash it all down.
What I wanted to mention with this recipe was a handy little tool I used. This is one of my favorite Pampered Chef purchases, the herb stripper. Contact your Pampered Chef consultant, or check their website to find someone near you!
Place your herb stem inside the slot it fits and pull through. This handy little herb stripper rips the leaves off for you. Such a small moment in time but oh so satisfyingly worth it.
March 2021- Weeknight Steak Bourguignon & Thai-Style Pork Rice Bowl
Weeknight Steak Bourguignon
This dish was hearty and comforting. Mashed Potatoes stopped with a steak stew-like combination. Very hearty, very filling, very delicious.
Thai-Style Pork Rice Bowl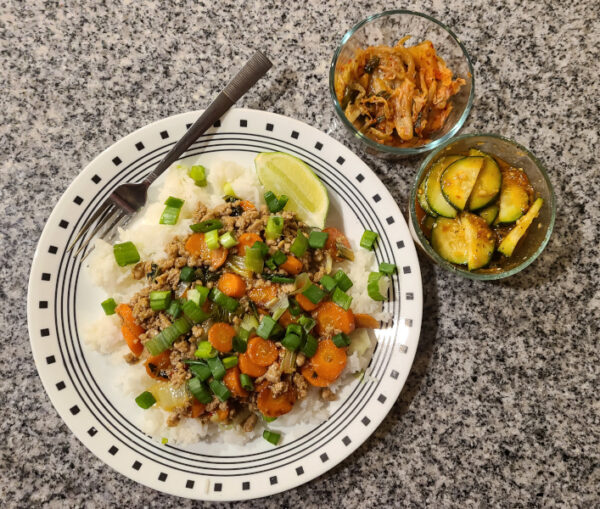 Another simple yet delicious dish. Cook the Rice, cook the meat, add the veggies and sauces.
Serve.
Enjoy.
We served along side some Kimchi (store bought) and a spicy Korean cucumber salad. A recipe for that is coming soon, but until then, try this one from the blog pickledplum.
April 2021-Prosciutto Ratatouille Risotto & Baked French Onion Penne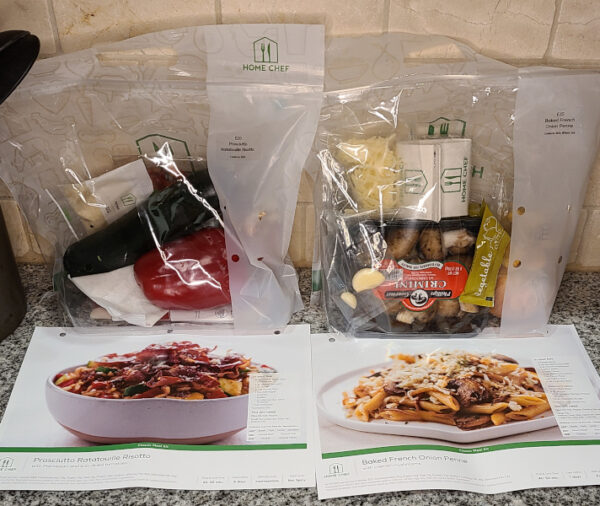 Prosciutto Ratatouille Risotto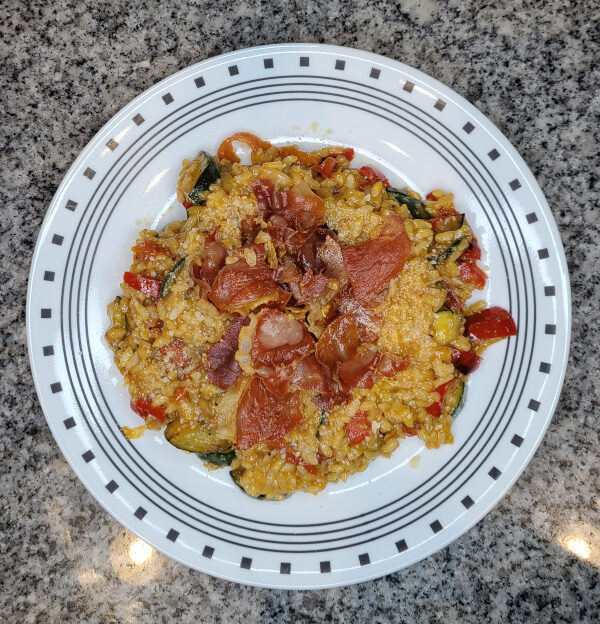 I was never into the idea of ratatouille. This was for one single reason: sundried tomatoes. I just have never been a fan. Just, no. So I was prepared to be picking this out of my dish.
I didn't pick a single one out. It was so creamy, and everything else just went together so well, I barely noticed them in there.
Topping it with fried prosciutto? Yes please!
Baked French Onion Penne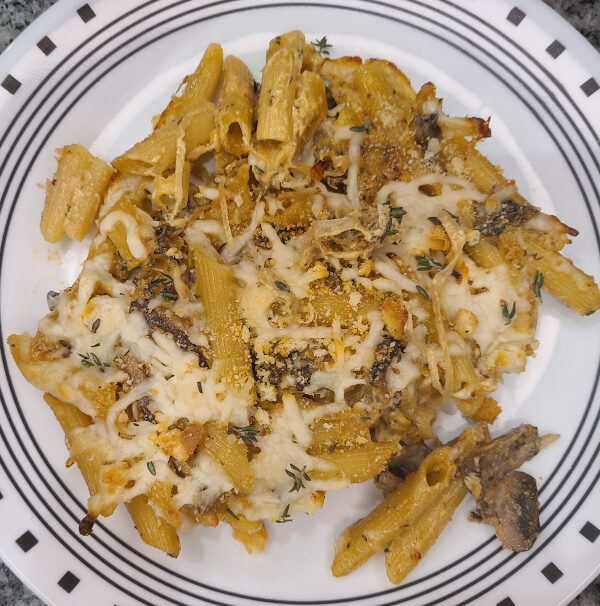 I couldn't wait until this dish was finished. It filled the house with such an intoxicating aroma. There's just something about caramelizing onions and adding mushrooms to them.
It looked perfect enough on its own. But, then you bake it!
This recipe is being tagged for later!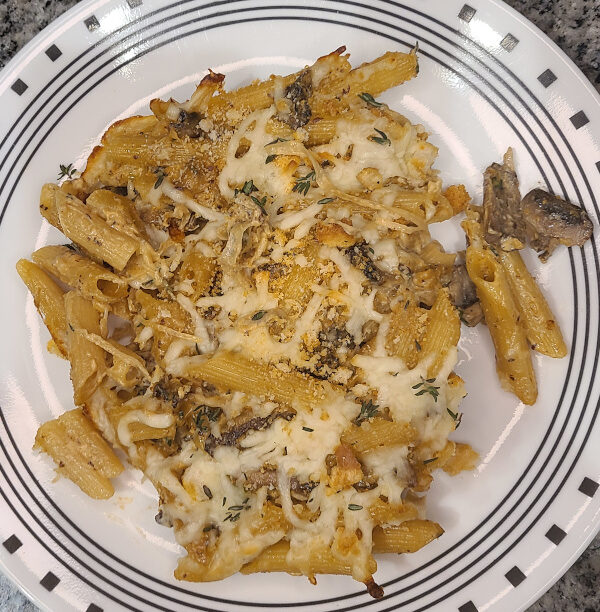 May 2021 – Turkey & Bacon Swiss Flautas & Szechuan Pork Noodle Bowl with Crispy Wontons
As of writing this post, we have not yet received this meal. It's not delayed, I'm just writing the post prior to the scheduled delivery. We are excited for both of these dishes to arrive!
Turkey & Bacon Swiss Flautas
Szechuan Pork Noodle Bowl with Crispy Wontons
---
Home Chef: Thoughts
I really enjoy using this service. The food has been great, and aside from the issue with Fed Ex in February, delivery has been on time and steady. If not going to be on time as with April, they let us know. If it's on their end they are very responsive and keep you informed. Even with the Fed Ex issue, I was impressed with how Home Chef handled the issue.
I hope as time goes on that they'll have more vegan options for those who look for them and other allergy options for those who need them. I hope as time goes on that they'll be evolving to include these options.
If you'd like to sign up for Home Chef click this link (referral link). You'll get $35 off your first box. Let us know what you think!
Do you use any other subscription style delivery services? Meal based, beauty, crafts, whatever! Let us know what we should try next!
---
---
Connect with us on Social Media:
---
---