Italian Wedding Soup – Good For The Soul
Hosting a meeting at our house tonight so I am making my favorite summer salad, ham and cheese roll ups, and Italian wedding soup, using the recipe my mom gave me. I feel it's kind of a Panera bread type of aesthetic with the soup sandwich and salad.
This is one of my mom's recipes. She lists ingredients as such:
1 1/2-2lb ground sausage
large can or box of chicken broth
Canned or frozen spinach
1 can of water
Cooked rice
My mom doesn't measure so to be more specific I used:
2lb ground sausage
30 ounces chicken broth
4 cups water
1/2 bag of fresh spinach
4 servings uncooked rice
1 cup diced carrots
1 handful chopped green onion
Some Notes:
For the meatballs, I used the meatball recipe I have been playing with for a while, if you want to make your own, or just roll the sausage plain, all up to you.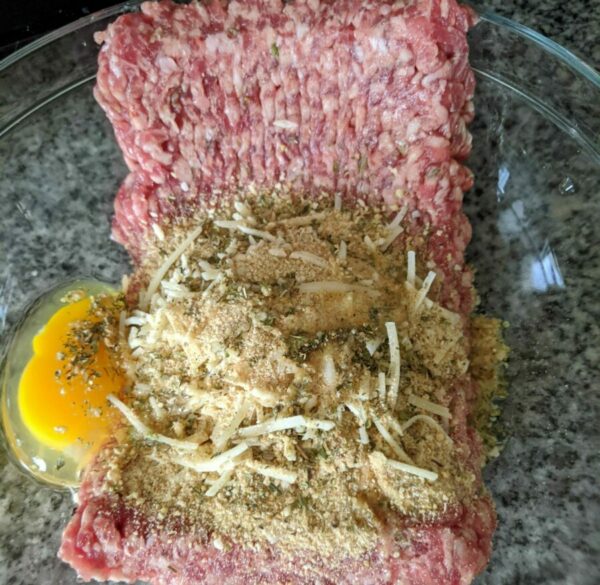 While the meatballs were in the oven, I prepped everything else. The broth, I placed three bouillon cubes in a large measuring cup, turned on my keurig, used the 10oz option, and brewed three 10oz servings into that large cup, and let it sit while the meatballs were in the oven. I always feel like we never have enough broth in the recipe, so I added an extra 6 ounces, instead of making just three cups.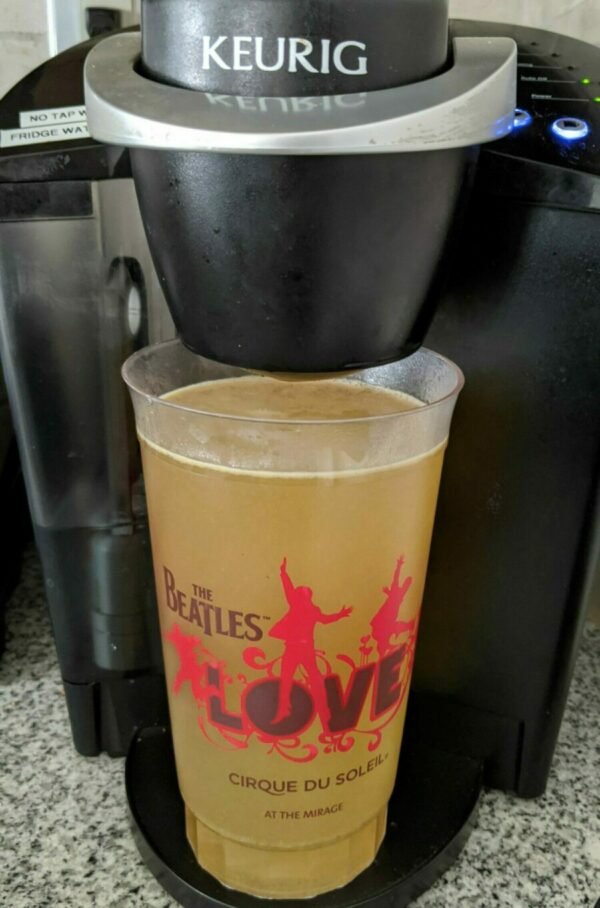 The spinach was removed from the bag, rinsed, drained and chopped.
I also added 1 cup of diced carrot for color and because I love carrots along with a handful of green onion, as I had some fresh growing in the window and decided last minute to throw them in. You can also wait and use the green onion as garnish prior to serving.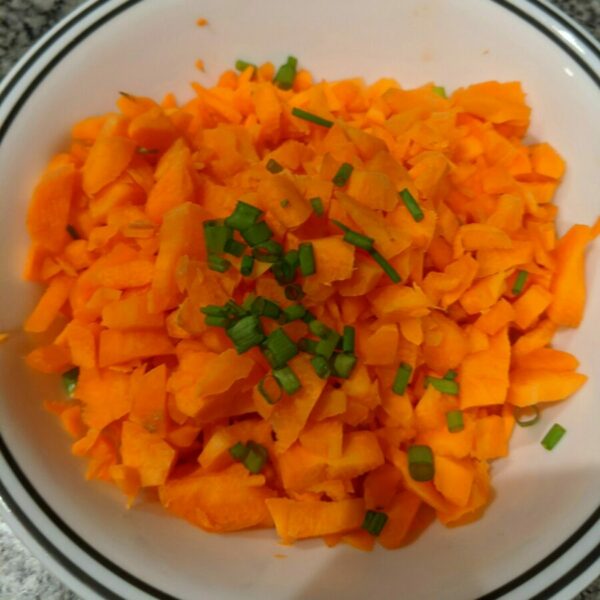 Used the microwave directions on the back of the rice for 4 servings. That was 2 cups uncooked rice, 2 cups water, and 9 minutes in the microwave. It will explode a bit, even when I cover the microwavable dish I cook it in, I still find that it explodes and pops the cover off a bit. You can make it on the stove if you want.
Once the meatballs are done, I let them sit for a minute or so, then use a spatula to loosen them from the pan and into the pot. I add the carrots at this time, so they can soften in the liquid during the boiling. Add the broth and water after that to avoid splashing.
Bring those to a boil, then you can add your rice and spinach. Reduce the heat, and let it simmer a bit until the spinach and carrots seem soft enough to your preference, and serve.
The Recipe: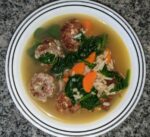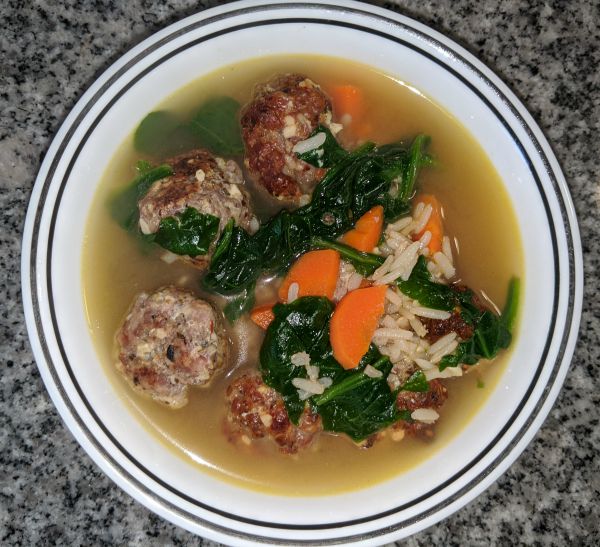 Print Recipe
Italian Wedding Soup
One of my mother's recipes. Good any time of year.
Ingredients
2

lb

ground sausage

4

servings

uncooked rice

1

cup

carrots

diced

30

oz

chicken broth

4

cups

water

1/2

bag

fresh spinach

1

handful

green onion

chopped
Instructions
Make small meatballs from sausage and bake for 40-60 minutes.

While meatballs are baking, cook rice according to package directions.

In a pot, combine carrots, water and broth, add meatballs and bring to a boil.

Add rice and spinach, and simmer for 20 minutes.

Top with green onions and serve.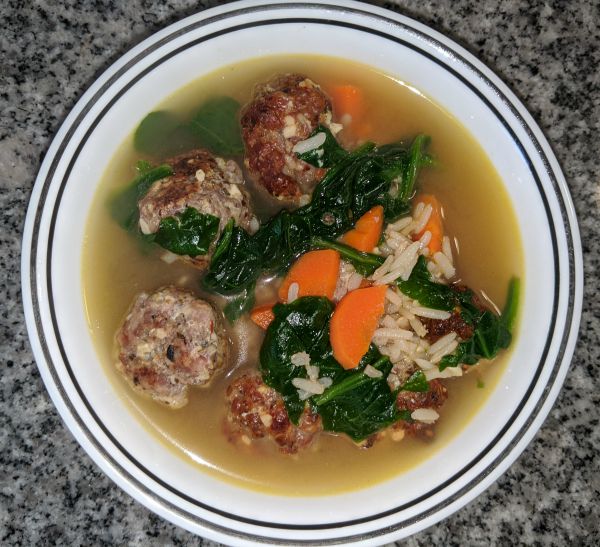 ---
Here are some other soup Recipes we think you may enjoy:
---
---
Connect with us on Social Media:
---