Chicken Schnitzel – Not Quite German
When we began our journey Around the World via Food, I was most excited to have German month. I'm still excited by German food today, but don't make it nearly as often as I would like to. I get in to this a bit more in the post about German Food. Chicken Schnitzel; however is actually Austrian in origin. It is extremely popular in Germany and therefore, usually associated with German cuisine.
For some other Austrian foods often confused as German click here.
The schnitzel recipe comes from the website 31daily if you would like to visit the original post from their site.
The Process
Using these takeout dishes made everything extremely easy. I had previously used soup bowls and then tried mixing bowls. However, they proved difficult with the curved surfaces. These, we usually keep around for leftovers, were just what I needed.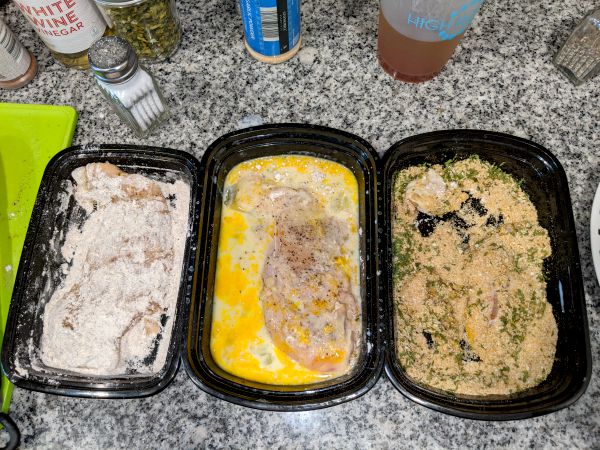 I also snuck in a tablespoon of flax seed with the bread crumbs, they're loaded with nutrients, rich in dietary fiber, and you don't even notice they're there. Why not?
As the first two cutlets went to the pan, I got started on the other two. Leaving one in the breading mixture while the other sat in the flour mixture. Once the first two finished in the pan, I moved one cutlet from the flour mixture to the egg mixture. Once that soaked up some egg, the cutlet from the breading went right in the pan, and the other one to the breading for a quick dip before heading to the pan too.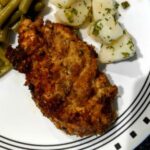 Print Recipe
Chicken Schnitzel
Ingredients
cooking spray

4

6 oz skinless, boneless, thinly sliced chicken breasts

¼

tsp

kosher salt

¼

tsp

black pepper

½

cup

all-purpose flour

⅛

tsp

cayenne pepper

⅛

tsp

freshly grated nutmeg

¼

cup

milk

1

large egg

lightly beaten

1

cup

bread crumbs

2

Tbsp

parsley

½

tsp

garlic powder

1

Tbsp

canola oil
Instructions
Chicken Cutlet Preparation
Line a rimmed baking sheet with foil and spray with non-stick cooking spray.

Season chicken cutlets with salt and pepper.
Create 3 Shallow Dishes for Dredging and Dipping
Flour Mixture: all-purpose flour, cayenne pepper, and nutmeg.

Egg Mixture: milk and egg.

Breading: bread crumbs, parsley, and garlic powder.
Dredging and Dipping
Dredge chicken cutlets first in flower mixture, followed by a dip in the egg mixture and finally dredge in breading, shaking off excess.
Cooking
Heat a large nonstick skillet over medium-high heat. Add canola oil to pan; swirl to coat. Add 2 chicken breast halves to pan; cook 2-3 minutes on each side until nicely browned.

Remove chicken from skillet and place on baking sheet. Continue with remaining 2 chicken breast cutlets, adding more oil if necessary.

Bake in oven another 15 minutes or so until chicken is done.
We paired the schnitzel with German Potato Salad (Kartoffelsalat) and green beans. I like to keep dishes colorful when I can, sometimes even the addition of some extra parsley or cilantro makes a difference. The green beans were definitely what this needed though. Last time I used peas. I think either work just fine.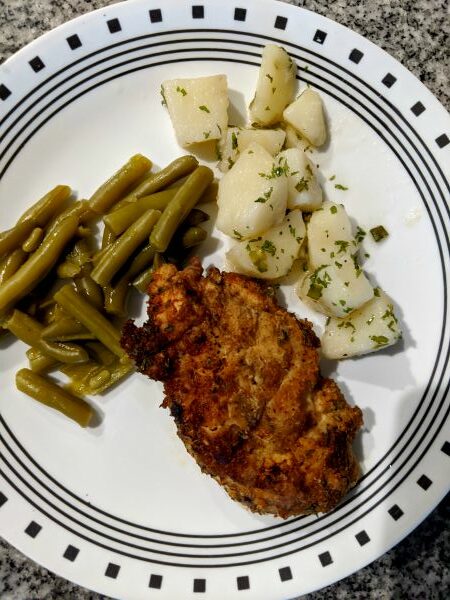 I would also consider serving this with Lima beans; however, Matt won't eat them…ever. I think Lima beans are delicious. What do you think? Team Lima bean or team Green Bean?
And for dessert I made my very favorite – German Apple Cake or Deutsches Apfel Kuchen.