Chicken Bacon and Pesto Penne
We took an easy approach to this evening's meal. So easy that I'm not typing out a recipe format like I usually do.
We cooked the Penne to package instructions- boil water in a pot, add pasta, cook for 10-12 minutes.
While it was cooking, we pulled the pre-cooked bacon crumbles, mozzarella cheese I shredded the night before when we made Cheesesteak Stromboli, the Pesto sauce from Costco, and the pre-cooked chicken strips from the fridge.
When the pasta finished boiling and was drained, we each added what we wanted to our plates and topped with the Pesto sauce and chicken. It went in the microwave for about a minute. Following that we topped with the cheese and bacon.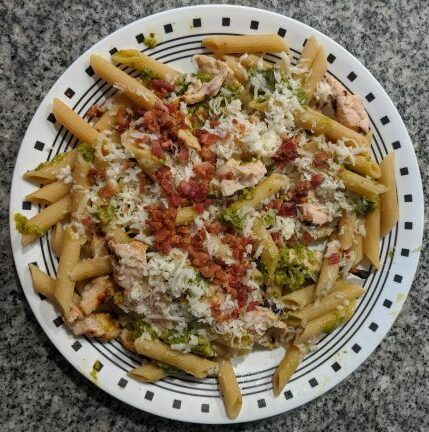 This particular dish didn't really need a post. But it just looked so good plated that I couldn't NOT share it! Don't you agree?