Tilted Kilt – Irish Hooley Menu
In honor of St. Paddy's Day, Tilted Kilt brought back their Irish Hooley Menu. I know what you're thinking: Tilted Kilt is a chain restaurant, what are you doing there?
After an unsuccessful attempt the previous week, we decided to go to Killarney's in Temecula. Traffic had another idea, and we were STARVING. So, we pulled in to Tilted Kilt before starvation took over and we attempted to eat each other.
I attempted to read off the list from the Hooley Menu to Matt.  When I read the first item "Corned Beef Hash and Eggs," he told me to stop.  He didn't need to hear anything else and was sold immediately. He also wanted their Scotch Eggs. I believe Scotch Eggs are not actually Irish, but Matt loves them.
We were immediately greeted by the hostess, a change from the previous week. She took us over to a bar-top table so we could see the televisions. We started to look over the menu and found quite a few items of interest. After a few minutes looking at the menu, we were then offered drink menus.
Irish Bloody Mary
For my beverage of choice, I decided to go with the Irish Bloody Mary. A "typical" recipe contains tomato juice, Tabasco, Worcestershire sauce, salt, pepper, maybe lemon, all combined with vodka. The Irish Bloody Mary replaces the vodka with Jameson Irish Whiskey and was a delicious replacement! Perfectly spicy and the Jameson added something different to the drink.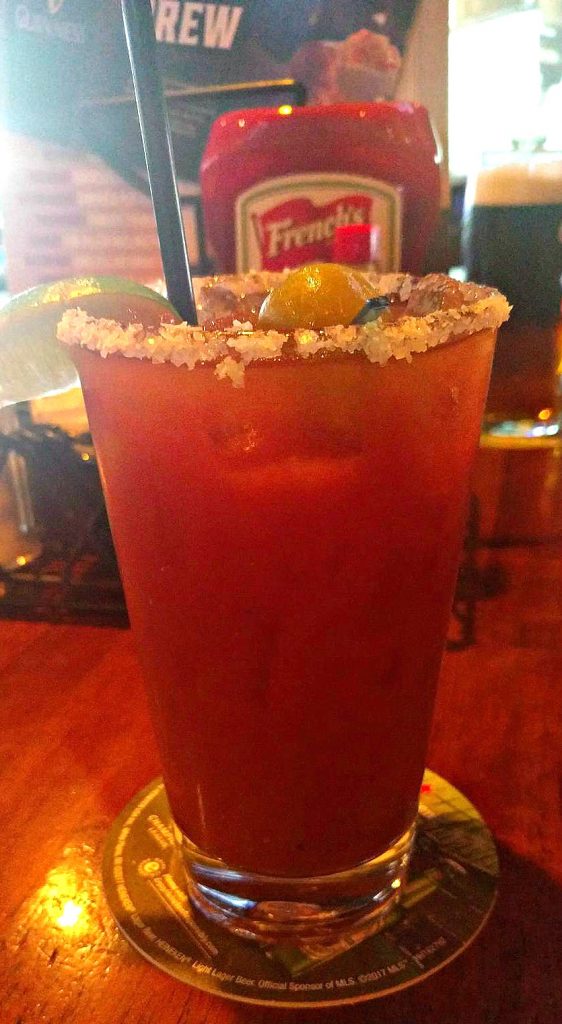 Matt considered a few of the options from the Hooley Menu. The "Guinness and IPA" from the regular drink menu caught his eye. Guinness mixed with Goose Island IPA, can't go wrong there.
Scotch Eggs
For our appetizer, we went with the Scotch Eggs. Matt loves Scotch Eggs, but they're not particularly my favorite. According to the Tilted Kilt menu, they are soft boiled eggs wrapped in sweet and spicy ground sausage. Then they're Parmesan breaded and golden fried and served with horseradish cream sauce.
If they were hard boiled, I would be okay with them. It's more of a texture thing for me. I like everything in them, except the soft boiled egg…I think. Maybe.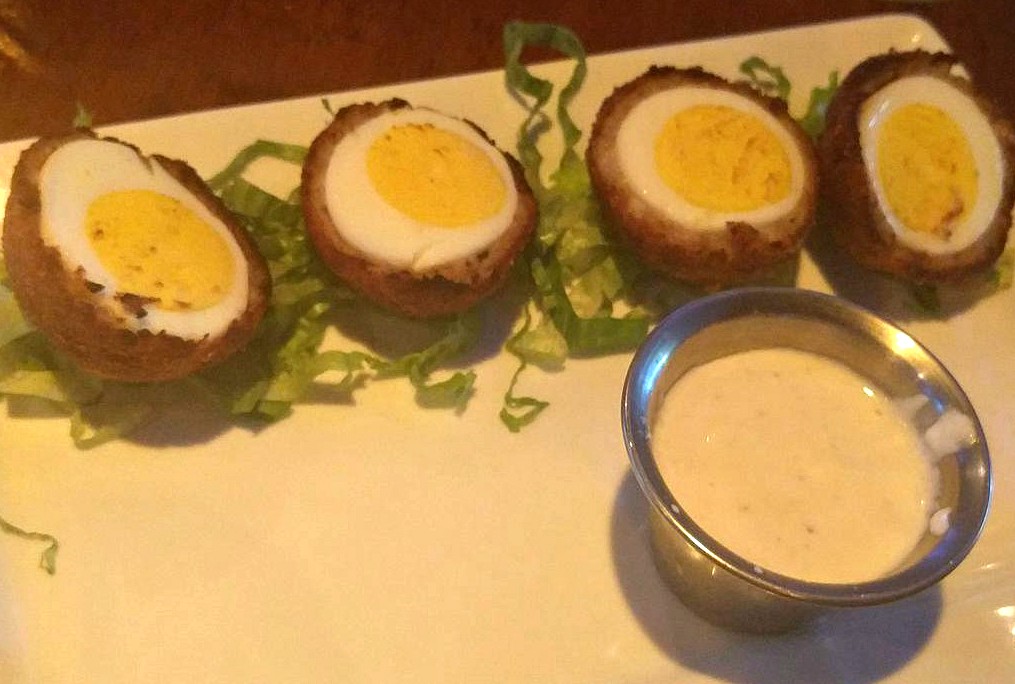 Restaurant.com: Save on Your Next Meal
Our Meals
For my meal, I ordered the Corned Beef Sandwich: tender corned beef and braised cabbage, served on a toasted hoagie roll. DELICIOUS! The softness of the corned beef and cabbage with the crunch of the toasted hoagie roll combined perfectly and you can't really go wrong with corned beef and cabbage.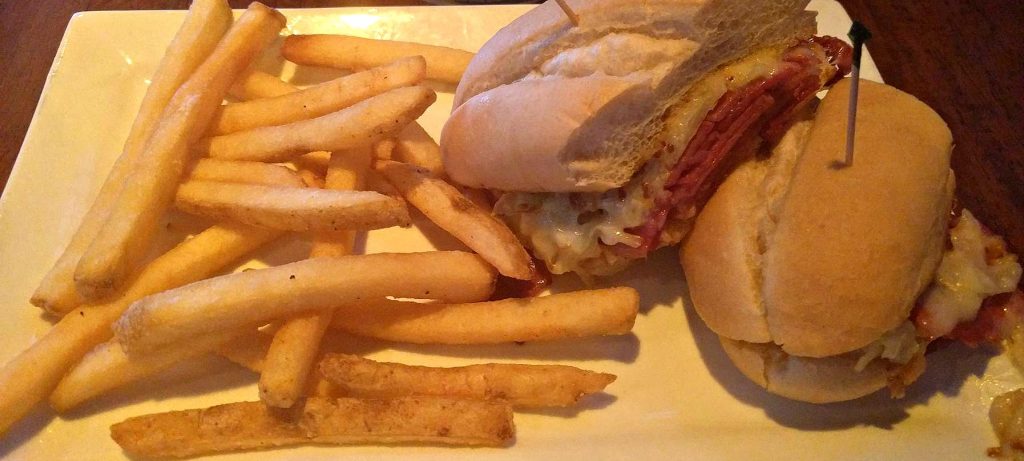 Matt got the Corned Beef and Hash over Eggs. Here are his thoughts on his meal: "The Corned Beef Hash, while not the best I've ever had, was still very good. The meat was very tender, and the potatoes were cooked well enough not to be crunchy or too soft – they were just right. Since there was a mixup with our order and our Scotch Eggs actually came out after our entrees, I ended up occasionally using some of the horseradish sauce on the hash as well (along with some tabasco), which added a nice dimension."
Tilted Kilt Irish Hooley Menu: Final Thoughts
All in all, this was a successful Irish Saturday afternoon. It also gave us another plan for a future weekend – Uber to Temecula to sit outside at the bar and day drink. Hopefully at some point during the rest of the month we'll get to Killarney's, although probably during the week to try to avoid the traffic we've seen during the past two weekends.
While many go back and forth on chain restaurants like Tilted Kilt, we've never been disappointed. Til next year Hooley Menu!
Update 2022– We will have to go back to enjoy this menu, if not for the reason that cell phones have drastically increased their camera capabilities, but mostly for the delicious dishes.
---
Connect with us on Social Media:
---