Daphne's California Greek – Think of Greek Quick Food.
Greek month has officially begun! I referred to Daphne's California Greek as Greek Quick Food because I would never equate it to "Fast Food." Was it fast? yes. Was it food? Obviously. But I still won't call it fast food.
Not our first choice, but a happy accident.
I am a lover of every ounce of Greek food I've ever tried. Month two of our journey around the world via food is dedicated to Greek food appreciation.  Aiming for a late lunch, we arrived at our first choice, Pangaea Restaurant and Wine Bar in Temecula, at approximately 1:45pm. We discovered they were closing at 2pm for a private event.  Disappointed and hungry; rushed to find a suitable replacement. We then asked the all mighty Google, and decided on Daphne's Greek, just five minutes away.  
Daphne's is located in a shopping center that we frequent for another restaurant, Claim Jumper. How have we never noticed this place?
We pull in, and the place looks relatively busy. There are a decent amount of people inside and on the outside patio. We enter and are greeted immediately, always a plus.
Time to order!
I already know what I want…Gyro and Baklava. Done. Matt throws me a curve ball, and suggests splitting Spanakopita as an appetizer. He has eaten it before, but it was new to me and I am all for trying new food.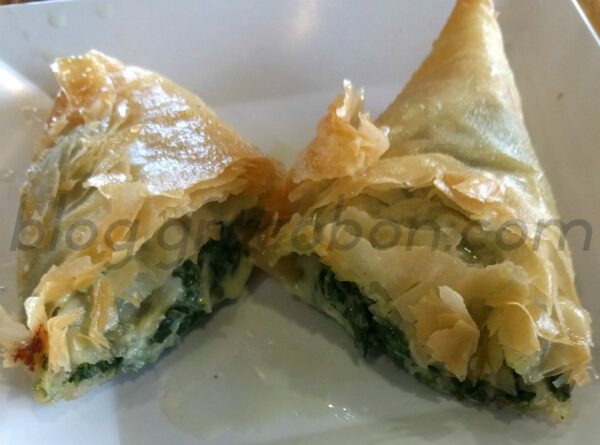 Spanakopita is a Greek spinach pie with feta cheese. Matt had eaten it before, but around eight or nine years ago. This was as good as if not better than he remembered it being. To be honest, we were expecting a bigger portion, at least bigger than what you see in the picture. That was his only real complaint. There was no such complaint with the quality of the food, though – it was delicious.
My Meal – The Classic Pita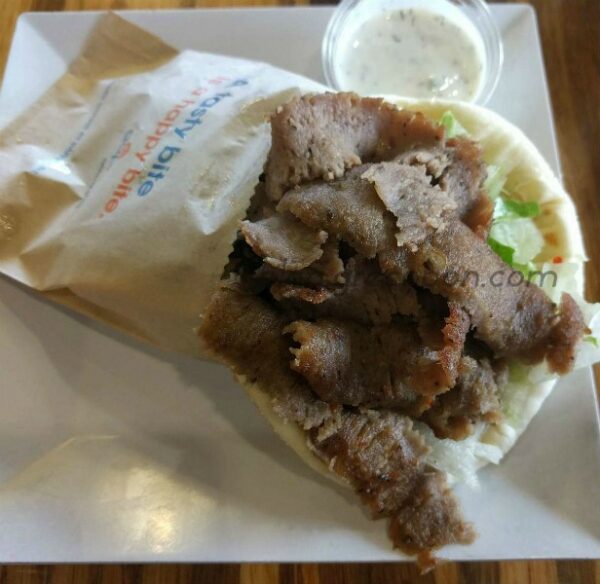 My gyro, the "Classic Pita" on their menu, was everything I want my gyros to be. FULL of delicious gyro meat, lettuce, red onion, and tzatziki sauce all wrapped up in a warm pita. The mere combination of these foods together is heaven in your hands. I can't say enough good things about this, I've never met a gyro I didn't like. Keep them coming world, keep them coming.
Matt's Meal – The Daphne's California Greek Cali Pita
"For my meal, I bounced back and forth between two choices a few times. Since we were going for traditional Greek, I came into the restaurant expecting to order a traditional gyro. However, my love of spicy food and California burritos got the better of me. I went with the Cali Pita. It's basically what I know to be a California Burrito, but a bit spicier and in Gyro form."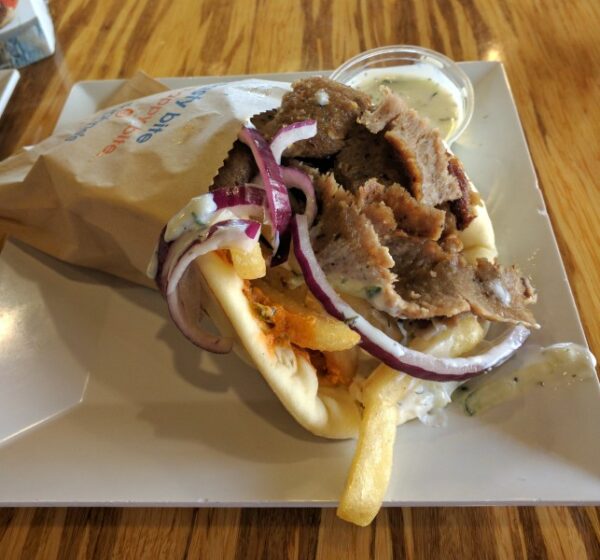 "Instead of feta, it included "Fire Feta," a spicy feta cheese that was even more awesome than traditional feta. The gyro (pita) was also stuffed with french fries just like a California Burrito. It is topped with red onions and tzatziki. The flavor was outstanding – spicy, but not overly so. Absolutely delicious. About the only change I would make would be to add the rest of the traditional gyro toppings to go along with the red onions, fries, and tzatziki. But, it was wonderful even without those items."
The Dessert of all Desserts – Baklava
For dessert, it was time for BAKLAVA! I've had this delight before, Matt has not. We tried quite a few Greek desserts at the Temecula Greek Festival back in September, but by the time we arrived they were out of baklava.
It is another phyllo dough based dish which includes layers of dough and crushed nuts. Everyone has their preference on which nuts to use. In looking for recipes I've noticed a lot of people use pistachios, walnuts, or a mixed nut variety. When it is time to make our Greek dish at home, I think I'll have to include them all. It is also soaked in a honey syrup type sauce. Sweet but not too sweet, perfectly sweet…at least for me. 🙂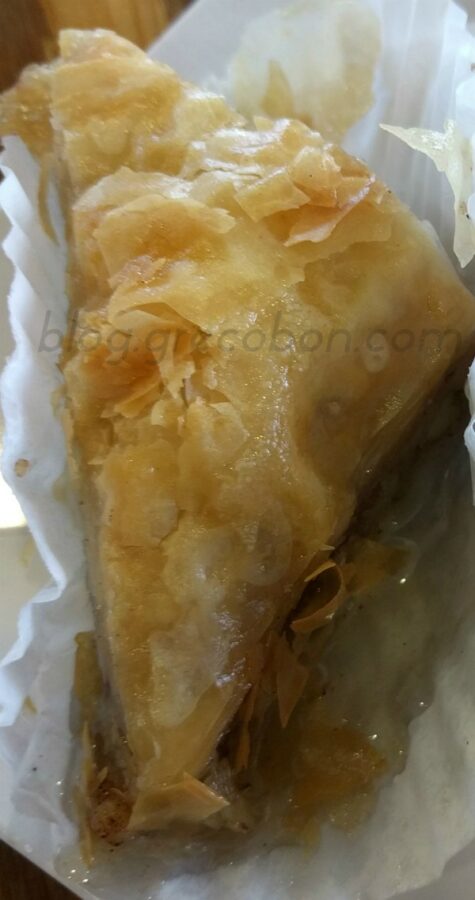 According to Matt "The first thing I noticed about the baklava was just how sticky it was, and how much honey it was drenched in. It immediately reminded me of the bees that were hovering around the Greek Festival. I'm a bit of a bee-o-phobe. I tend to run away from even one, let alone as many as were attracted to the honey that day."
"That being said, this was just heaven, even more so than the wonderful desserts we had in October, since the bees weren't buzzing around. The filo dough (which is the same dough used in the Spanakopita) is so flaky, it just falls apart, even with the honey trying to hold it together. My sweet tooth devoured this in about 90 seconds, if not less. The thing that amazed me about this, in particular, is that it was only 250 calories, lower than expected."
Daphne's California Greek – Final Thoughts
The first outing of Greek month has concluded. Matt and I both tried something new, we discovered a new restaurant, and just overall enjoyed our Saturday lunch adventure.
I'm glad the events of today happened as they did and we discovered Daphne's. A happy accident. It is a wonderful quick service Greek restaurant. The food was delicious, the staff was polite and quick, everything was clean. Very satisfied with our visit and can't wait to return.
Check out their website here and find a location near you!
OPA!
---
Connect with us on Social Media:
---