Pangaea – Finally!
We finally made it to Pangaea! We made sure to arrive early enough this time, so we didn't miss out. This was more of a sit-down place than Daphne's California Greek, and as such the food and experience were much different (in a good way).
We were immediately greeted and seated at a table. It is beautiful inside as you can see from the photo below from yelp. I wish I would have photos of the inside, but there were other customers and I didn't want to invade their privacy.
Drinks and an appetizer
I was happy to order a glass of wine, which I now can't remember the name of, but it was delightful.
The first bonus point for Matt at Pangaea – Greek beer. When we visited the Temecula Greek Festival back in September, we got to try Mythos Greek Beer. Pangaea actually had two others to choose from. Being the Untappd beer check-in geek that Matt is, he chose a beer new to him – Aris. It had a bit of a citrus flavor and was definitely better, in his opinion, than Mythos. At the very least, it was definitely more flavorful.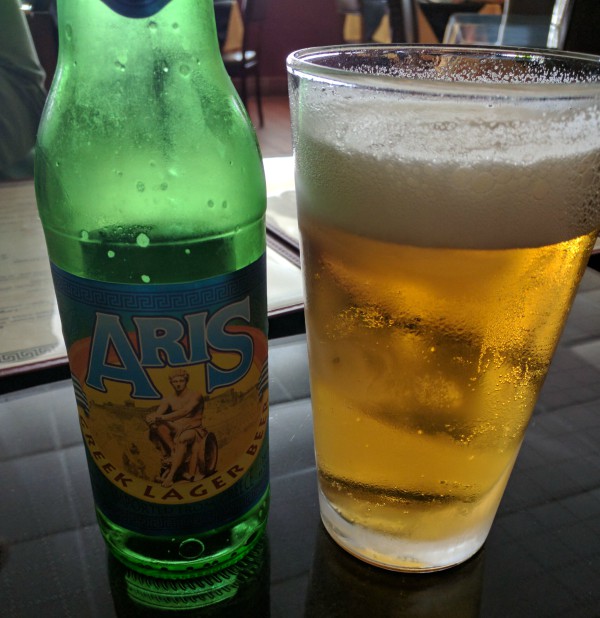 We browsed over the menu, and our server recommended the sauteed mushrooms as an appetizer which I quickly agreed to. Anyone who knows me, knows how much I LOVE mushrooms, I will eat them raw, cooked into pasta, with steak, on a kabob, on a burger smothered in cheese, in a cheeseteak, so yes, please bring me the mushrooms.
They didn't disappoint. We fiddled around for a second, unsure how to go about eating them without looking like two goofballs. We ended up using our forks to pile them onto the pita and let the oil soak in. I believe I wiped the plate clean with my last piece of pita. SO DELICIOUS!!
Matt's thoughts on the mushrooms:
"This was an absolute home run. I never would have expected a dish based simply around sauteed mushrooms to be as delicious as these were. I have no idea what herbs and spices they used (other than I believe some olive oil), but we have been searching for a good recipe to try to make these at home – not just for our Greek at home night, but in the future as well. They were that good."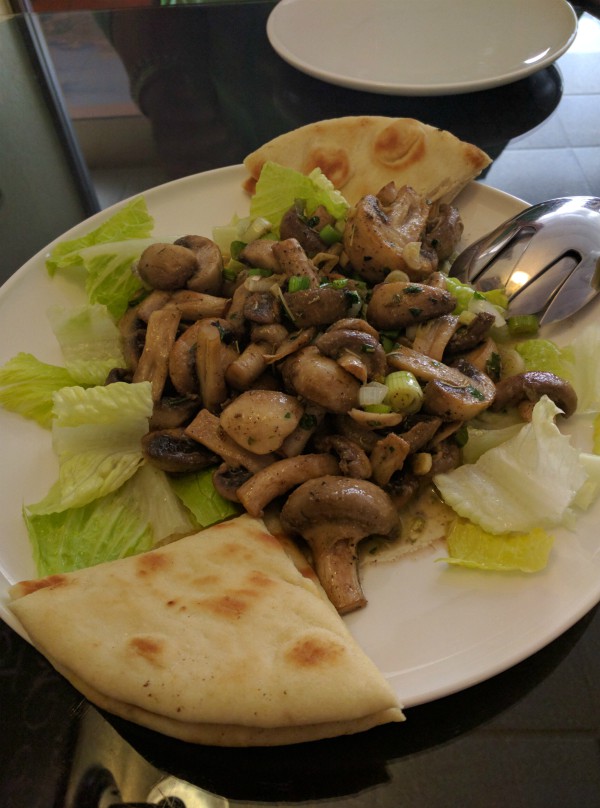 The menu describes this appetizer as "whole white mushrooms sauteed in extra virgin olive oil and butter, with fresh garlic, and aromatic herbs".
Olympia Platter
I browsed the menu, looking for my entree. As much as I would love a gyro, I had one last week, the purpose of this adventure is to experience new things, and dammit that's what I was going to do!
I went for the Olympia platter. It consisted of falafel (blend of ground garbanzo beans and spices, hand-rolled into patties and grilled), dolmades (grape leaves stuffed with rice and a variety of Greek spices), and gyro meat over rice with a Greek salad and pita bread.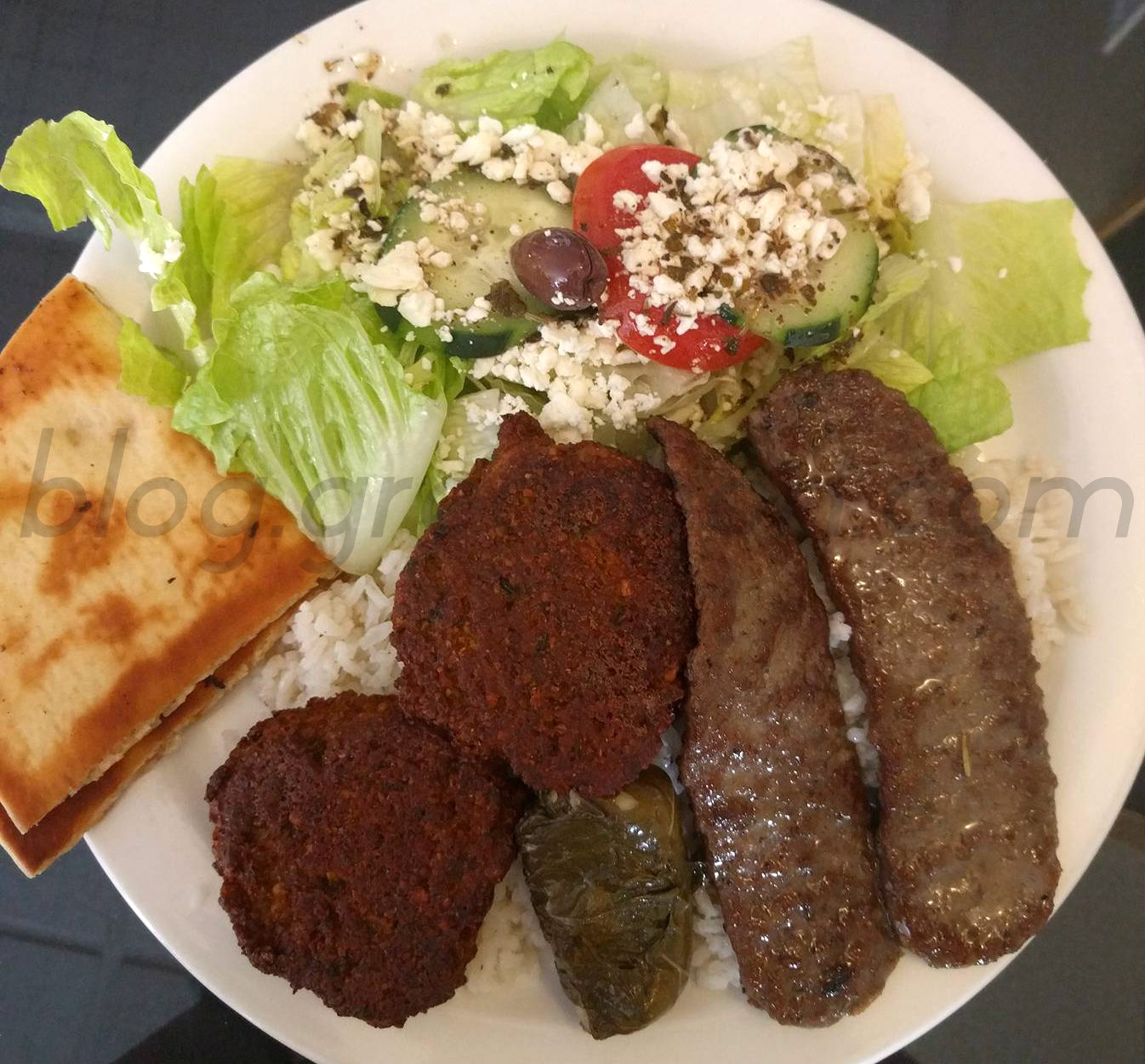 Falafel isn't my personal favorite dish, I feel like I needed some sort of sauce with it, but it did go well with the rice.
Dolmades were a pleasant surprise. I had never had them before and had no idea what to expect. The spices were very flavorful, certainly a dish I will have again.
Restaurant.com: Save on Your Next Meal
The gyro meat melted my mouth. I had often heard that phrase before, and never quite understood it, until today. Add in the rice and pita and WOW. The meat was so very juice and tasty. Very well done, Pangaea, very well done.
Matt: The Pangaea Greko Burger
"The main course was an easy decision for me. I made that choice weeks ago when Lora showed me a picture of the Greko Burger. The fact that it shares our last name (at least phonetically) was a happy coincidence. The burger looked good enough that I'd have ordered it no matter what the name."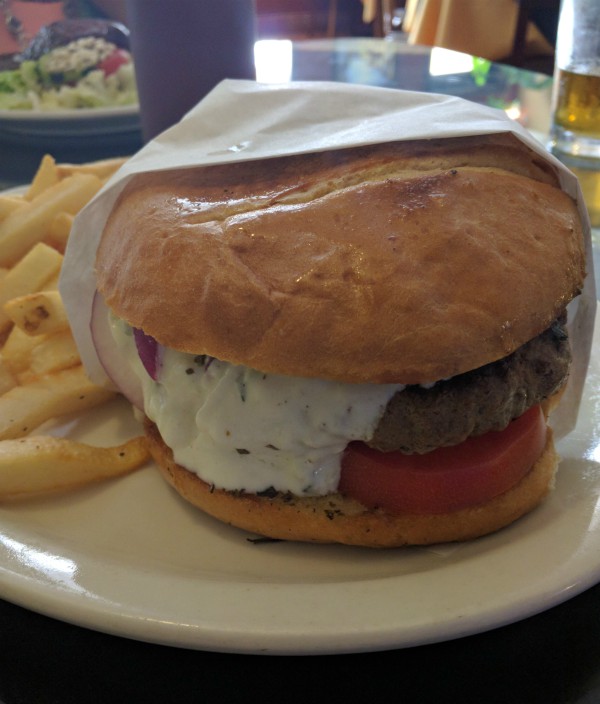 "The best way I can describe this is that it was a gyro on a hamburger bun, using beef instead of lamb (or veal, or whatever meat gyros use traditionally). To be honest, I'm not even really sure what gyro meat actually is – I do love gyros, but the seasoned beef patty was just off the charts. Of course I made a mess while eating it. After eating the stuffed mushrooms and pita bread I almost didn't make it through – but it was so good. I didn't even want to take the chance on reheating it and finished the entire burger in that sitting. I literally couldn't put it down."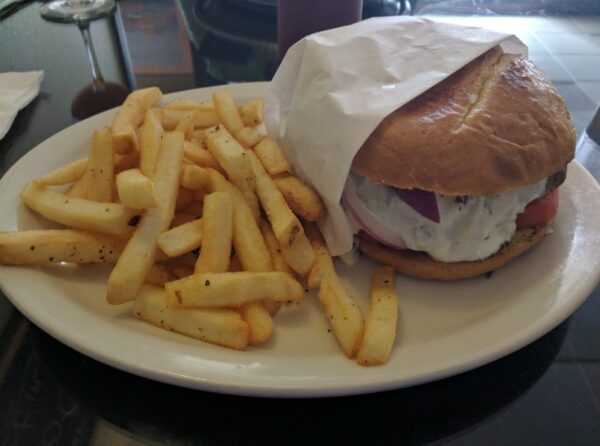 "That also doesn't even include the fries, which were outstanding as well – nice and crisp, and just the right amount of salt. I did, unfortunately, leave a few fries on my plate. I had no choice, it was them or the burger. There was no way I was leaving any of the burger behind."
"All in all, if presented with a choice between Pangaea and Daphne's California Greek, as long as time wasn't a factor, I'd definitely go back to Pangaea – hands down. This was literally one of the best burgers I've ever had."
Sweet, Sweet, Dessert
Of course we got Baklava, but to go this time. We had something at home to pair it with from one of our favorite breweries. Check out our next post: Bottle Logic Byzantine Vision with Baklava to read more.
I cannot wait to come here again!
Do you have a favorite Greek restaurant in your city? Let us know in the comments below!