Tri Color Rotini Pasta Salad – A must for every party.
Hands down before any picnic or party we host or attend, this is my favorite thing to make. In fact, Matt just requests it randomly for the two of us to enjoy for a couple days as a side dish.
Thanks to COVID-19 and Social Distancing, Memorial Day was a bit different this year. Usually we kick off summer with friends and neighbors over the weekend here at our house with the grill going, the pool to cool everyone off during the day, games, and laughs. This year it was us and the dogs, we tried to keep with as much normalcy as possible and decided to still have picnic type meals for the day. Matt grilled burgers and hot dogs, and I made my favorite pasta salad.
Check out our Quarantine Meal and Activity Ideas here to see what all we made when we had a bunch of time and nowhere to go.
I started making this particular recipe back in college. The only change I've made in 15 years is the addition of the black olives.
Why mess with perfection?
Really, you can choose whatever pasta, veggies, meat, or cheese you prefer, but this combination is pretty spectacular. The star of the show; however, is McCormick Salad Supreme Seasoning. I LOVE this stuff! It just adds that finishing touch both looks and taste wise. I also use Salad Supreme to add some flavor to my Macaroni Salad.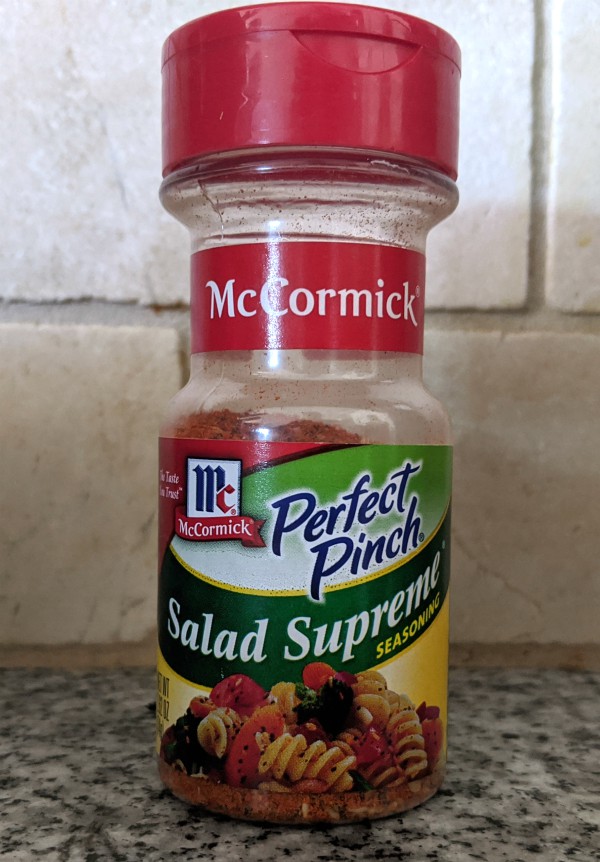 Ingredients
1lb Tri Color Rotini Pasta uncooked
1 package cherry tomatoes
1 cucumber
1/2 pound salami, cubed
1/4 package sliced turkey pepperoni
1/2 pound pepper jack cheese
1/2 pound colby or cheddar cheese
McCormick Salad Supreme to taste
1 small can diced black olives
2 bottles Italian or Zesty Italian Dressing
Instructions
Cook pasta according to directions, drain and set aside to cool.
While pasta is boiling, chop vegetables meat, and cheese into bite size pieces and add to large dish along with olives and pepperoni slices.
Add cooled pasta to container, one bottle of Italian dressing and stir.
Top with Salad Supreme and refrigerate for at least 1 hour prior to serving, for easy prep, make the night before.
Keep other bottle of salad dressing nearby when serving, the longer the pasta salad has been chilling in the fridge, the more dressing the pasta will absorb.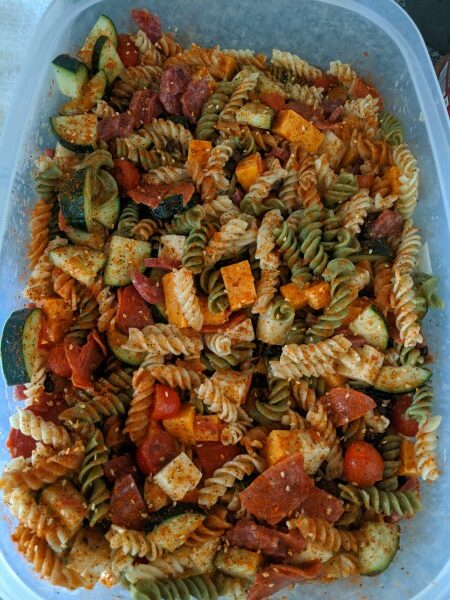 We enjoyed a day by the pool, great food, great music, and hanging out with the dogs (like we do everyday anyway). Later in the evening, we made s'mores by the fire. How did you spend this "different" Memorial Day this year?
Happy Eating!