Halushki: Cabbage and Noodles
I grew up with Halushki. In fact, it's the first thing I learned how to make on my own. I didn't know that it wasn't something everyone was familiar with until I went away to college.
Halushki we called it in Schuylkill County, Pennsylvania where I grew up, that's what I'll refer to it as throughout this post. In other parts of the world its referred to as (information from wikipedia):
Halušky or haluška in Czech Republic or Slovakia. It is also the national food of Slovakia.
Galuska, Haluska or Nokedli in Hungary
Gălușcă in Romania
Galuška in Serbia
галушка in the Ukraine
Virtinukai in Lithuania
Haajaknetchen in Germany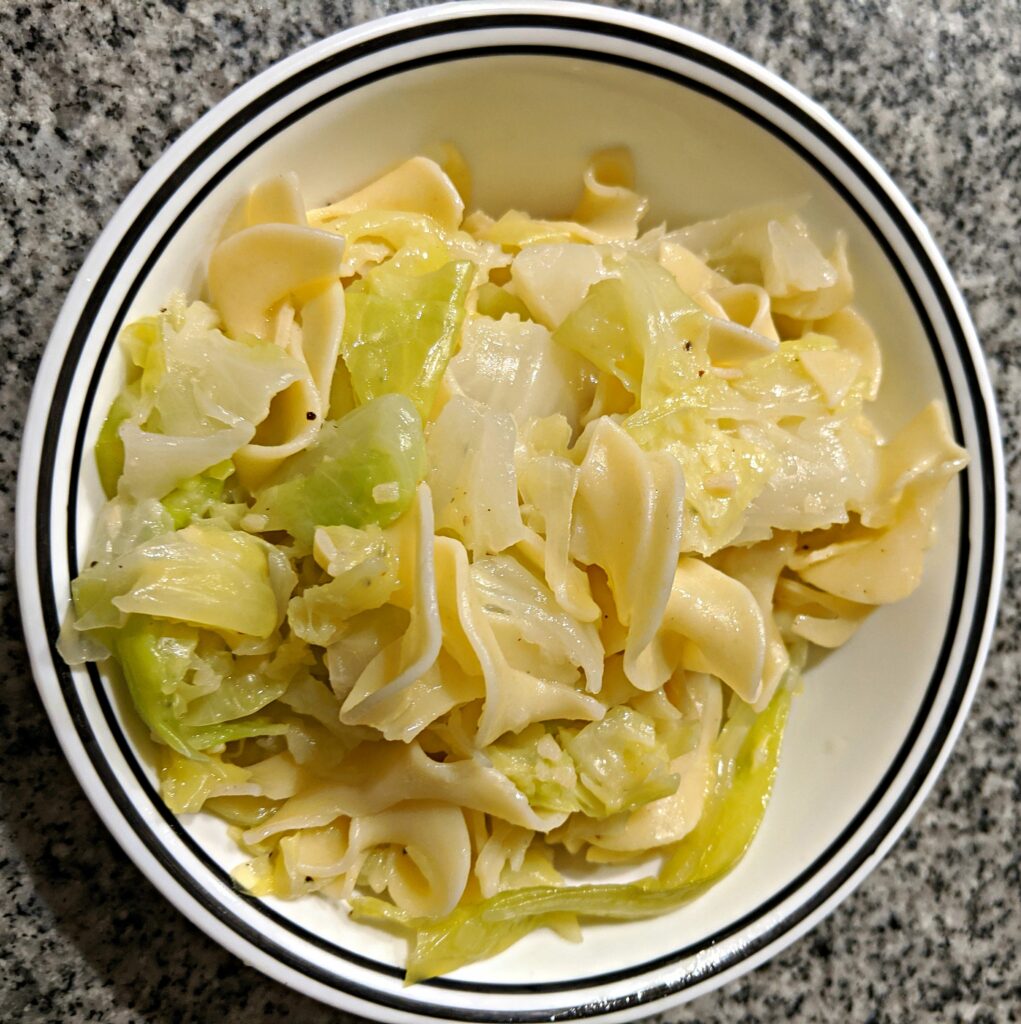 As you can see it is mostly an Eastern European dish. Each country, region, town, family has their own variation of the recipe. Their way is the only way to make it, and no one is wrong. I noticed even when posting about my own meal on facebook, that friends who grew up in the same area I did, had their own ways of making it, and I want to try them all.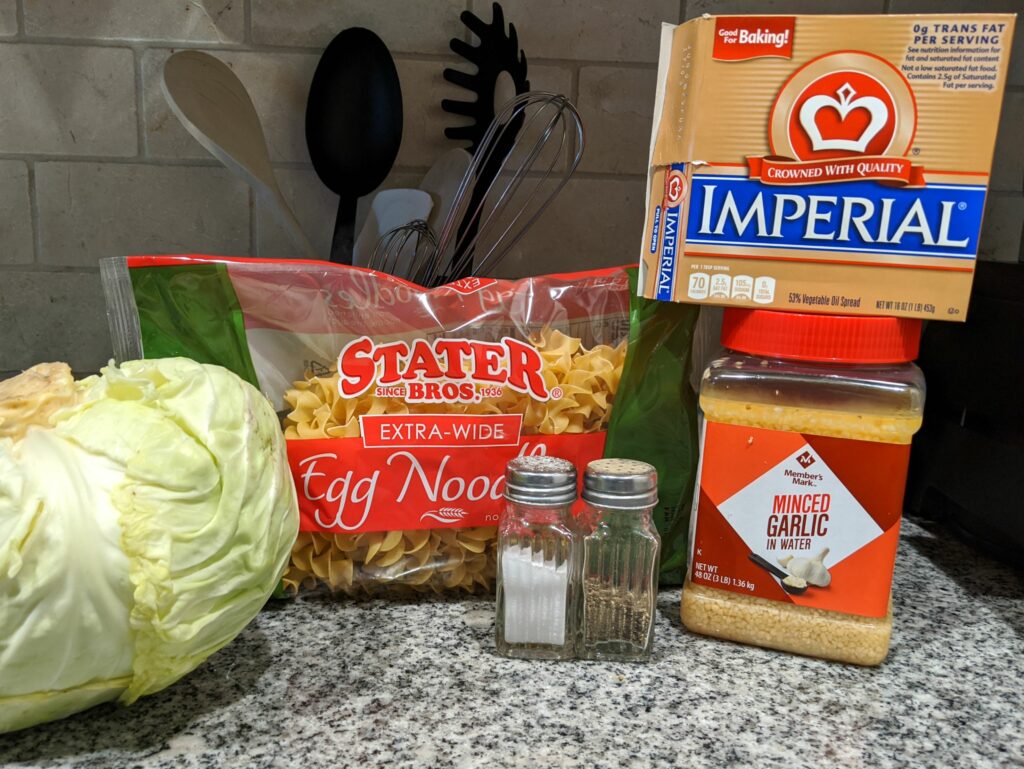 For this recipe you'll need:
1 medium to large head of cabbage.
1 package of egg noodles
salt and pepper to taste
garlic, whole (and you mince yourself) or already minced
1 cup or 2 sticks of butter
Directions:
Bring two pots of water to a boil. While they are heating, slice the core out of the cabbage to help the whole head boil through.
Carefully add the cabbage to the first pot that comes to a boil, with the core side down (the area you removed. I use a strainer with a handle to lower it in and position it correctly. Cover and boil for 15 minutes.
Add the noodles to the 2nd pot that comes to a boil, and follow package directions, usually 6-8 minutes.
The noodles will finish first. Remove from heat, drain and rinse, and add back to pot. Slice one stick of butter, add garlic to your taste, I used 3 Tablespoons, but we really like garlic, salt and pepper, and cover to melt the butter and keep the noodles warm.
When the cabbage is done boiling,, remove from heat, carefully pull the head of cabbage out of the pot, I use the strainer again, two large ladles may also work. And place onto a rimmed cookie sheet to cool. A lot of water will come out and you don't want a puddle of boiling water all over the kitchen
When the cabbage is cool to the touch, chop into your preferred size pieces, add to pot with noodles, slice up the other stick of butter, add more salt and pepper to taste.
Stir, and allow to sit for a few minutes while the butter melts and flavors combine and serve.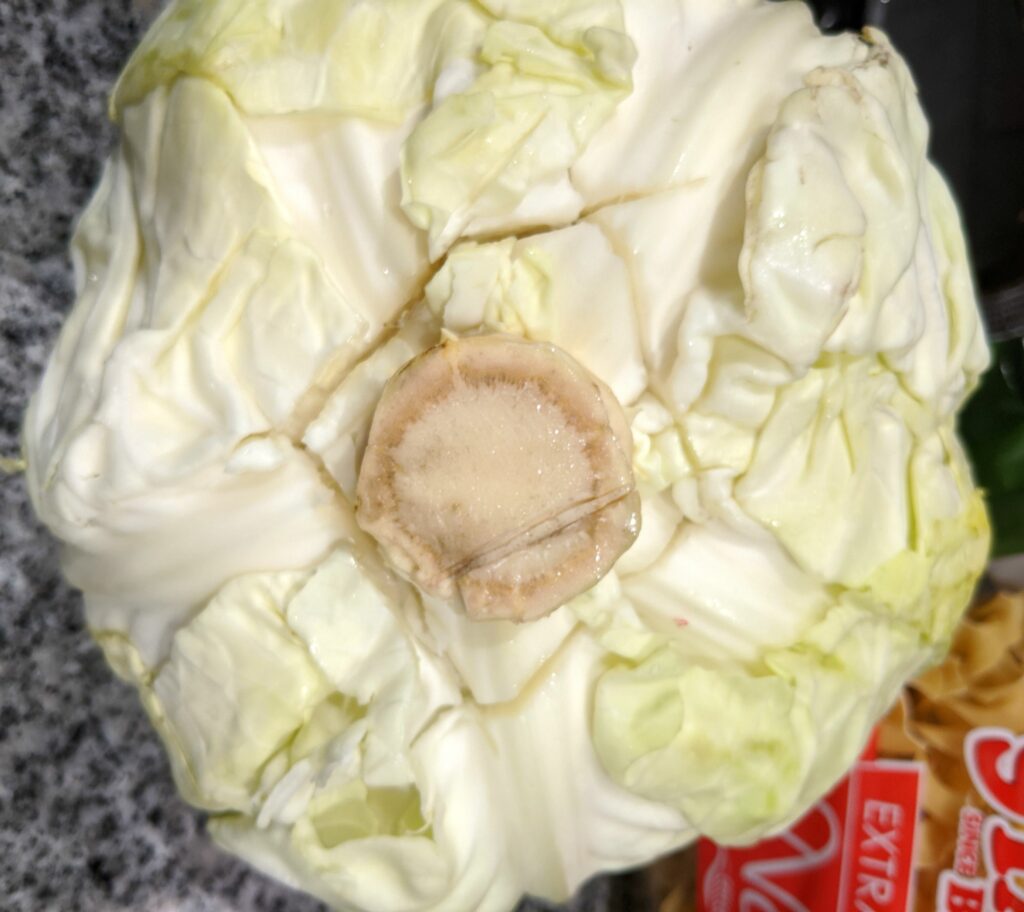 *Optional- you can add onion powder, sliced sautéed onions, bacon, kielbasi (polish sausage). There are a lot of customization options available. I used onion powder, we didn't use any meat, as I made this meal on a Friday during Lent, when we follow the tradition of no meat on Fridays during that time.
You can make your own dough, your own egg noodles, and some swear by that way alone. I have made dumplings before and they were delicious, but as much as I have discovered a love of cooking, I don't enjoy making dough/noodles/dumplings. I will make them for other things out of necessity, but this is one meal where I will go for the store option.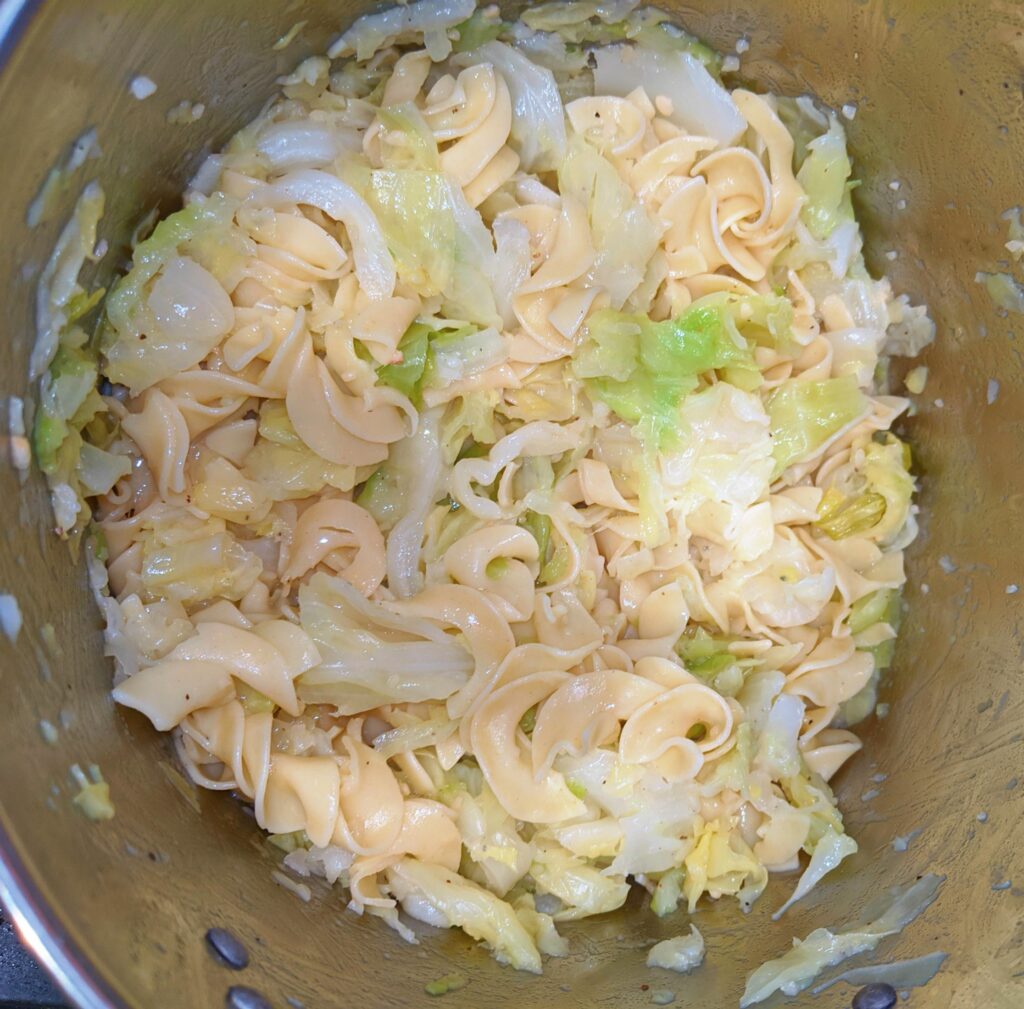 In my reading I came across the recipe for Halušky (or haluška) in Czech Republic or Slovakia
I looked into the Czech and Slovak original, where the version I know came from. It appears to be a combination of two recipes, which I'll describe and link to below:
The first of which being Bryndzové halušky which is a combination of the haluski dumplings cooked with bryndza cheese, which isn't found in the US. You can access the recipe and more information here.
The second part is called Strapačky, this is where the cabbage comes in for the US recipe. There is no recipe listed with wikipedia, but they do mention that the cabbage replaces the bryndza.
Do you make Halushki? What do you do differently?
Happy Eating