Anthracite Salad: not actually a salad.
A few years ago for Christmas, my mom wrote out some of her recipes for my sister and I and put them in binders so that "when the day comes you will have some comfort foods to remind you of me as I am sipping wine and smoking a cig with St. Peter." For real, it's in the book. The first main dish recipe in the book is for something my mom always called "Anthracite Salad"
Some rules you need to know about my mom's recipes –
She doesn't know the ounces of cans and refers to them by large, small, and soup size.
She doesn't measure.
Everything is cooked until it looks done.
I've altered her recipe over the years and I will post both her recipe and my altered version. You can then choose the version which is most appealing to you.
Check out more of Mom's Recipes.
What is Anthracite Salad
Mom's Anthracite Salad is Pan fried chicken and spinach over tomatoes and mozzarella. It is a reasonably healthy main dish using fresh ingredients. She doesn't use any extra dressings. Over the years I've altered the recipes to our tastes.
Mom's Anthracite Salad Recipe
Ingredients
Boneless, skinless chicken breasts
Fresh Spinach
Olive oil
Minced garlic
Fresh whole tomato
Fresh whole Mozzarella cheese (aka not shredded)
Instructions
Cook chicken in frying pan with water, when slightly browned, drain and put back in pan.
Add olive oil and garlic and toss in spinach – lots – it shrinks when cooked.
Slice tomato kind of thick and place mozzarella cheese on top.
Put tomato and cheese on plate.
Put chicken and spinach on plate and drizzle olive oil and garlic over all.
This method is perfect.
Here's my altered version: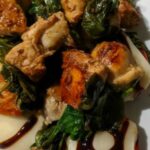 Print Recipe
Anthracite Salad
Not a salad. A delightful combination of chicken, spinach, mozzarella cheese, and tomatoes.
Ingredients
1

Tbsp

Olive Oil

2

Tbsp

Minced Garlic

2

Boneless, Skinless Chicken Breasts

chopped

2

Heaping handfuls of fresh Spinach

1

Whole Tomato

½

block

Mozzarella Cheese

Balsamic Glaze

to taste

Balsamic Vinegar

to taste
Instructions
Add olive oil to pan. When warm, add garlic and fry about 2 minutes, until fragrant.

Add chicken to pan and cook until browned.

Slice tomato thick and place a slice of cheese on top of each tomato slice. Add to a separate oiled pan and drizzle with balsamic glaze.

Toss in spinach with chicken.

Drizzle Balsamic Vinegar over chicken/spinach pan.

When cheese has melted on tomato slices, remove to plates.

Remove chicken/spinach from pan onto plates over tomato and cheese. Add more glaze if you want to.
This is one of our favorite meals, we have it at least once a month. It's healthy, easy, you can omit the balsamic if you don't care for it, or just use either the vinegar or the glaze if you want. We sliced too many slices of the mozzarella, so I drizzled some of the balsamic glaze on top and added some oregano.
Give Anthracite Salad a try and upload pictures to twitter or instagram and remember to tag us! @grecobon #grecobon