Chicken Kiev – A Dinner Inspired by YouTube
During Quarantine, I've been watching one of my favorite youtube channels, Kara and Nate while I do things around the house. They're a young couple who made a goal of visiting 100 countries by Nate's 30th birthday. I've enjoyed watching all of these videos and I still have so many to go. This particular one took place in Kyiv, Ukraine and they had a wish list of food items they were told to try. On that list was Chicken Kiev, a chicken breast flattened, and rolled around an herb/butter mixture then breaded and cooked. It looked so good that I had to find myself a recipe to try it!
I also want to try the Syrniki that they had at the same meal even though I'm not at all a cottage cheese fan.
If you haven't watched their videos before, check them out, I just adore them.
I wish I had prepared the herb butter the night before so that I could wrap the chicken in the morning instead of two hours before we wanted to eat.
There was some issue keeping the seams closed because I waited too long, and ended up using toothpicks to hold everything together. This made breading and the quick fry just a tad difficult, but lesson learned for next time.
Recipe
The recipe is from the site, Jo Cooks, you can find the full post here.
Ingredients
Garlic Butter
8 tbsp butter unsalted, softened
6 cloves garlic minced well
1/2 cup fresh parsley chopped
1/4 cup fresh dill chopped
1/2 tsp salt or to taste
1/2 tsp pepper or to taste
2 tbsp lemon juice freshly squeezed
Chicken Kiev
4 chicken breasts boneless and skinless
1/2 cup all-purpose flour
2 large eggs beaten
1/2 cups breadcrumbs
1/2 tsp salt or to taste
1/2 tsp pepper or to taste
vegetable oil for frying
Instructions
Prepare the garlic herb compound butter: Mix all the garlic butter ingredients together using a fork or a spatula. Place it onto a piece of plastic wrap and roll into a log. Place it in the freezer for 30-40 minutes to freeze. It needs to be firm so that we can slice it.
Prepare the chicken: Lay each breast flat onto your work surface. Butterfly the chicken breast by slicing it horizontally. Place the chicken breast opened between two pieces of parchment paper or plastic wrap and then flatten using a meat mallet. If you don't have a meat mallet you can also use the back of a heavy frying pan such as a cast iron skillet. Season each breast fillet with salt and pepper on both sides.
Assemble the chicken kiev: Cut the frozen butter into 4 equal pieces. Place a frozen piece of garlic butter in the centre of a chicken fillet, fold the chicken over the garlic butter, gathering the sides to the center to form either a round ball or a log. Wrap each chicken piece in plastic wrap and twist the ends to make sure it's wrapped tightly. Place the wrapped chicken pieces in the freezer for about 2 hours until the seams have frozen.
Form the breading: Add the flour onto a shallow plate, crack the eggs in another shallow plate and whisk, and in a third bowl the breadcrumbs. Roll the frozen chicken first into the flour and make sure it is coated evenly, then roll it into the eggs and finally roll it through the breadcrumbs. Repeat with all the chicken pieces.
Finish the dish: Heat the oil into a large saucepan or Dutch oven to 350 F degrees. Preheat your oven to 400 F degrees. Deep fry each piece of chicken for 2-3 minutes until golden brown on all sides. Transfer the fried chicken into a baking dish such as a 9×13-inch casserole dish, then transfer to the oven and bake for 20 to 25 minutes.
Note from recipe site: can store in the fridge 3-4 days, and the freezer up to 3 months, defrost in the fridge overnight before reheating.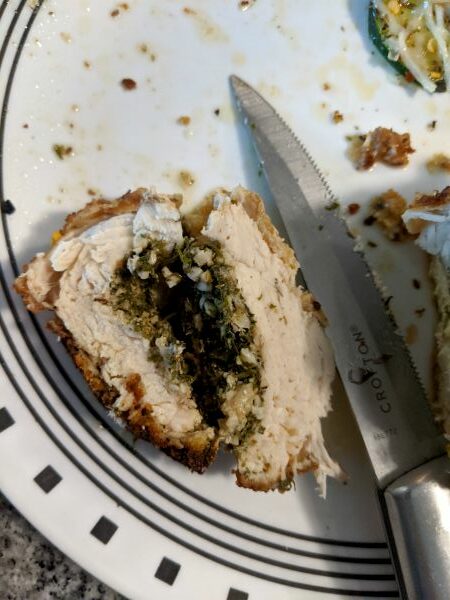 First bite: fantastic. The butter melts while in the oven, the herbs come through in every bite.
I served this with some Roasted Zucchini to compliment it and that worked out perfectly.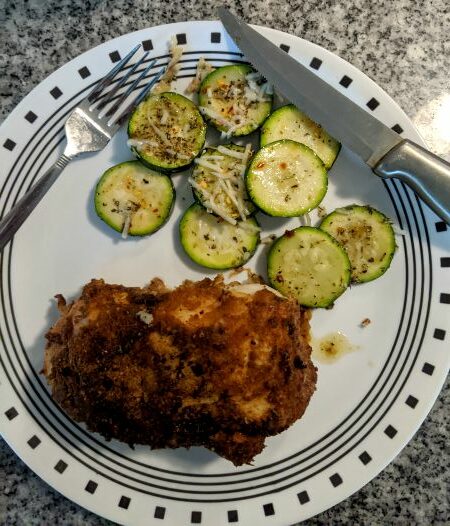 Are you familiar with any Ukranian dishes? Which ones should we try next? Let us know in the comments!
Happy Eating!