Roasted Zucchini
I was looking for something to serve along with Chicken Kiev that wouldn't be too heavy, as I expected the chicken to be quite filling. I remembered Matt had purchased one extra zucchini than I needed for the Chicken Primavera we just had a few days ago and knew that would be perfect.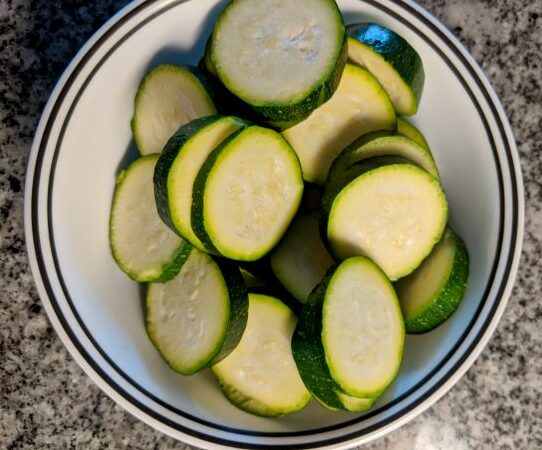 I kind of just winged it, but it turned out fantastic. I've made roasted vegetables plenty of times before and just wanted something simple. So I just washed and sliced the zucchini, sprinkled some olive oil over the slices, and seasoned with salt, pepper, and red pepper flakes. I mixed everything to coat each piece and layered in a baking dish then topped with some shredded Parmesan Romano I had in the fridge.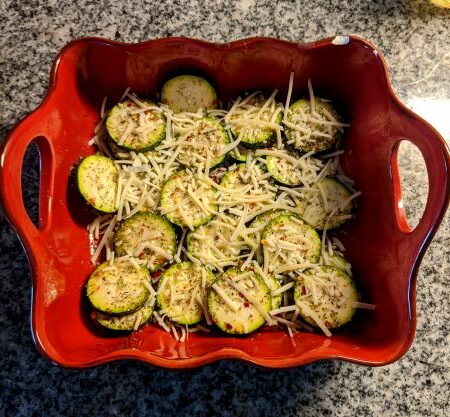 Ingredients
1 zucchini
1 Tablespoon Olive Oil
Salt and pepper to taste
1 teaspoon red pepper flakes
Shredded cheese of your choosing
Instructions
Rinse and slice zucchini and place in bowl.
Sprinkle olive oil over zucchini slices.
Add salt and pepper to taste and red pepper.
Stir to distribute or add lid to bowl and shake to cover zucchini with oil and spices.
Add to oven safe dish in one layer if possible, and cook for 10 minutes at 400 degrees Fahrenheit.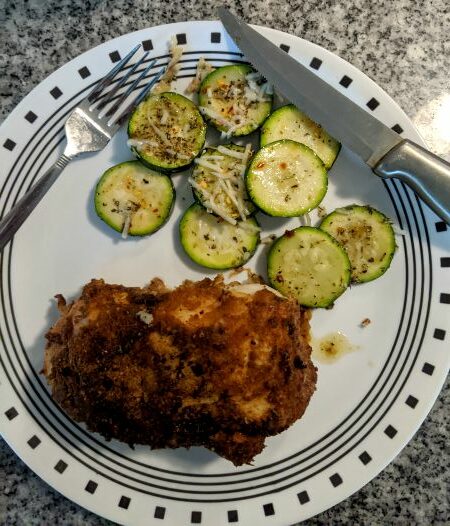 I added the dish to the oven with the Chicken Kiev for the last ten minutes of baking and they turned out wonderful. As I had hoped, this turned out to be the perfect compliment to the heavier Chicken Kiev and I will definitely keep this in mind for when we need something to add to a dish.
What vegetables do you like roasted?