Chicken Primavera – One Dish Meal
Chicken Primavera is a lovely dish, packed full of healthy veggies. This is a relatively easy dish, and perfect for busy weeknights. It's healthy, and you can customize it to your liking depending on which vegetables are accessible, which ones you like, or are in season especially if you have a garden of your own.
Originally, I made this this dish by slicing and stuffing each breast with a selection of each and every vegetable. That can be frustrating and certainly time consuming. So, I decided to make it more of a casserole type dish.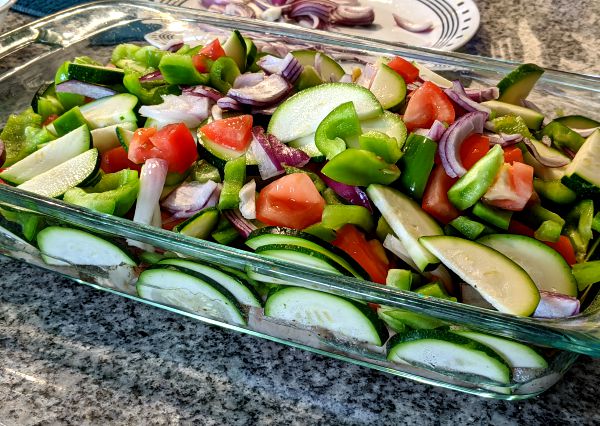 Ingredients
Now, go with what vegetables you like or have in season. These are the ingredients I use:
Chicken is the main protein. I think this could be altered to go with salmon or some sort of steak perhaps.
Olive Oil helps the seasonings stick to the chicken, but also to keep the chicken from sticking to the bottom of your casserole dish.
Zucchini, Tomatoes, Yellow Bell Peppers, and Red Onions provide a colorful variety to the dish. The bell pepper and onions cook nicely but not too soft providing a nice crunch.
Mozzarella Cheese adds a nice richness and it's cheese, I don't think I need another reason to add it.
Preparation
Start by preheating your oven to 400º F / 205º C. While that heats up, chop the chicken breasts into bite size pieces and add to a 9×13″ oven safe casserole dish. Drizzle olive oil over the chicken, add your seasonings, and mix to combine and cover chicken with everything.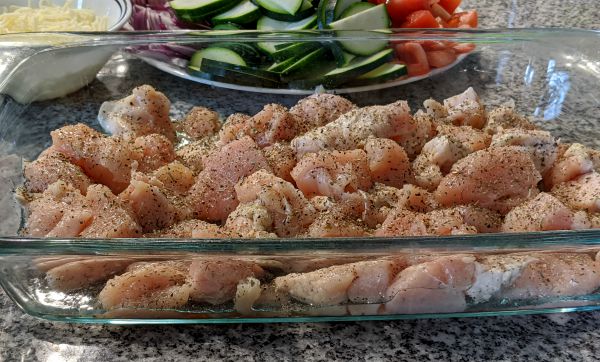 Next prepare your vegetables. Slice the zucchini in half lengthwise and then into thin half moons. Half the tomato and cut into thin slices. Remove the stems and seeds from the bell pepper and cut into thin slices. Then peel and thinly slice the red onions.
Add the dish in the order above or mix together in a bowl then cover the chicken with the mix. Sprinkle mozzarella cheese over everything and bake until the chicken is cooked through. This should take about 30 minutes, you want the chicken to be at least 165ºF in the center.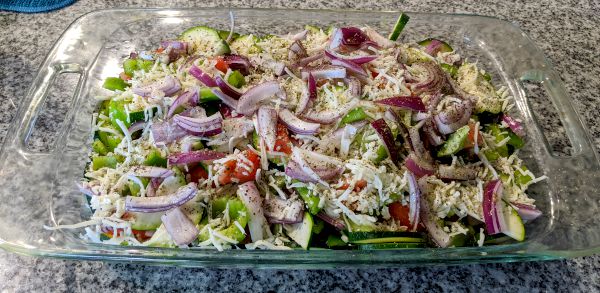 Serve over pasta or with rice, whatever you prefer.
Chicken Primavera Recipe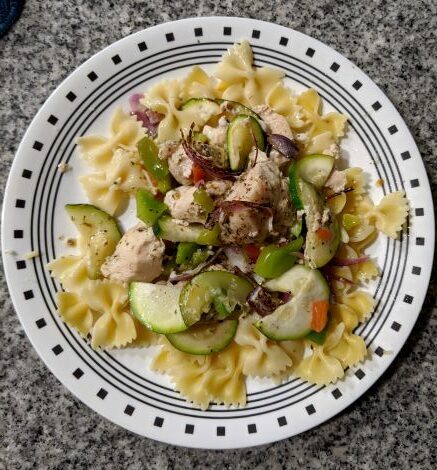 Print Recipe
Chicken Primavera
Save time on stuffing chicken by creating this casserole style dish using your favorite and in season veggies.
Ingredients
4

Boneless, Skinless Chicken Breasts

2

tbsp

Olive OIl

Salt and Pepper

to taste

1

tsp

Italian Seasoning

1

Zucchini

halved and thinly sliced into half moons

3

Medium Tomatoes

halved and thinly sliced

2

Yellow Bell Peppers

thinly sliced

½

Red Onion

thinly sliced

1

cup

Shredded Mozzarella
Instructions
Preheat oven to 400ºF / 205°C.

Chop each breast into bite size pieces and add to a 9×13 baking dish. Drizzle olive oil over chicken and season with salt, pepper, and Italian seasoning. Mix to combine and cover with oil and seasonings.

Chop each of the vegetables as noted above and add to baking dish on top of chicken.

Sprinkle entire dish with mozzarella.

Bake until chicken is cooked through and no longer pink, 165° in the center, 30 minutes.

Serve with starch of your choice, if you wish. Some variety of pasta pairs nicely.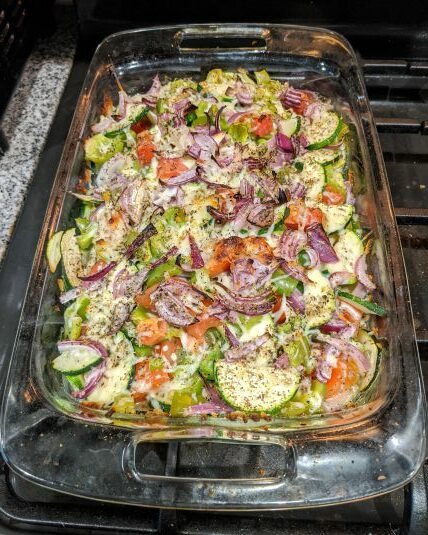 I boiled some bowtie noodles to server with the Primavera and dinner was done! Lunch was also done the next few days with what we had leftover from this dish!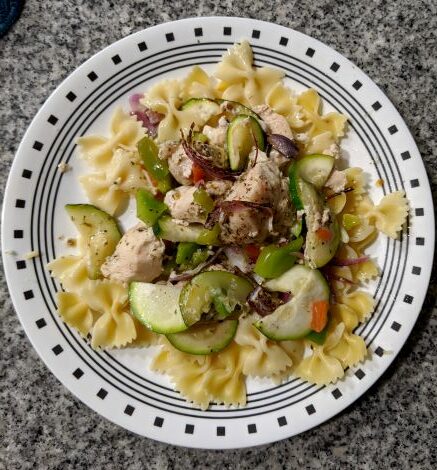 Chicken Primavera – Final Thoughts
This is an easy weeknight dinner. If you're not eating pasta, keep the zucchini separate and make some zoodles. You could always substitute rice or cauliflower rice. If you love the flavor or look the stuffed variety gives, you can absolutely do that. Add a few slices into each chicken breast and add slices of each vegetable to that slit. It does look lovely, but is certainly a longer preparation.
What do you think? Stuffed or chopped?
If you make this recipe, we'd love to see it! Be sure to tag us on social media!
---
Connect with us on Social Media:
---