Chicken Primavera – One Dish Meal
This is a relatively easy dish with the changes I've made, it's healthy, and you can customize it to your liking depending on which vegetables are accessible, which ones you like, or are in season especially if you have a garden of your own.
The original recipe is a stuffed chicken recipe, after making it a few times and fighting with the veggies to stay in the small cuts in the chicken, I decided to make it more of a casserole type dish.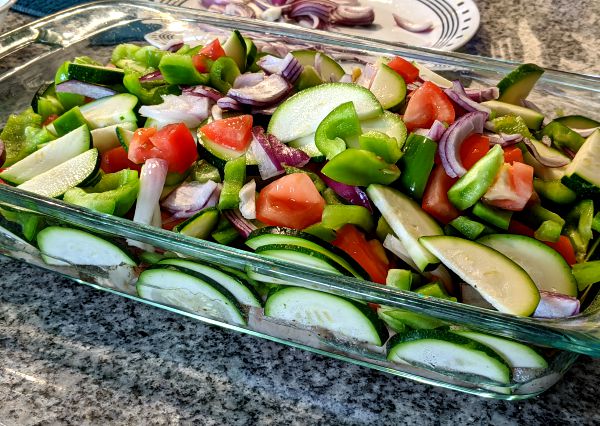 Basically, I just chop everything up and add it to the dish, mix, and cook. Way easier than trying to fit all those veggies in all those tiny slices of chicken.
The original recipe is available here from the recipe page Cooking TV Recipes, but I'll list the ingredients and my modified instructions below:
Ingredients
4 boneless skinless chicken breasts
2 tbsp. olive oil
kosher salt
Freshly ground black pepper
1 tsp. Italian seasoning
1 zucchini, halved and thinly sliced into half moons
3 medium tomatoes, halved and thinly sliced into rounds
2 yellow bell peppers, thinly sliced
½ red onion, thinly sliced
1 c. shredded mozzarella
Instructions
Preheat oven to 400º. Chop each breast into bite size pieces and add to a 9×13 baking dish. Drizzle olive oil over chicken and season with salt, pepper, and Italian seasoning.
Chop each of the vegetables and add to baking dish with chicken.
Sprinkle entire dish with mozzarella.
Bake until chicken is cooked through and no longer pink, 25 minutes.
Serve with starch of your choice, if you wish. Some variety of pasta pairs nicely.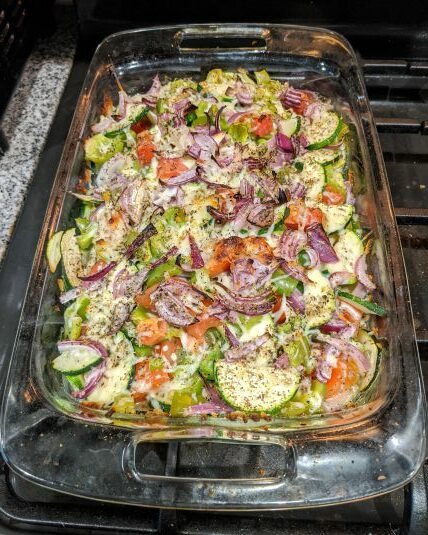 I boiled some bowtie noodles to server with the Primavera and dinner was done! Lunch was also done the next few days with what we had leftover from this dish!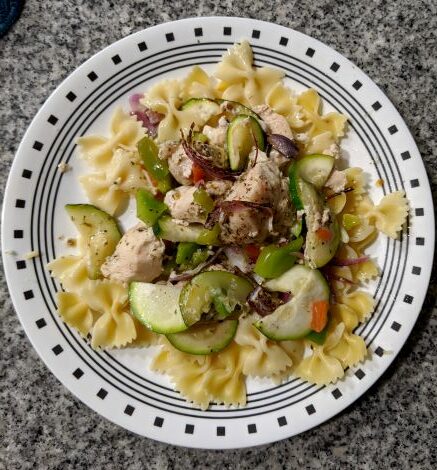 Instead of pasta, if watching carbs, you could substitute the zucchini in the dish for another vegetable of your choosing, or a different colored pepper and turn the zucchini into zucchini noodles. This would become and even healthier, low carb delight.
What do you think? Stuffed or chopped?