Crock Pot Pepper Steak – One Dish Meal
We came across this recipe in 2018. I'm happy with any Crock-Pot recipe that makes things easy! This certainly does and has been a staple recipe in our kitchen ever since.
I do recommend using red bell peppers for appeal, the green lose their color while cooking making it dull looking, delicious, but not very colorful.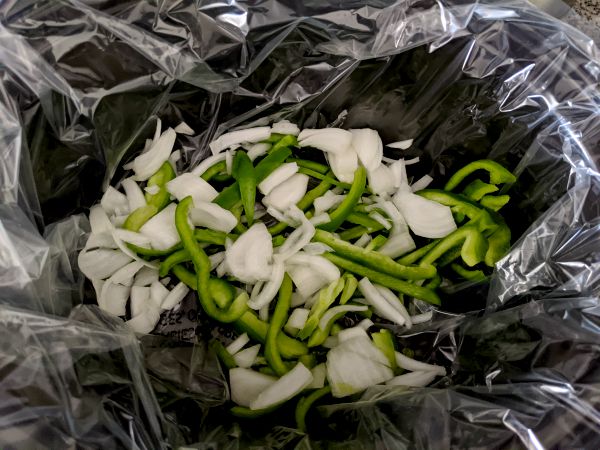 The only "tedious" part of this is cutting the beef into strips. I shouldn't complain since it's the only work that needs to be done aside from chopping the vegetables. I use a food scissors to make it go by a bit quicker.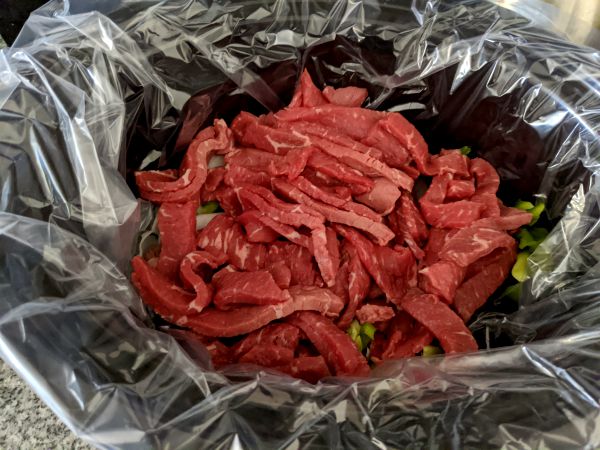 This recipe is from the site Eating on a Dime. You can find the full post and recipe here, and I'm listing the ingredients and instructions below for reference:
Ingredients
1.5 lbs of beef strips (I used thinly sliced round steaks and sliced them into strips)
1 green bell pepper, sliced thick
1 red bell pepper, sliced thick
1/2 onion sliced thick
1 1/2 cups of beef stock
3 tablespoons of soy sauce
1/4 teaspoon ground ginger
1/4 teaspoon garlic powder
1/4 teaspoon black pepper
2 teaspoon brown sugar
Instructions
Place the beef, bell peppers and onions in a slow cooker.
Add the seasonings, brown sugar, and soy sauce over the beef and peppers.
Pour the beef stock in the crock pot.
Stir to combine.
Cover and cook on low for 5 hours or until the steak is cooked through.
Serve over a bed of white rice.
Note: if you could like your sauce to be thicker. One hour before dinner is ready – In a small bowl combine 1 tablespoon of cornstarch with a 1/4 cup of cold water. Mix together. Stir in to the crock pot. Turn the crock pot to high and let the sauce thicken for the last hour of cook time.
I've done the last part before (instruction #7) and it was fine, but not really necessary in my opinion. Up to you though.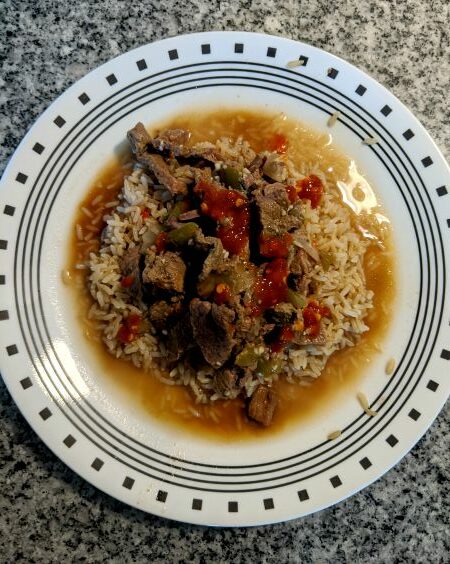 Upon serving, I added a bit more soy sauce to my plate and some Thai Chili Paste to add a bit of kick. I'm pondering adding a small chopped Serrano pepper next time I make it, what do you think? Let me know in the comments if I should spice it up while cooking or wait until serving.