Drunken Noodles – Our First Thai Dish at Home
To finish our month-long Thai adventure, it was time to prepare a dish at home. Lora and I chose a dish we both had considered trying in our two restaurant excursions: Drunken Noodles. Browsing around on Pinterest, I found a recipe that looked both delicious and simple enough. The recipe we used includes rice noodles, diced tomatoes, and basil leaves. The recipe also called for just shrimp, but we decided that we would add chicken as another protein source.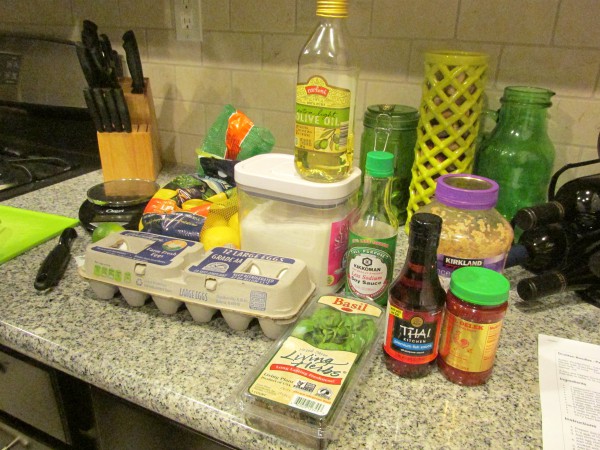 Missing an Ingredient? Substitute
The recipe also calls for thai chili peppers. Unfortunately after trips to several grocery stores, we were unable to find any. We ended up using a jar of chili garlic paste we were able to find at our local Stater Bros in place of the Thai chilis. The decision was made to use both shrimp and chicken as our meat choices, as we're big fans of each.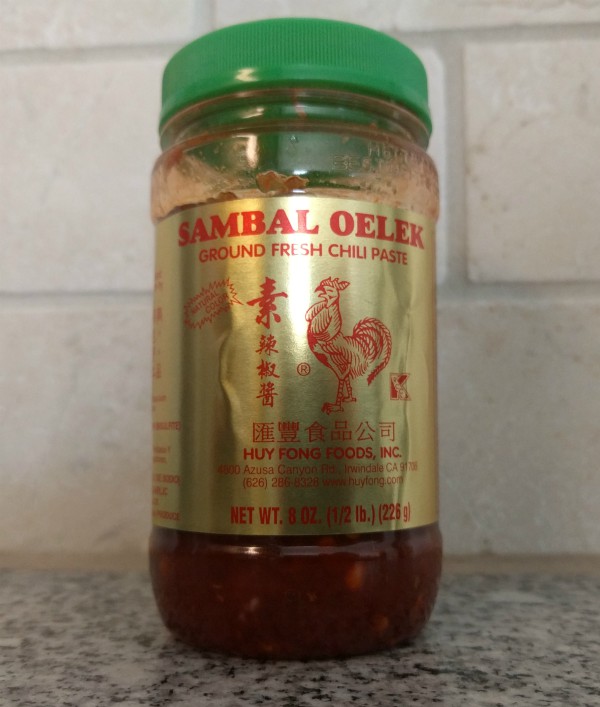 The original recipe recommends sweet dark soy sauce. It does say that you can use regular soy sauce mixed with ½ teaspoon of sugar. To omit purchasing a second kind of soy sauce we went with making our own.
Missing a Kitchen Tool? Google It
As is customary when Lora and I try to cook together, we encountered an issue right off the bat – the recipe calls for a mixture of lemon and lime zest. We realized quickly that we had neither a zester nor grater, so we had to come up with an alternative solution that hopefully wouldn't involve me driving to Target to purchase one. I consulted the Google and found instructions for creating a zest without a zester.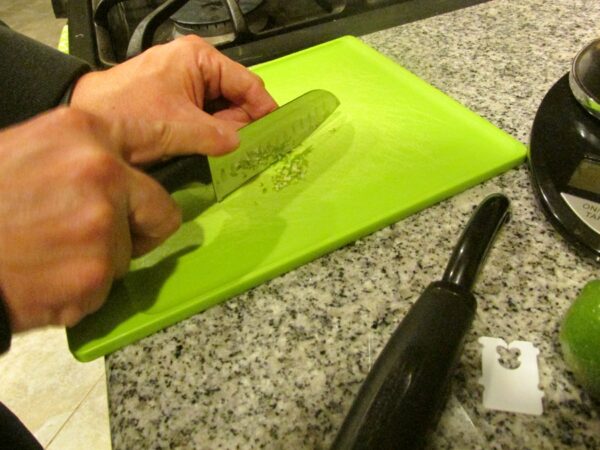 First, I used a vegetable peeler (which we do have) to peel off a few pieces of lemon and lime. From there, I used a sharp knife to slice the peels lengthwise into very thin strips, and then into small diced pieces. Then, using a rocking motion with the knife, I sliced and diced the tiny pieces into a smaller zest-like mixture. It was the best we could do without going to buy a zester, and I think it actually turned out pretty well.
Preparing the Meal
My other contributions to the meal preparation included dicing the tomato and helping cut the tails off the shrimp. I wish I could elaborate more on the actual cooking, but alas, I cannot. Lora browned the chicken and prepared the shrimp while the noodles were cooking.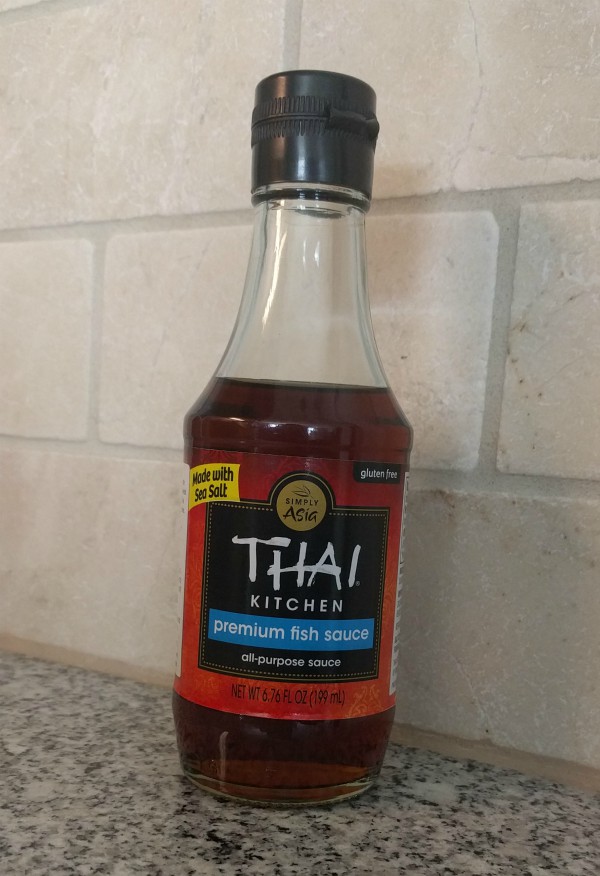 This is the original recipe from the blog Pickled Plum. In the last three years we have made this many times. Therefore, have altered it a bit to our liking.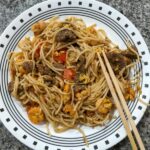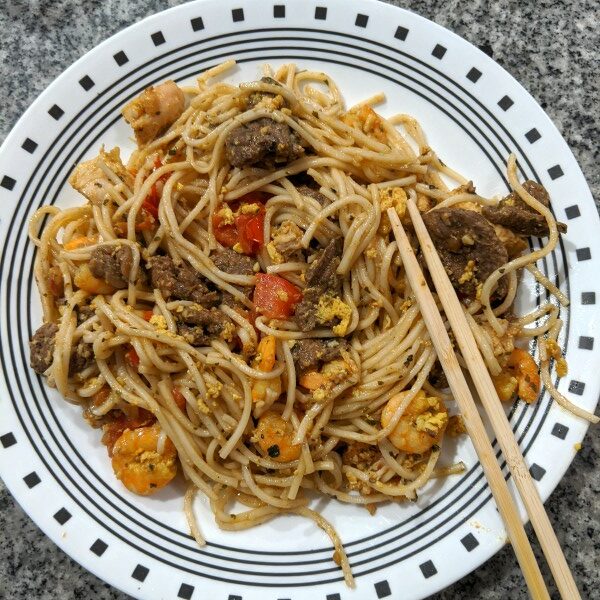 Print Recipe
Drunken Noodles – Pad Kee Mao
Ingredients
2

lb

chicken breast

cooked to your liking and chopped

2

lb

sirloin steak

1

8-10oz package

noodles

rice noodles preferred, chow mein or lo mein also work

1

Tbsp

olive oil

3

Tbsp

minced garlic

10-12

medium

shrimp

(peeled and tails removed)

2

large

eggs

whisked

3

tsp

chili paste

1

lime

juiced

2

Tbsp

fish sauce

2

Tbsp

soy sauce

1/2

tsp

sugar

1

large

tomato

chopped

12

fresh, torn, basil leaves

or 2 Tbsp dried basil
Instructions
Prepare chicken to your choosing. I bake it at 430° for 25-28 minutes. Season as and if you wish. Set aside.

Prepare sirloin steak to your choosing. I chose to pan fry it in a bit of broth in batches, 3-4 minutes on each side.

Prepare noodles according to package directions. Set aside. Keep pot nearby.

Heat the oil over medium high heat in a large pan or wok.

Add garlic and fry for 1 minute until golden and aromatic.

Add shrimp and toss for 2-3 minutes if not previously cooked. If previously cooked, toss for 1 minute.

Add egg and stir for 1-2 minutes until egg begins to set.

Add chili, lime juice, fish sauce, soy sauce, sugar, and tomato to pan. Stir a few minutes until tomatoes are cooked.

Add noodles back to cooking pot, add chicken, steak, and contents of pan. Stir to combine, reheat over medium heat if necessary.

Sprinkle basil over dish before serving.
For the sirloin steak, I prepared it a few hours beforehand using this Steak Marinade – Thai Inspired recipe.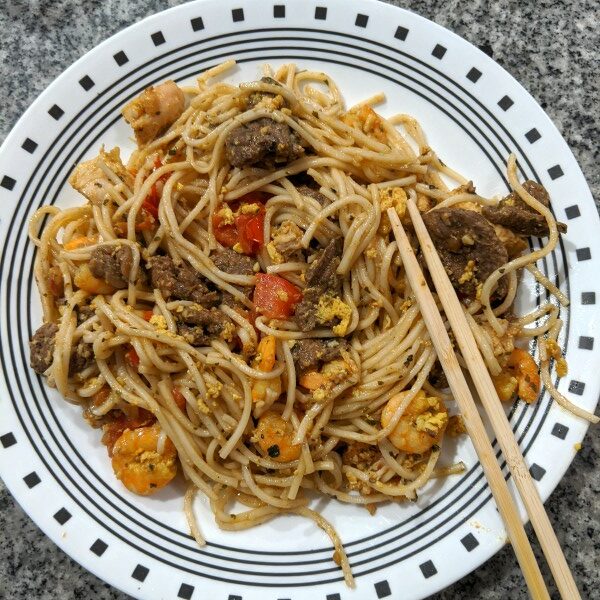 Drunken Noodles – Final Thoughts
As was the case with our first two restaurant prepared Thai meals, Drunken Noodles was quite delicious. The only thing I would have done differently would be to add more chili paste, although if we are able to find Thai chilis in the future we wouldn't need to use the chili garlic paste anyway. I feel like it could have used some more heat, though. I'm sure Lora would disagree.
I am hoping that at some point soon, even though the calendar will roll over to February and our food adventure will move on towards Europe, we will be able to find the time to visit a Thai restaurant and try Drunken Noodles as prepared by actual Thai chefs. If / when we get a chance to do so, we'll be sure to update our blog to let you know how close we came to getting the taste right.
---
Connect with us on Social Media:
---