Moroccan Inspired Chicken: A Meal for Multiple Senses
Without ever having it before, I was craving this Moroccan inspired chicken dish. I was excited beyond measure. It started with this recipe for Homemade Moroccan Spice Blend that I found while searching Pinterest one evening. I had all the ingredients, and the combination of spices, the aroma of that alone was intoxicating. Since then I've looked into some other recipes and come up with my own delicious blend.
Another evening of Pinterest recipe searches lead me to some chicken dishes. They all looked so beautiful. I had some chicken thighs and drumsticks I had been meaning to use, and this would be the perfect recipe for that.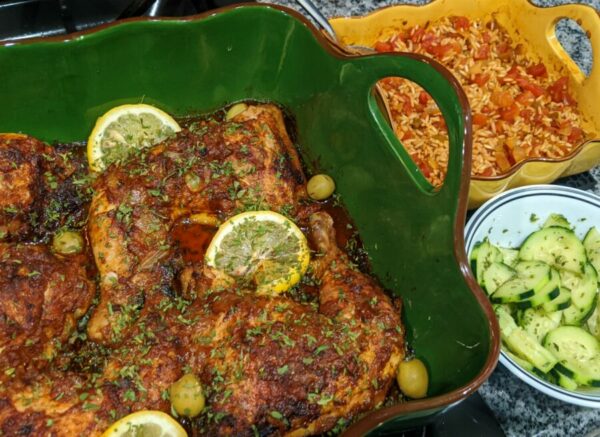 The Ingredients
Spice Blend – The spice blend used for the chicken is called Ras El Hanout. It's a blend with North African roots, there is no set recipe for it. Coriander, Cumin, Paprika, Ginger, and Turmeric are common spices used. My recipe uses these five plus Brown Sugar, Cinnamon, Salt, Pepper, All Spice, Nutmeg, and Cayenne. You can absolutely use use a combination of these spices in smaller amounts. But we think once you've tried this dish, you'll want to have some Ras El Hanout on hand.
Olive Oil – You'll need this for frying your chicken and later onions.
Onions – They usually add a bit of savory to a recipe, while this one has plenty of savory, the onions are a wonderful compliment and addition.
Broth – The Chicken Broth soaks up all the spices and creates a nice marinade; perhaps a thin sauce, as it cooks.
Lemons and Olives – They add some color and interest. This is a beautiful dish, it is flavorful and aromatic. The lemons and olives add a nice pop of color, plus you'll need half of a lemon juiced to add to the broth. The acidity in lemon juice helps flavors pop.
Parsley – Parsley is just a lovely garnish to top this dish off.
Preparation
First, I seasoned the chicken with the spice blend and let it sit in a bowl for 2 hours prior to cooking.
When it was time to get the dish ready, I added the olive oil to a pan over medium high heat and set the oven to preheat at 375° F / 190° C. The chicken cooked in the pan until it was a nice golden brown on both sides, this should take 5-7 minutes or so per side.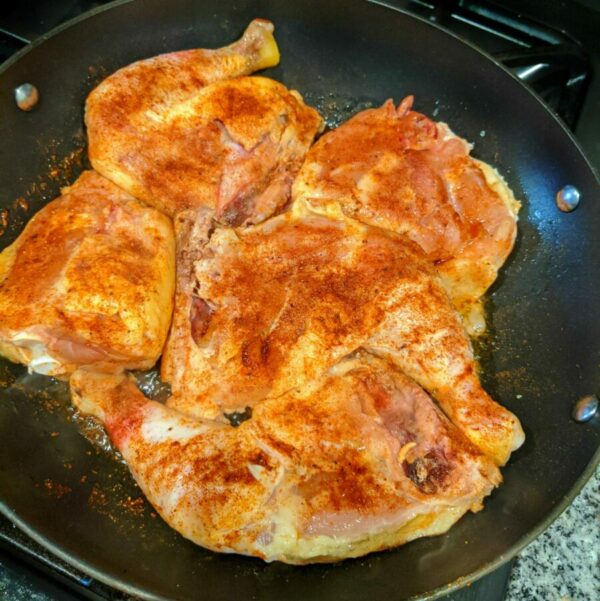 Once browned, remove the chicken from the pan and add to an oven safe casserole dish. Next add your diced onions and cook until tender, 4-5 minutes or so. Once tender, add the chicken broth and spice blend to the pan with the onions. Let that combine for a minute or two. Last thing before cooking is to spoon the broth mixture over the chicken and add the lemon slices. Then cook uncovered for 30 minutes or until the chicken is done.
Once it is done, remove the casserole dish from the over, sprinkle the lemon juice over everything, add the olives, and garnish with parsley.
During cooking, the house filled with such an amazing aroma. Be it the spices on the chicken, maybe the spices in the broth with the lemon, I don't know. What I do know is that until this was ready to go, I was STARVING!
Moroccan inspired chicken recipe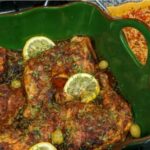 Print Recipe
Moroccan Inspired Chicken
Inspired by the flavors of Ras El Hanout seasoning, this chicken dish is a beautiful way to serve this aromatic spice blend.
Ingredients
2 ½

Tbsp

Ras El Hanout, divided

Recipe available on our site!

6

Chicken Thighs or breasts

If using drumsticks, increase to 10 or 12 depending on size.

2

Tbsp

Olive Oil

1

Onion

Thinly Sliced

1

cup

Chicken Broth

1

Lemon, divided

1/2 juiced, 1/2 sliced

⅓

cup

Green Olives

Whole or Sliced

1

Tbsp

Parsley
Instructions
Use 1/2 Tbsp of the Ras El Hanout to sprinkle over all sides of chicken, place in a bowl or on a plate and refrigerate for at least two hours.

Peel and thinly slice onion and halve lemon. One half will be juiced, the other sliced.

Preheat oven to 375° F / 190° C.

Heat a large pan over medium high heat and add olive oil.

Once warm add chicken until golden brown all around, about 5-7 minutes per side.

Remove chicken to oven safe plate, and add onions to pan to cook until tender, about 4-6 minutes.

Add broth and remaining Ras El Hanout to pan, stir to combine with onions, then pour or spoon over chicken. Place lemon slices and cook, uncovered, for 30 minutes.

Remove from oven and sprinkle lemon juice over entire dish. Garnish with green olives and parsley before serving.
Sides
Such an intensely flavored dish needs some amazing sides. But they can't overwhelm the chicken. Flavorful yet not overbearing.
Moroccan Rice Pilaf
I brainstormed for sides. Rice seemed inevitable. Is there a specific style of Moroccan rice? I found this recipe for Moroccan Rice Pilaf and used it as my inspiration for the dish below.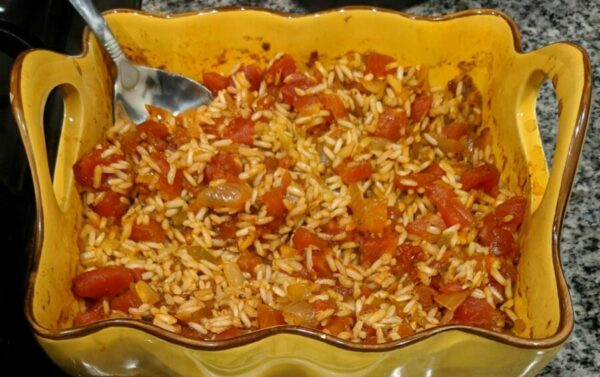 Problem – I don't have some of the ingredients…this was during the situation of 2020 and supplies were scarce at times.
Solution – Substitute!
I didn't have Basmati Rice, what I did have was long grain brown rice. They are not at all the same, and I really should have thought this through. The long grain rice, should have had some more time on the stove, or a soaked for a few hours beforehand. But, because I was winging it, I pulled it out of the oven, stirred it, and cooked for another 20 minutes.
We had no almonds or raisins, not a problem. My solution was to substitute something not at all similar but that I noticed in other recipes I viewed before choosing this one- tomatoes. I drained a can of Rotel and added it to the rice prior to putting it in the oven.
The rice came out delicious. A great combination of an hour of searching through Moroccan Rice recipes.
And a Salad
I was super excited for the chicken and the rice. But it needed just something more. I was inspiring my meal by watching Mark Wiens in his trip to Morocco. If you're unfamiliar with him and love food, be sure to check his channel out.
So I made this Moroccan Inspired Cucumber Salad which perfectly accompanied this meal with it's light lemon and olive oil dressing.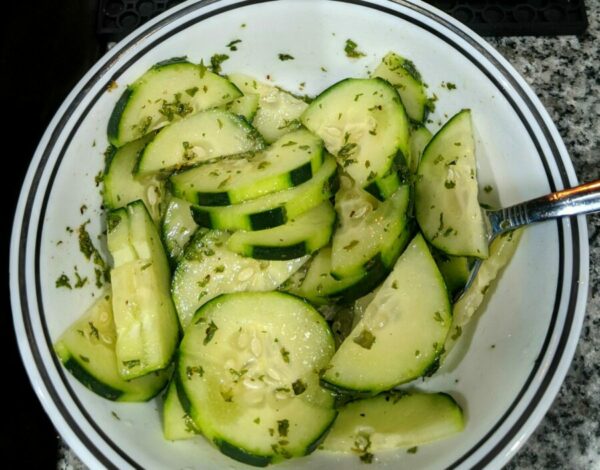 Moroccan Inspired Chicken – Final Thoughts
This was a delicious experiment in food. I'd love to find somewhere to try Moroccan food and see how close I got it.
Matt's only request was to use chicken breast next time instead of the drumstick and thighs. Fair enough; however, he does love bone in wings, so I'm not sure about that one….
We did use the Ras El Hanout seasoning again with some kebabs a few weeks later! I think you'll LOVE those!
---
Hungry for More?
If you liked this post, here are some other recipes you may enjoy!
Also, be sure to follow us on Pinterest so you can save all of the recipes mentioned on our site!
---
---
Connect with us on Social Media:
---