Pieology – personalized pizza for you!
Pieology a concept similar to Subway, but for Pizza. They serve customized artisan pizzas baked in a high temperature open-flame oven. You'll start by choosing your crust followed by sauce, cheese, toppings, etc. Finally a pizza of your exact choosing is ready to go to the oven.
Besides pizza, they also offer salads and desserts.
The first Pieology restaurant opened on 3/14/2011, which happens to be Pi Day!
Pi Day?
Pi is a mathematical constant and irrational number and is written out as π. By definition, pi is the ratio of a circle's circumference to its diameter and is equal to 3.14159. It is a decimal representation that never ends nor settles into a repeating pattern. Pi is also referred to as Archimedes Constant.
The "holiday" of Pi Day is celebrated yearly on March 14th, or 3/14.
For more information on pi, check out the wikipedia article.
To celebrate Pi Day and the anniversary of their founding, we decided it was an obvious choice for lunch, as they were advertising their personal pizzas for just $3.14. We left for our nearest location thinking it would be a "bit" busier than usual, but probably not by much.
Boy, were we wrong!
The line was through the restaurant and out the door! We waited for about half an hour before it was our turn.
I always go for the Alfredo's Alfredo. This pie contains olive oil, three cheese Alfredo sauce, Parmesan cheese and mozzarella cheese as a base. It is topped with garlic, mushrooms, artichokes, fresh basil, grape tomatoes, and black pepper.
I'm not a fan of cooked tomatoes, so I always substitute the tomatoes for Kalamata olives. The great thing about Pieology is that you can customize their creations or create your own masterpiece. This is my personal favorite pie. Kalamata olives are my new favorite snack, perhaps inspired by Greek month?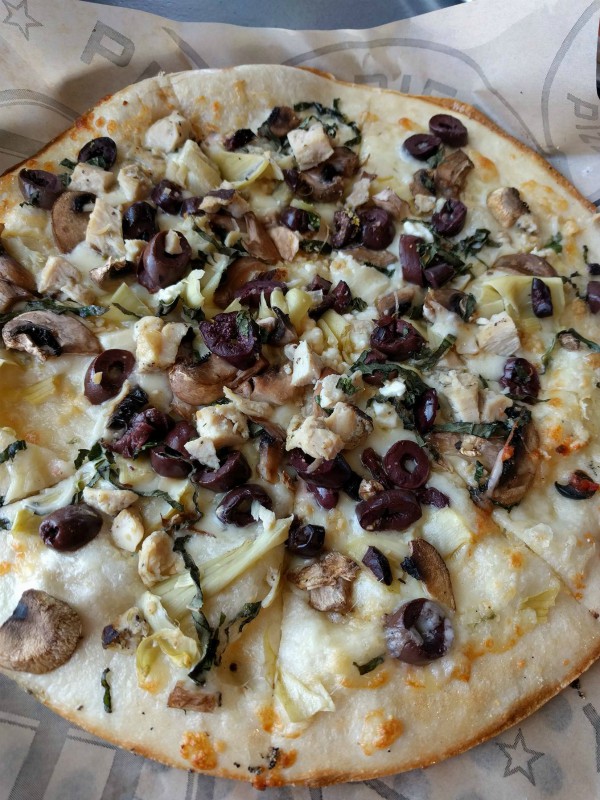 Don't wait until next year on the 14th of March, get yourself to a Pieology as soon as possible!
Restaurant.com: Save on Your Next Meal
Have you been to Pieology or something similar like Blaze Pizza or MOD Pizza? What did you think?
---
Connect with us on Social Media:
---