Fluff Screamer – Inspired by Tony's Lunch of Girardville, PA
What's a "Screamer?" What's "Fluff?" What's a "Fluff Screamer"??
Depending on where you're from you may be asking those questions (and more as you read on), but if if you're from Schuylkill County, PA, you know exactly what I'm referring to.
Tony's Lunch is located in Girardville, Schuylkill County, Pennsylvania. Girardville is a town located 110 miles northwest of Philadelphia. As of the 2000 Census, there was a population of about 1,700 people.
Funny that it's called Tony's Lunch, as most days it doesn't open until 6pm. The days it doesn't open at 6, it opens at 7:30. The greatest late night bite of all comes in the form of the famous Tony's Fluff Screamer.
What's a Screamer?
The Fluff Screamer is one that would make any newbie's head spin with it's crazy combination: a hamburger patty topped with raw onion, a spicy chili sauce (one to make you SCREAM…get it?), a slice of cheese, and a pat of butter. The Fluff goes on top of the chili sauce. It's been probably 7 years since I've had one of these. One late night at the bar, someone volunteered to make the drive to Girardville to get a few. After a few Yuenglings, I was hungry!!!
What's Fluff?
We didn't realize until we moved out of PA that Fluff isn't sold everywhere. Most people are familiar with Marshmallow Creme. Fluff is more like a meringue- texture and looks wise. We didn't have access to fluff, but we did buy Creme, and that was delicious, so I'm even more excited to have one with Fluff again.
We forgot to buy cheese, and on our last time home, another restaurant's Screamer sauce was available at a local Beer Distributor. Combined with Creme instead of Fluff, we got as close as we possibly could 3,000 miles away, and without cheese.
Matt went full steam ahead with everything else, while I opted for no onions or butter.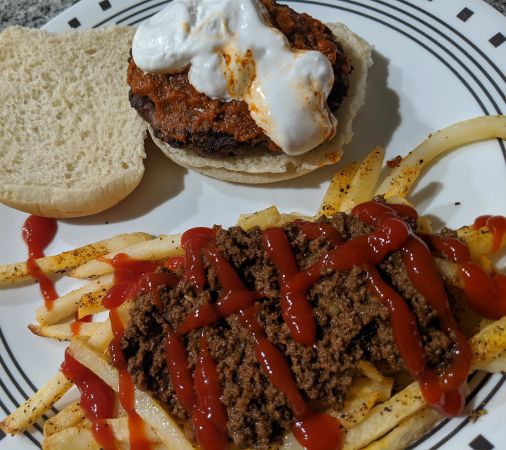 A restaurant that used to be open in another town at home, Frankenburger from Minersville, PA, was selling it's famous chili sauce. The restaurant had long closed, but the grandson of the former owner, who is a friend of Matt's had posted that they had requests for some, so we snagged it on a trip home. This was a true Schuylkill County meal indeed.
While the idea of a hot chili sauce on top of a burger with sweet sugary marshmallow on top sounds….interesting, I assure you, it is delicious. We urge you to check out Tony's if you find yourself within decent distance of Girardville (remember to bring Cash!), or attempt it yourself.
Check out this video of youtuber, emmymadeinjapan, making one herself and her thoughts on it!
Another video is from a local news station, WNEP located in Northeastern, PA. I couldn't figure out how to embed this particular video so you'll just have to go to the post here.
Tag us if you decide to make one! @grecobon on Twitter and Instagram and be sure to share this post!!!