Shrimp Scampi
Matt had been requesting this for a while. This is a dish that you could easily substitute the shrimp for chicken if you prefer and it would still be just as good. You can also use zucchini noodles instead of pasta, or serve it without noodles as a side to another dish. For something completely different, you could chop up the shrimp, slice a baguette, and serve as a bruschetta.
I found this recipe on the food blogger site, Foodie Crush. Click here if you want to see the original post, I'll include the details on the recipe itself below.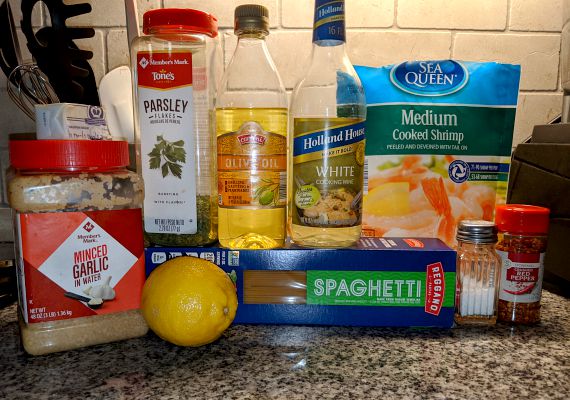 Ingredients
1 pound wild caught large shrimp with shells
4 tablespoons extra virgin olive oil , divided
4 cloves garlic , pressed or minced
1 teaspoon kosher salt
1/2 teaspoon red pepper flakes
4 tablespoons butter
1/3 cup white wine or chicken stock
2 tablespoons fresh lemon juice , or 1/2 lemon
1 tablespoon minced parsley
Instructions
Thaw the shrimp in cool water and remove the shells then devein the shrimp. Discard the shells, rinse and drain the shrimp then transfer to a small bowl. Drizzle with 2 tablespoons olive oil, half of the garlic, 1/2 teaspoon kosher salt and the red pepper flakes. Toss to coat and set let sit for 20 minutes for flavors to build.
In a large skillet, warm 2 tablespoons olive oil over medium heat. Add the shrimp and garlic mixture to the skillet, spacing evenly in the pan. Cook for 1 to 1 1/2 minutes then flip the shrimps over when they begin to become opaque. Cook for 1 more minute or so, watching so the shrimp turn golden but don't brown too much and the garlic doesn't burn. Transfer the shrimp to a small bowl or plate. If you have browned bits of garlic, move the skillet from the heat and remove the browned garlic as it will be bitter.
Melt 3 tablespoons of the butter in the skillet over medium heat and add the remaining garlic. Cook for 30 seconds or until fragrant then stir in the white wine and lemon juice. Cook for 5 minutes or until the sauce thickens and reduces by half, stirring occasionally.
Add the shrimp with any juices back to the pan and stir in the last tablespoon of butter and 1/2 teaspoon kosher salt or to taste. Sprinkle with the minced parsley, stir, and cook for 1 more minute. Serve warm with sourdough bread for dipping, or over pasta or rice.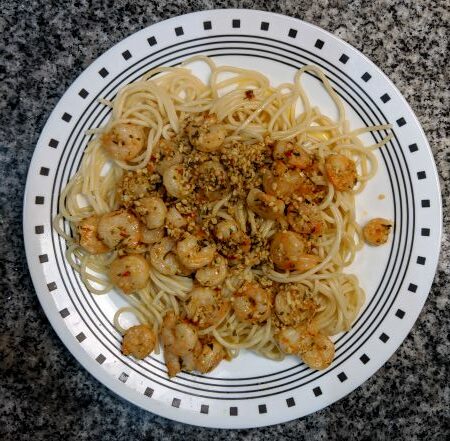 How would you alter this if you made it? Zucchini noodles? Chicken? Angel Hair Pasta? Let us know in the comments below!