Avocado Chicken Salad
This avocado chicken salad is a super simple dish. Matt requests it often for dinner by itself. You can easily customize it to your liking or dietary needs. We've done variations of this depending on what we have available.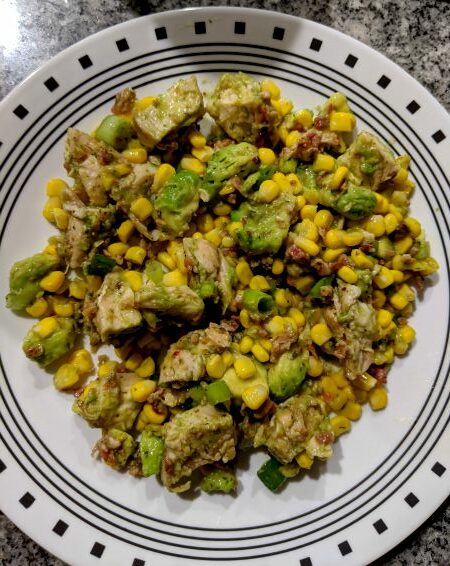 The Ingredients
Chicken- The chicken is the base of this salad, it's what (in my opinion) makes it a main dish.
Corn- Corn and chicken have always paired well together for me. It also adds a necessary pop of color to the salad.
Bacon- I add this for both a pop of color and for the texture. Everything else in this dish can be a bit on the softer side, so that crunch of the bacon is nice to have.
Avocados– Add the creaminess from the avocado and all the other added benefits that avocados offer. Plus they're quite tasty.
Eggs- Eggs serve as another source of protein in this salad. They also just work with it. I of course forgot to grab eggs prior to making this, and we didn't even notice until I went to add the photos to this post. So with that, I say the eggs may be optional.
Creamy Caesar Dressing– I usually refer to the dressing as the binding agent. It's just the term that comes to mind. The creaminess and slight tartness of Caesar pairs well with the less flavorful ingredients that are more prominent in this salad.
Instructions
Start by cooking the chicken and bacon to your liking, you can panfry or bake the chicken and pan fry or air fry the bacon. That's what I mean by "to your liking". Once the meat is cooked, dice the chicken and crumble the bacon then add them to a bowl and set aside to cube.
You can also hard boil the eggs ahead of time or start them while the meat is cooking. Once they are cooled, you can peel and slice them then add to the bowl of cooled meat.
Drain your corn and add that right to the bowl. Then pit and slice your avocado, add to the bowl and stir. Pour dressing to your liking over the salad, give another stir and you are ready to serve.
I also sliced green onions as a garnish this time because I had them and I've been drying them.
New at pitting and slicing avocados? Check out this how to video:
Avocado Chicken Salad Recipe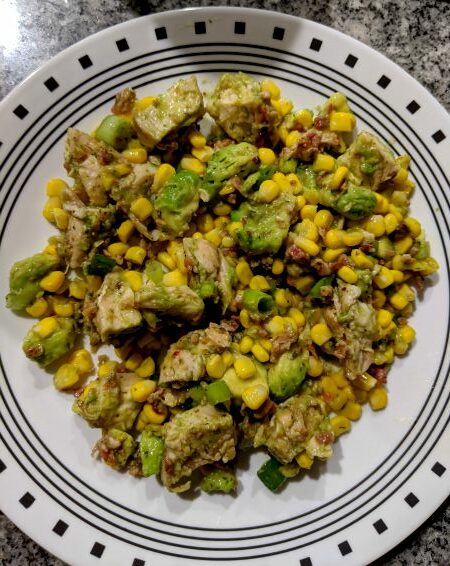 Print Recipe
Avocado Chicken Salad
Ingredients
1

lb

Chicken Breast

cubed

1

can

Corn

14-15oz can

½

cup

Bacon

cooked and crumbled

2

Eggs

hard boiled and sliced

Creamy Caesar Dressing

to taste
Instructions
Cook the chicken and bacon to your liking, chop and crumble, respectively- add to a bowl to cool about 20 minutes.

Hard boil eggs, peel and slice, add to bowl.

Drain the corn and add to the bowl.

Pit and slice avocado, add to bowl.

Add dressing, stir, and serve.
What would you add or take from this salad? I think it would go well over some spinach. Let us know in the comments below!
---
Connect with us on Social Media:
---