Sloppy Joe – A Childhood Classic
We recently thought of something neither of us has had in quite some time, Sloppy Joe. As soon as I brought it up, Matt told me to text a friend of his for his recipe. Adding, that this friend always made it for parties. For me the memory was growing up and my mom making it for us over the summers. Sitting out on the patio to eat dinner with a plate full of chips and my sloppy joe after a long day of swimming is a core memory.
Happy to oblige, our friend sent me his handwritten recipe. Over the years since he has sent me his recipe, I have added to and tweaked it a bit, always looking to experiment.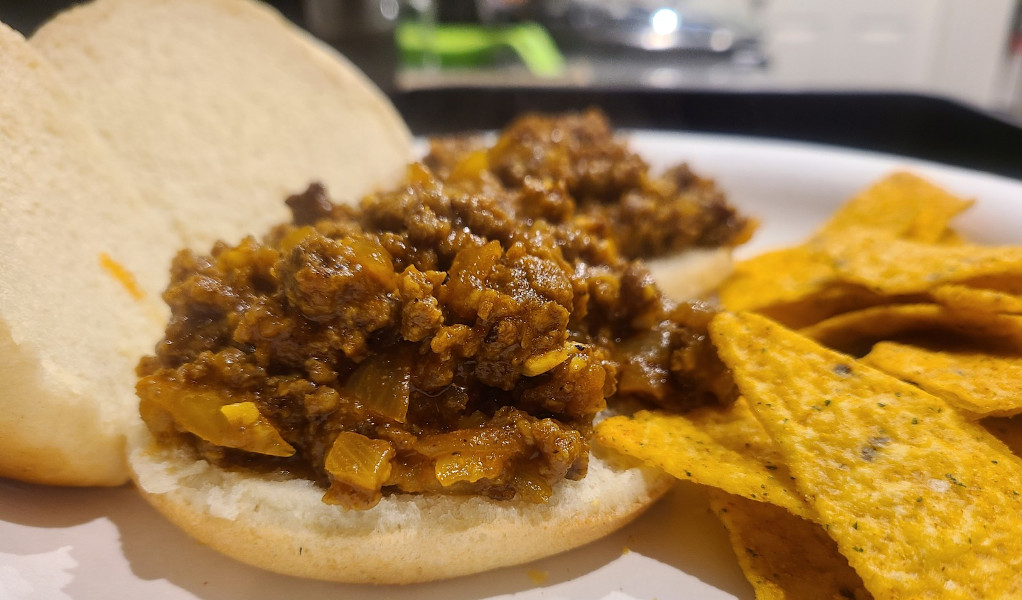 Sloppy Joe Ingredients
Ground Beef – This is the foundation of your dish. Use a leaner meat if you can. Otherwise, you'll need to scrape the fat out of the pan before adding the sauce.
Onion and Garlic – They not only smell great but add an amazing flavor. Chop the onion pieces smaller if you have texture sensitive eaters like I happen to be.
Vinegar and Worcestershire Sauce – These add a necessary tangy flavor.
Mustard, Ketchup, and Water – These are the base of your sauce. Some more plain recipes call for not much more than these, and that's ok. We think the last three ingredients will bring it all together.
Brown Sugar, Black Pepper, Turmeric – Brown sugar is obviously your needed sweetness. The black pepper adds just a touch of spice and is a kitchen staple. Turmeric is something I like to sneak into to dishes with black pepper. Turmeric has anti-inflammatory properties which are activated by black pepper. If you don't love Turmeric, you can absolutely leave it out. I don't notice it while my husband does.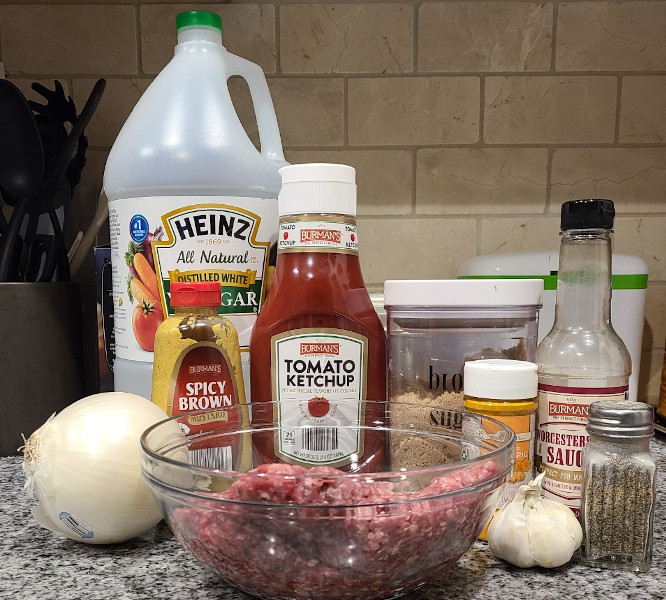 Preparation
Brown your ground beef, in a prepared pan (add a bit of oil to the pan to prevent sticking) for about five minutes over medium high heat. While that is going on, dice your onion and mince your garlic. Add the onion after five minutes and the garlic another five minutes after that.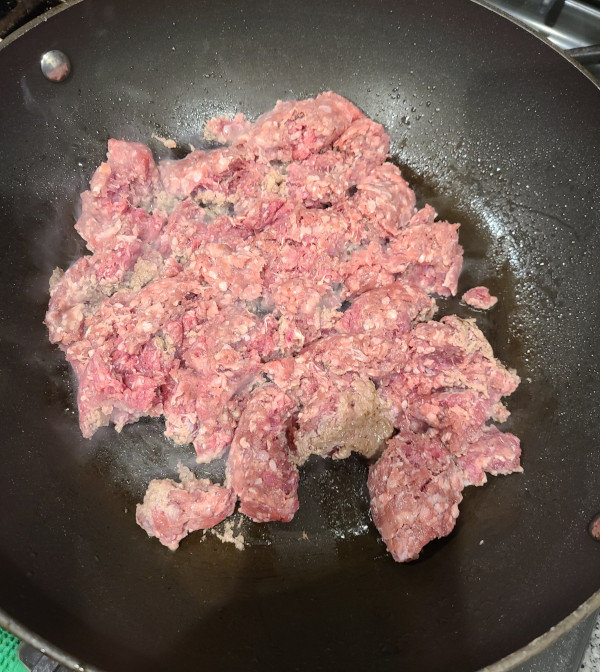 Allow your garlic to cook for 30 seconds to a minute to be come aromatic. You can then add your sauce ingredients at once. I mixed my sauce ingredients in a measuring cup while the onions cooked, but you can add to the pot individually.
Turn the heat down to a medium-low and allow the dish to simmer for about 15 minutes. I leave the pot covered for the first 10 minutes and uncovered for the last bit to help the sauce thicken at the end.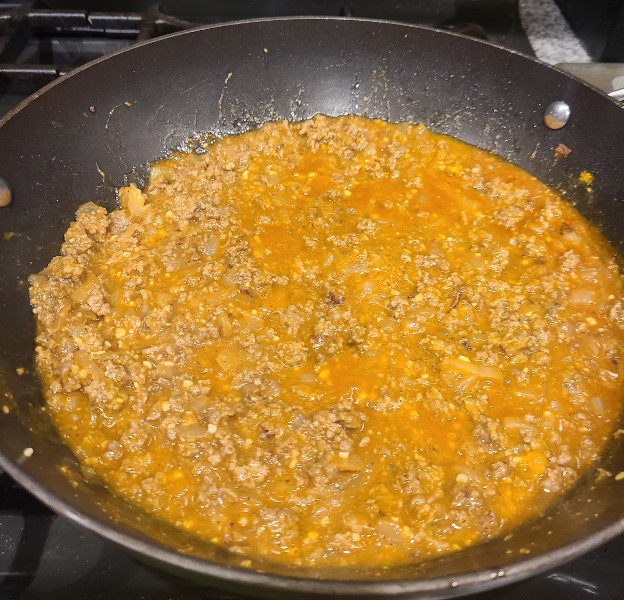 This is a very straight forward, one pot dish. It can be thrown together and on the table within half an hour. We love this dish for a summer evening, or for a night when we aren't really sure what to make. We almost always have every single ingredient and can throw this together rather quickly.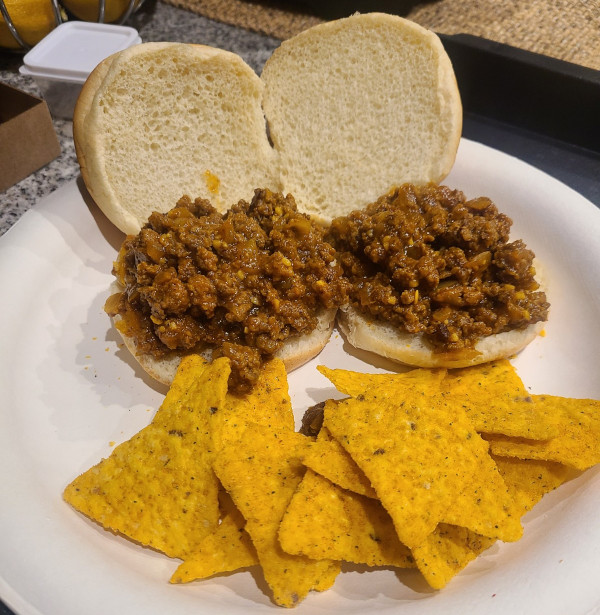 Ways to Serve Sloppy Joe
Traditionally these are served on a burger sized bun. You could also use Hawaiian Rolls to serve them as sliders. These would be great for a party or younger kids. Change things up a big by serving them over fries and adding some cheese.
Additions/Changes
I've seen some recipes that include green peppers or even diced jalapenos. These would add some interesting flavor and texture.
If you want heat, another way would be to add some chili powder to your sauce or the hot sauce of your preference.
Sloppy Joes Recipe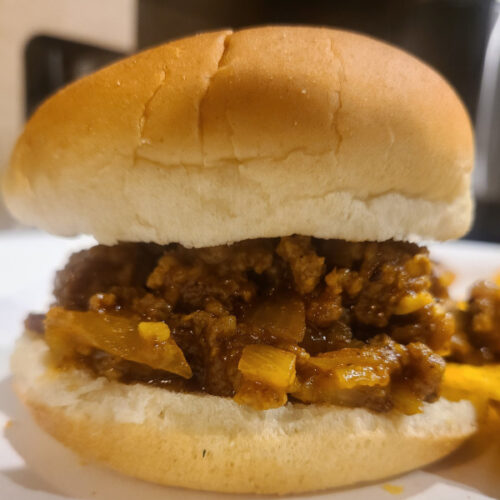 Print Recipe
Sloppy Joe
One of our childhood favorites
Ingredients
1

lb

Ground Beef

½

White Onion

diced

3

Garlic Cloves

minced

¾

cup

Water

¾

cup

Ketchup

1½

tsp

Spicy Brown Mustard

½

tsp

White Vinegar

1

tbsp

Worcestershire Sauce

1½

tbsp

Brown Sugar

½

tsp

Black Pepper

¼

tsp

Ground Turmeric
Instructions
Brown ground beef, in a prepared pan (add a bit of oil to the pan to prevent sticking) for about five minutes over medium high heat.

While the meat cooks, dice your onion and mince the garlic. Add the onion after five minutes to the pan with the beef and stir.

After another five minutes add the garlic and stir.

Allow garlic to cook for 30 seconds to a minute to become fragrant.

Add the rest of the sauce ingredients and turn heat down to medium low.

Cover and simmer for 10 minutes. Remove cover and simmer another 5 minutes.
Notes
Dice a green pepper for additional texture or a jalapeno for texture and spice.
Another way to add heat would be by sprinkling chili powder into the sauce or using a hot sauce of your choice.
Serve the traditional way on a burger bun, or use Hawaiian rolls to serve as sliders at a party or for younger children. 
Add your favorite cheese and serve over fries for a bit of change!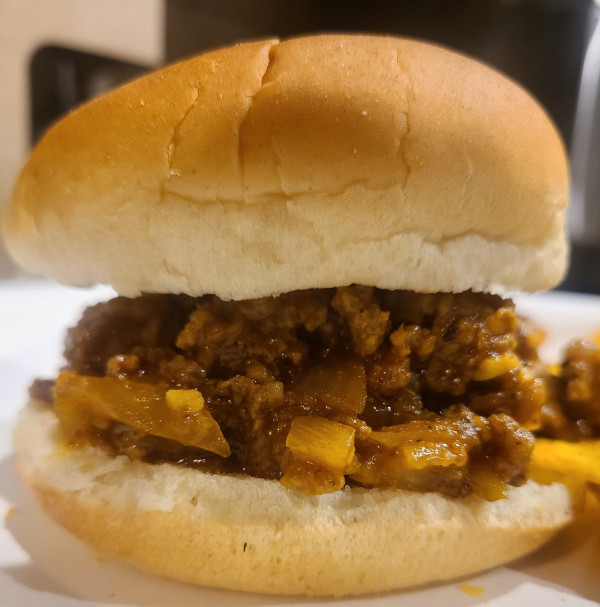 Is there a meal that takes you back? One you haven't thought of in a while? Let us know in the comments below. And be sure to share this post if you enjoyed it!
---
Connect with us on Social Media:
---