Chile Verde – Slow Cooker Satisfaction
This recipe was introduced to me by a friend about 2 years ago, the original is from the recipe site Foodie Crush. Since then, it has become a favorite in our house. I think I make it at least every other month. I'll be posting her recipe below. All of the work is done hours before you'll be eating, so you'll have the day to enjoy the smell as everything blends together in your slow cooker. You could make the salsa verde the night before and store in the fridge if you like.
What You'll Need
While your slow cooker will do most of the work, you'll also need a blender or food processor, a bit of cooking spray or vegetable oil of your choice, and a non stick baking sheet or foil/parchment paper. For the salsa verde you'll need 2 pounds of tomatillos, 1 medium onion, 4 cloves of garlic, 2-4 roasted hatch chiles or one fresh jalapeno, 1/3 cup loosely packed cinlantro leaves, and 1 teaspoon kosher salt. For the onion, we usually buy white onions, so that's what I have been using. Lastly, for the cilantro, we always purchase dried cilantro in bulk, so I use a little less than 1/4 cup of dried cilantro. Substitute ingredients for what you have readily available.
For the meat you'll need 2 pounds of pork, 2 tablespoons of olive oil, 1 tablespoon of butter, and lastly kosher salt and fresh ground pepper for seasoning the pork.
Salsa Verde Preparation
Start by preheating your oven to 450 degrees Farenheit. While the oven heats up, prepare your vegetables. Husk and rinse the tomatillos. I husk mine, placing them in a colander so that they're ready to rinse right away. Those little buggers are sticky! Peel and quarter your onions, peel and smash your garlic cloves, and prepare your baking sheet. I always place a piece of foil on mine, and spray some olive oil, or cooking spray on the foil. Once all the salsa verde ingredients are prepared, place your tomatillos, chiles or jalapeno, onion, and garlic on your pan and into the oven. You can roast your chiles on the grill too to add a smokier flavor to this dish.
Browning the Meat and Flipping Veggies
During this time, you can start browing your meat. Cut the roast into 1/2 inch x 1 inch pieces. We purchase already chopped pork stew meat which saves a ton of time. You'll want to season them with the salt and pepper on each side. In a large pan, pour your olive oil and place your tablespoon of butter. Place the pan over medium high heat, and start browning your meat once the butter melts. The meat needs 3-4 minues on each side and should be done in batches. Once each batch is done, you can add to your slow cooker.
The vegetables will need to roast for 2o minutes, turning half way at the 10 minute mark. Pull the baking sheet out at this time, flip your tomatillos, onion, and jalapeno, and stir around the garlic, then place back in for another 10 minutes.
I try to time this with the meat so that I've worked on one batch of meat during the first 10 minutes of the vegetables roasting. Between the first and 2nd batches of pork, I pull out the vegetables to flip them. You can work at whatever pace works best for you if thats working on just the vegetables or pork first, then the other.
Making the Salsa Verde
After the vegetables are done roasting, I use a tong to pull the chiles or jalapeno off the pan and place onto a plate. I'll then add a glass bowl over the plate so the jalapeno can steam a few minutes. This will make it easier to pull the skin off.
I now have a Vitamix but have used my Ninja in the past as picured. When making the salsa verde, I'll take half of the roasted veggies and add to my vitamix, blend them a few seconds, add the cilantro and finish blending. Then I'll pour that half into the slow cooker with the pork. I'll then add the second half of the vegetables, peel the skin off of my jalapeno, chop it and remove seeds, add that to the vitamix, blend, then add the salt and blend some more. It will blend in the slow cooker with the first batch and all of the meat.
You can then set your slow cooker to high for 4-5 hours or low for 8-10. I usually am in a rush and making this later in the day than expected, so I do high for 4-5 hours. Serve as you like. We prefer soft flour tortillas with some cheese and sour cream, sometimes we add salsa if we have it.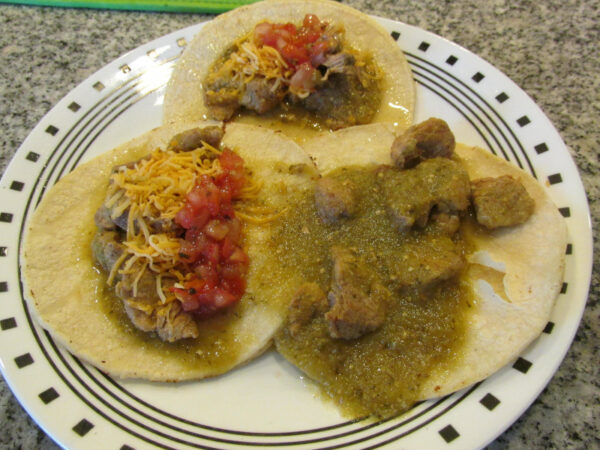 Recipe
Here is the original recipe from Foodie Crush, go to her site as well to read her post.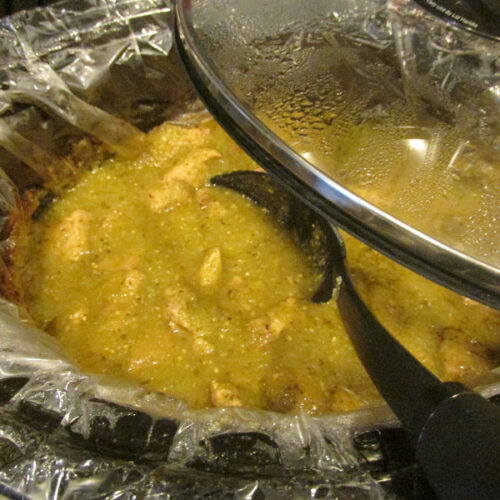 Print Recipe
Chile Verde
Slow Cooker dish from the website Foodie Crush.
Equipment
Slow Cooker

Blender or Food Processor
Ingredients
2

lb

tomatillos

husked and rinsed

1

medium yellow onion

peeled and quartered

4

cloves garlic

peeled and smashed

2-4

roasted hatch chiles or 1 fresh jalapeno

stemmed

⅓

cup

loosely packed cilantro leaves

1

tsp

kosher salt

2

tbsp

olive oil

1

tbsp

butter

kosher salt and freshly ground black pepper
Instructions
Preheat the oven to 450 degrees F.

Spray a baking sheet with cooking spray and place the tomatillos, quartered onion and garlic cloves on the baking tray. If using a jalapeño, add it to the baking tray with the other vegetables.

Roast the vegetables for 20 minutes flipping the vegetables at the 10 minute mark. The tomatillos should be lightly charred and the onion beginning to brown.Transfer the roasted vegetables and roasted Hatch chiles (or jalapeño) and any remaining juice on the baking sheet to a food processor or blender. Blend until almost smooth. Add the cilantro leaves and kosher salt and pulse a few more times until mixed. Set aside or place in the refrigerator until needed.

Cut the pork roast into 1/2-inch by 1-inch pieces of pork. Season well with kosher salt and freshly ground black pepper.

Place a large skillet over medium high heat and add 1 tablespoon olive oil and the butter. Transfer half of the pork to the skillet and cook for about 4 minutes on each side, turning once or twice until the pork is browned on all sides.

Transfer to a slow cooker and repeat with remaining pork.Add all of the cooked pork and any bits and juice to the slow cooker. Pour all of the salsa verde on the pork and cover with lid. Set slow cooker to high and cook for 4-5 hours or low for 8-10 hours.Serve warm with tortillas or use as sauce for enchiladas.
Besides serving these as above, you can add to french fries, over nacho chips, with eggs and potatoes for breakfast. These are just a few of the ways we use the left overs of this dish. Let us know if you make it and what you think!
---
Hungry for More?
If you liked this post, here are some other recipes you may enjoy!
Also, be sure to follow us on Pinterest so you can save all of the recipes mentioned on our site!
---
---
---
Connect with us on Social Media:
---