Sweet and Spicy Glazed Chicken – A Pampered Chef Recipe
We decided to try a new recipe tonight. I've had this recipe for Pampered Chef's Sweet and Spicy Glazed Chicken for years and just always overlooked it.
Three factors contributed to this:
We wanted to try something new and already had the recipe.
We've been shelf shopping this month. (More about that later.)
We were gifted some jarred apricots from a neighbor.
Ingredients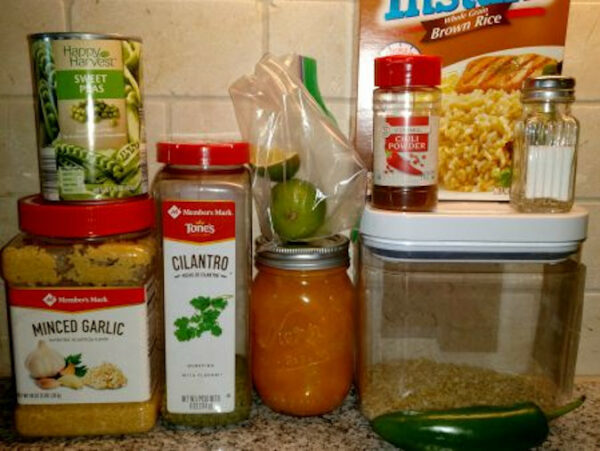 For this recipe you will need:
Apricot Jam
Lime Juice
Jalapeno Pepper
Chili Powder
Salt
Boneless, Skinless Chicken Breast
Garlic
Cilantro
The only thing missing in the picture is the chicken.
Now, you can opt out of the chicken. Substitute the chicken with shrimp or tofu if you like. Make it your own.
The rice and peas are the side dish. The peas will just be heated in a small pot prior to serving. For the rice, I'm going easy as well. You'll start with one cup of uncooked rice and one cup of water in a microwave safe bowl. Then, cover and microwave on high for six minutes.
Since I started making rice this way, even minute rice has become easier. You can substitute the water with chicken broth if you want to add a bit more flavor.
Sweet and Spicy Glazed Chicken – The Process
The recipe states that the lime juice goes in the glaze. However, I have a couple I've set aside in my freezer so I added those in during the cooking process and it just smells amazing.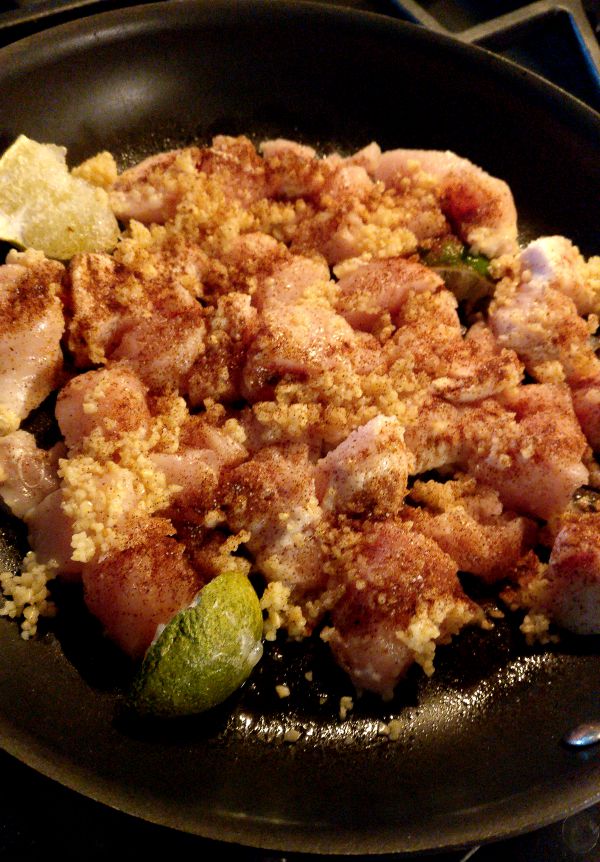 Straying from the recipe slightly, I added the glaze and cooked the chicken a bit longer. It seemed odd to me that the glaze would go on just prior to serving. So, I let the rice fluff up while the chicken cooked in the glaze for a short bit.
Shelf Cooking
I learned the term "Shelf Cooking" from youtuber and blogger Jordan Page of Fun Cheap or Free. From her website:
Shelf cooking is making homemade, balanced, and nutritious meals for your family. Starting FIRST with ingredients you already have on-hand from your fridge, freezer, and pantry, then supplementing with fresh/new items from the store… Not the other way around!

What is Shelf Cooking and How it will CHANGE YOUR LIFE – funcheaporfree.com
Basically, shelf cooking is a method to make the most of your already purchased ingredients. A ridiculous amount of food is wasted every year because it is purchased with good intentions and just forgotten about. Then you find it in the back of the fridge or pantry after it is no longer usable. It's just throwing money down the drain.
The neighbor has an apricot tree and offered up bags of apricots in addition to a can of jarred apricots. We already had the chicken, spices, and the jalapeno from another meal I made last week. The only thing we had to buy specifically to make this meal was a 50 cent can of peas. Save yourself some money this week and take yourself shopping in your own kitchen.
The Recipe:
©The Pampered Chef, 2006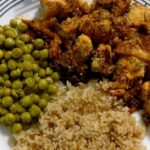 Print Recipe
Sweet and Spicy Glazed Chicken
Original recipe is from Pampered Chef. This is our altered version.
Ingredients
½

cup

Apricots

jarred

1

tbsp

Lime Juice

1

Jalepeno Pepper

seeded and finely chopped

2

Boneless, Skinless Chicken Breasts

halved

1

tbsp

Garlic

minced

1

tsp

Chili Powder

½

tsp

Salt

1

tbsp

Dried Cilantro
Instructions
Slice and chop apricots, add to a microwaveable bowl and heat on HIGH 30-40 seconds until soft. Add chopped jalapeno and lime juice. Keep lime slice for later.

Halve chicken breasts and flatten using a meat tenderizer.

Mix chili powder and salt, set aside. Rub garlic over chicken. Sprinkle evenly with seasonings.

Lightly spray a skillet with olive oil and heat over medium-high until hot. Add chicken and lime (squeeze out any juice that may be left) and cook 7 minutes, turn and cook another 5-7 minutes or until chicken is cooked through.

Add apricot mixture, sprinkle with cilantro, and cook another 5 minutes.

Serve with any side of your choice. We chose rice and peas.
As stated, I shared our altered version. Here is the original recipe card from Pampered Chef. You can click on each photo to expand it.
Sweet and Spicy Glazed Chicken: Thoughts
The chicken was very enjoyable, definitely something we'd make again. The apricots calmed down the spice of the jalapeno. Matt actually asked to spice it up a bit for next time.
The chicken cooked nice and evenly in the pan. It wasn't overcooked or dry at all. Let us know if you'd make this for your family! And head to Pampered Chef's website to find a representative near you if you don't have one already.