CUBAN INSPIRED RICE WITH BEANS AND PEAS
We had our Cuban Pork in the Crock-pot, and I needed something to go along with the sandwiches I was putting together. I browsed the internet going back and forth between recipes, trying to figure out which recipe seemed most fitting.
Then the lightbulb went off…I decided to combine the two recipes that looked best, see what the best of both would give us.
I'm so glad I did.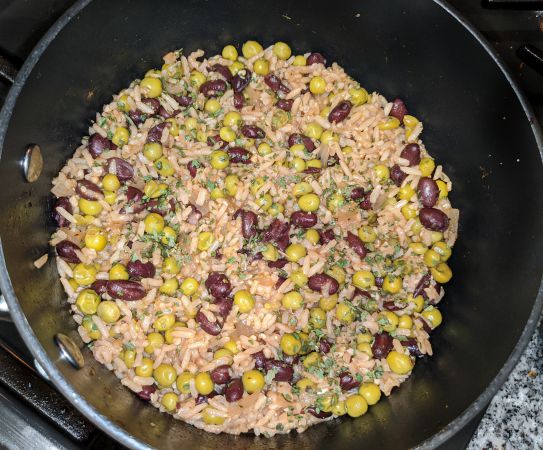 These Two Recipes Were Combined:
How I Combined/Altered Them:
Ingredients
1 1/2 cups rice, uncooked
1 15 oz can black beans, drained
3 cups beef broth
2 Tbs red wine vinegar
4 cloves garlic, minced
3 tsp cumin
salt, pepper to taste
1/4 cup cilantro, optional
1 can peas
1/8 teaspoon paprika
Instructions
Heat some broth in a large saucepan. Add garlic and fry around 3 minutes. Then add vegetable broth and rice. Cook for around 10 minutes.
Last, add the black beans, peas, vinegar, paprika, and cumin. Season with salt and pepper.
Cook for around 5 minutes more, check if the rice is done. Divide onto plates or bowls and serve with the optional cilantro.
We served some pickle chips on the side of the rice, and after the bread was gone for the sandwiches, Matt had the idea to add the remaining meat in with the rice, and drizzle some of the mustard from the sandwiches on top. I think that's lead us to a possible new dish for picnics…stay tuned!!!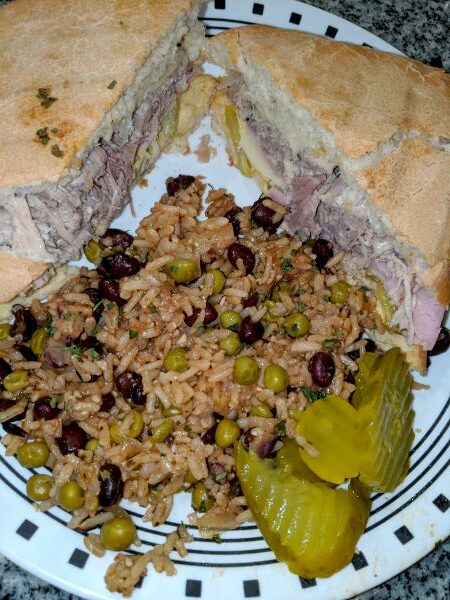 Have you ever had Cuban or Cuban Inspired food?? What are some actual Cuban dishes you think we should try? Let us know in the comments below!!!