Chili Lime Shrimp Over Quinoa – Quick and Delicious
This recipe actually came from a register print out when we bought butter a couple years ago. Intrigued, we kept it in the recipe book. We make it if not once a month, once every other month. Chili Lime Shrimp Over Quinoa has become one of our very favorite recipes.
For this recipe you need:
1 cup of quinoa
2 cups frozen peas, thawed
3 tablespoons of light spread, divided
1/4 cup lime juice,divided
1/2 teaspoon chili powder
1 lb peeled and deveined uncooked large shrimp
3 tablespoons chopped fresh cilantro leaves, divided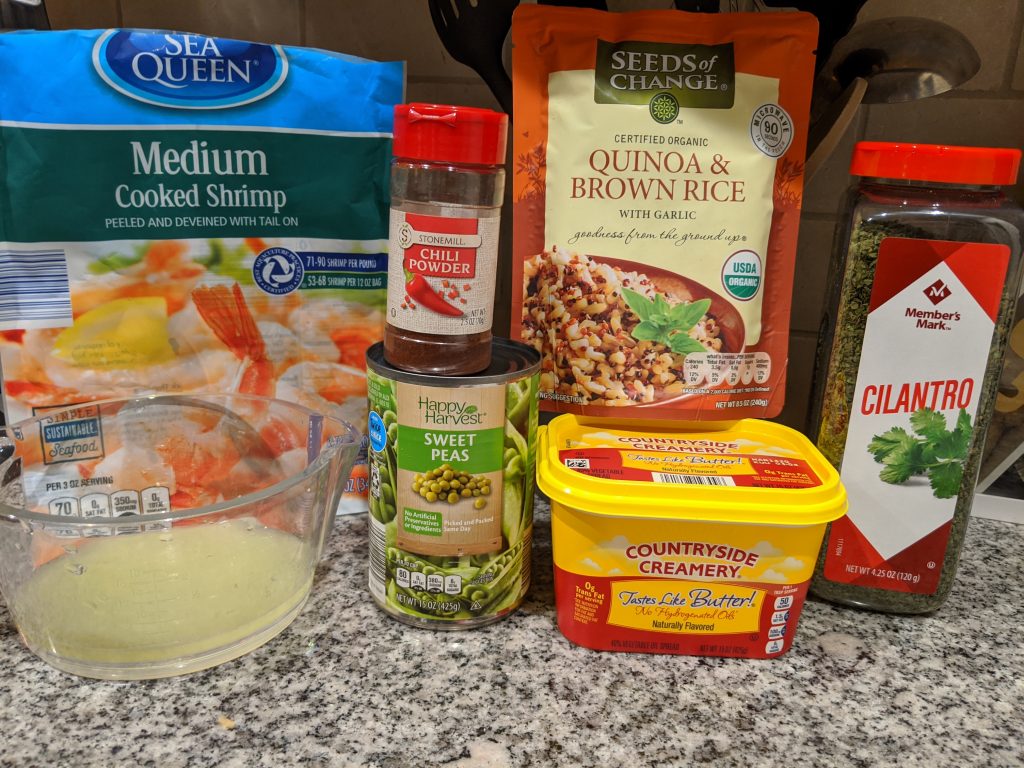 So, we do things a little bit differently… I use the quinoa and brown rice from the company Seeds of Change which we purchase at Costco in a six pack. They microwave in 90 seconds and they're delicious. I think the brown rice just adds a little something to it.
We also usually don't buy frozen peas often, so I usually use a can of peas. At 15 oz it's close enough to the two cups needed for this recipe.
I rarely have fresh cilantro and I use cilantro a lot; so we get that from Sam's Club.
For the shrimp, I use medium cooked shrimp that we get at Aldi, It's already peeled and deveined. I just defrost it and take the tails off; because it's already cooked, it shortens the cooking time. We also use the light butter from Aldi, basically their brand of I Can't Believe It's Not Butter.
Recipe: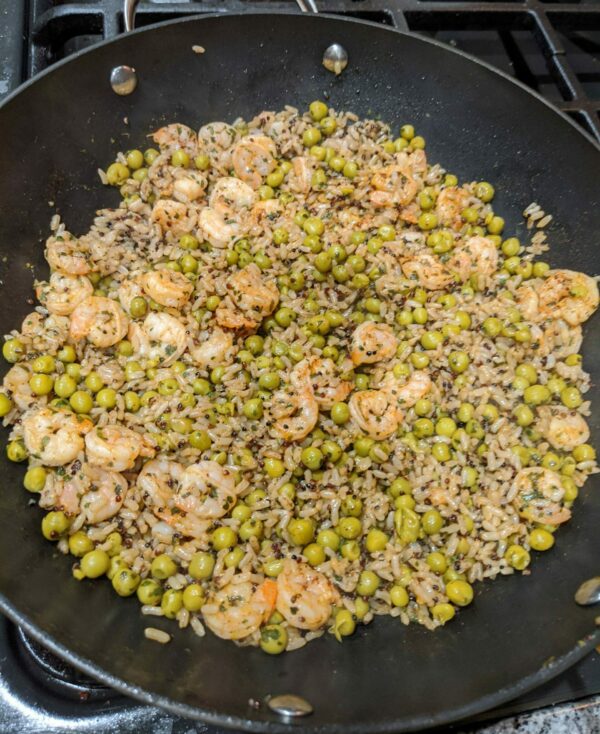 Print Recipe
Chili Lime Shrimp Over Quinoa
Ingredients
1

cup

quinoa

1

can

peas

15 oz, drained

3

tbsp

light butter

¼

cup

lime juice

divided

½

tsp

chili powder

1

lb

shrimp

peeled and deveined, already cooked if you want to shorten cooking time

3

tbsp

cilantro leaves

chopped, divided
Instructions
Cook quinoa according to package directions.

Melt 2 tablespoons light butter in large nonstick skillet over medium-high heat. Add 2 tablespoons lime juice and chili powder and cook until bubbly. Stir in shrimp and cook, turning once, until pink, about 4 minutes (if using pre cooked shrimp, 2-3 minutes is fine). Add peas at this time too. Remove from heat; stir in 1 tablespoon of the cilantro.

Add quinoa to skillet. Stir remaining 1 tablespoon butter, 2 tablespoons cilantro and 2 tablespoons lime juice. Stir and serve.
If curious, here is the original recipe for Chili Lime Shrimp Over Quinoa from I Can't Believe It's Not Butter. You can see how we have altered it.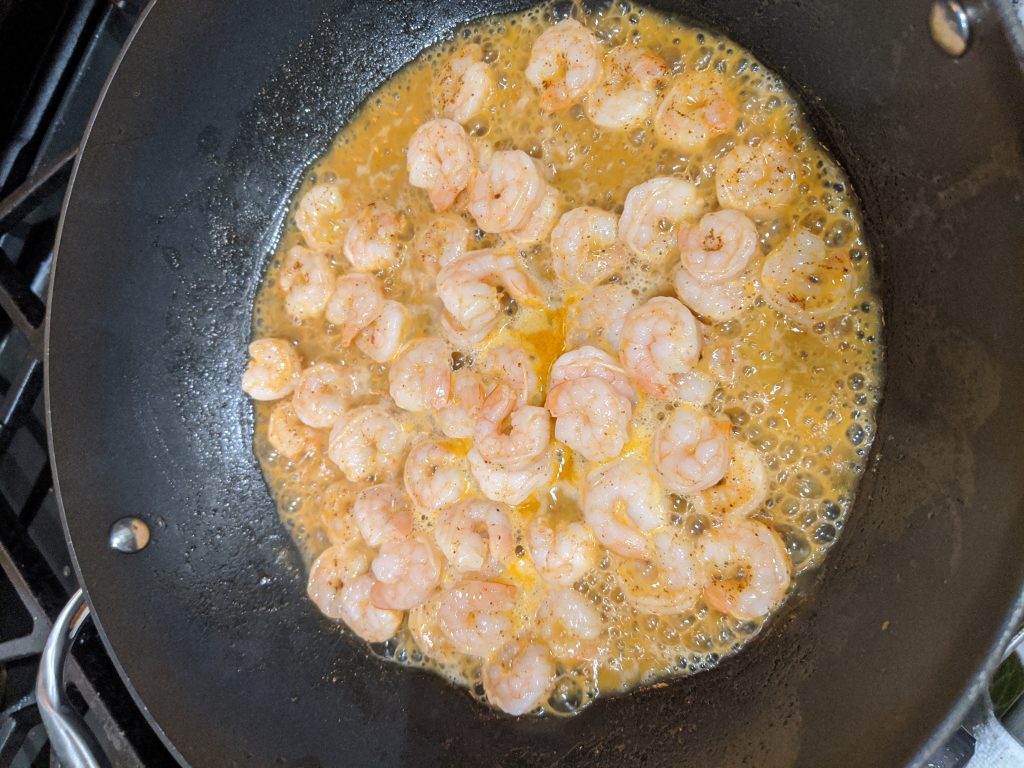 The recipe says to start with cooking the quinoa first; however, since it only takes 90 seconds, I do everything else first and then while the shrimp is heating up I start the quinoa and brown rice.
So, I melt the butter, add the lime juice and chili powder. We like chili powder so I add a few more dashes. When combination cooks and bubbles up a bit then add the shrimp. The recipe says to cook until pink however it is already cooked, so when you add the shrimp to the pan, it only needs a minute or two.
This is when you want to put your quinoa and brown rice in the microwave if you're using that option.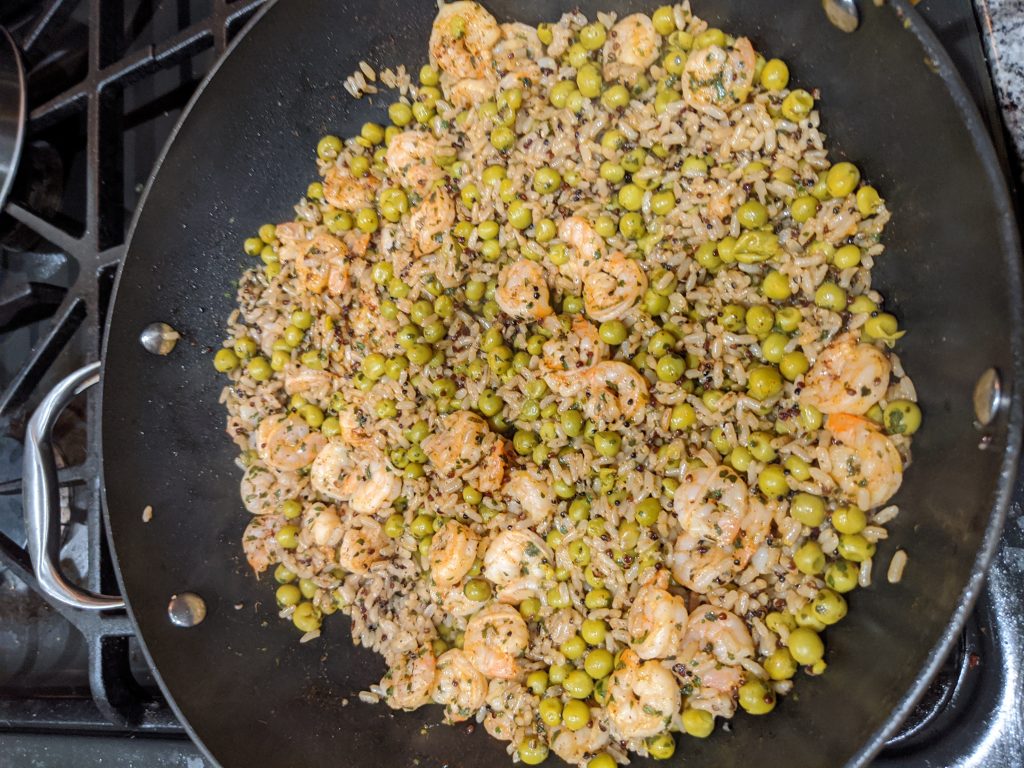 If you use the quinoa that steams in the microwave give it a few seconds before you try to open it so you don't burn yourself with the steam. Stir everything together and you're good to go. Like I said before, this is one of our favorite meals. It's quick, easy, and delicious.
Here are some other meals we've enjoyed with shrimp.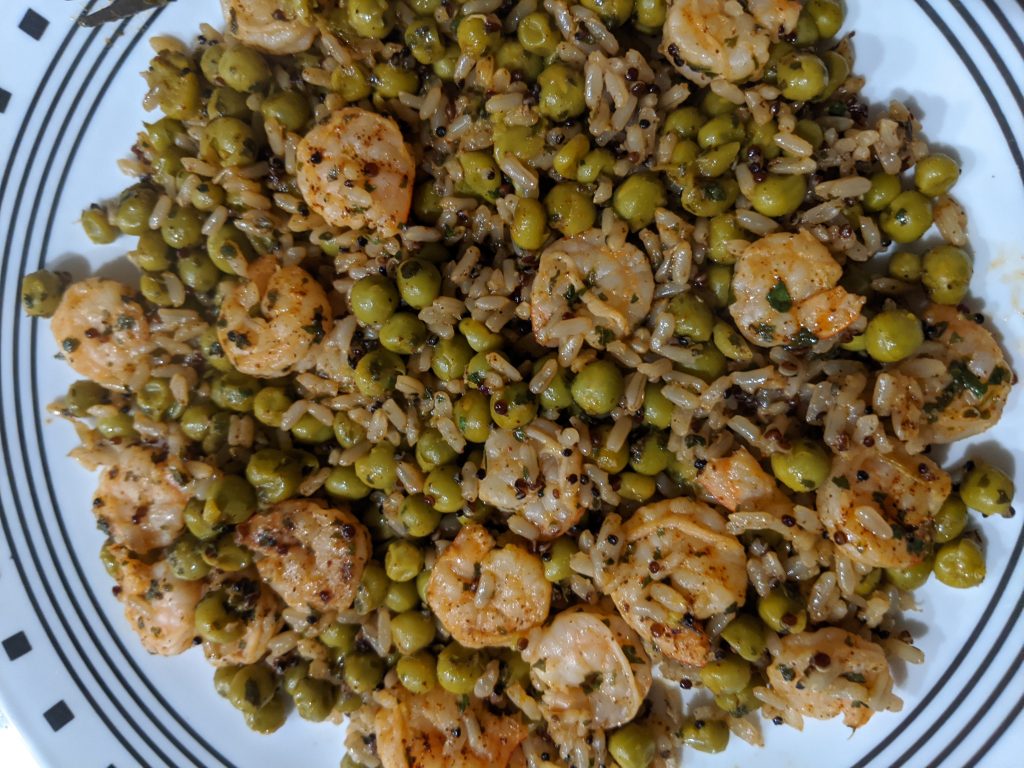 ---
Connect with us on Social Media:
---