Steak and Potato Salad
I used to hate potato salad.
I wouldn't allow it anywhere near my plate. A few years ago for a picnic we were hosting, Matt requested potato salad. I gave it my best and it was a hit! I used elements of the Macaroni Salad that I make which he loves, and went with it. It's super simple, with easy to find ingredients, probably all things you have in your kitchen already!
Ingredients:
5-6 medium potatoes
1/2 of a white onion
3 green onions
3 Tablespoons Yellow Mustard
1 Tablespoon Spicy Brown Mustard
Salt and Pepper to taste
Chopped parsley and oregano to taste
Instructions:
Chop potatoes and put in a pot, cover with water to 1 inch above top of potatoes, peeling is optional
While potatoes are boiling, chop 1/2 onion and green onions, put aside
Drain potatoes and lightly rinse with cold water. Allow to cool for a few minutes.
When potatoes are cool to the touch, combine with onions and other ingredients and stir.
Refrigerate for at least 30 minutes prior to serving.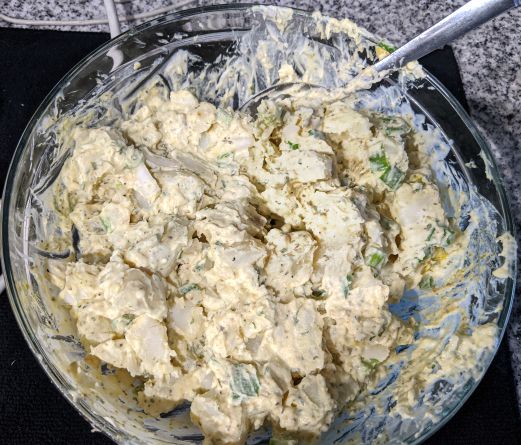 We served the potato salad along with a steak and a side salad consisting of just lettuce, cucumber, Parmesan/Romano cheese and Ranch dressing. This simple meal, was just wonderful, and will be added to the regular rotation.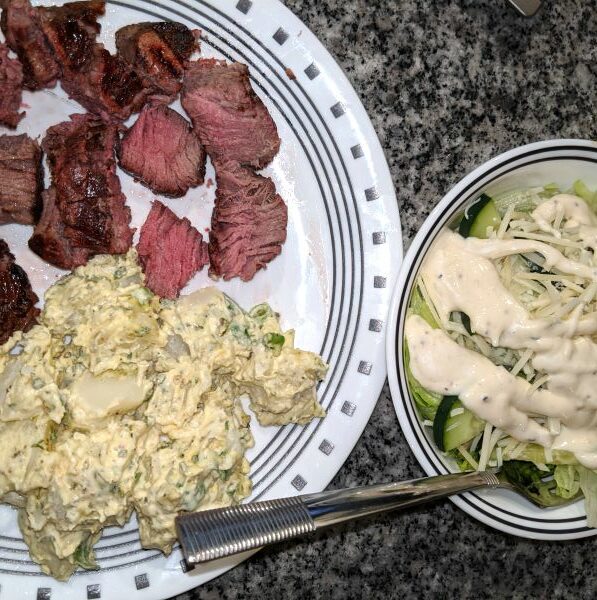 There are many varieties of potato salad, and I'm learning to enjoy them all. Do you have a favorite potato salad recipe? Let us know in the comments below!!