Chicken, Mushrooms, and RiCE: Oven Baked and Sprinkled with Bacon
This chicken, mushrooms, and rice dish is so incredibly simple to make. Everything goes in the pan uncooked, then comes out so delicious and baked to perfection. Making just about everything in one pan in the oven was a welcome change. Just about everything because of the addition of bacon which was cooked in a pan earlier in the day.
This recipe comes from the site recipetineats. I'm going to link to their original recipe below, the recipe I will be posting is how I adapted the recipe for us.
Minimal Prep
What amazed me the most was the first step where the butter, garlic and onion are sautéed IN THE OVEN?!? What? All you have to do is mince your garlic (or be efficient and used already minced garlic like I did), chop your onion, and slice up the butter a bit. Place everything in the baking dish and pop in the oven for 15 minutes or so. Check around 10-12 minutes to make sure nothing is burning or browning too much. Stir at this point if you need to.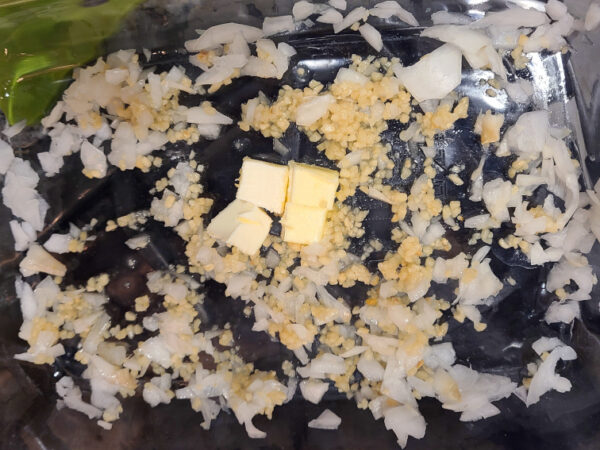 While those are sautéing, season your chicken. Use whatever seasoning you want or like. You can make your own seasonings or use a premade seasoning. We followed what the recipe stated, with one addition.
The original recipe suggests:
1 tsp paprika powder
1 tsp dried thyme
1/2 tsp garlic powder
1/2 tsp onion powder
3/4 tsp salt
Black pepper
I also added in half a teaspoon of Turmeric. When eaten with black pepper, Turmeric is great for inflammation and digestion.1 I sneak Turmeric into many a meal.
Mix your spices together and then coat each of your chicken breasts. The original recipe calls for bone in chicken thighs. We personally only buy skinless chicken breast, so that's what we used.
When the baking dish comes out of the oven, layer your preferred rice over the onion/butter/garlic combo and spread it around to layer evenly. The original recipe states to go with whatever type of rice you like. Try to stay away from basmati and risotto as they need an entirely different cooking process.
Next, add your seasoned chicken.
No Waste Here
We had some other veggies to use, mainly the mushrooms, but also a few black olives which I quartered and added to the pan as well. The mushrooms soaked up all of the flavors in this dish beautifully and cooked to perfection. The olives added a nice touch as well, and I didn't have to worry about either veggie going to waste.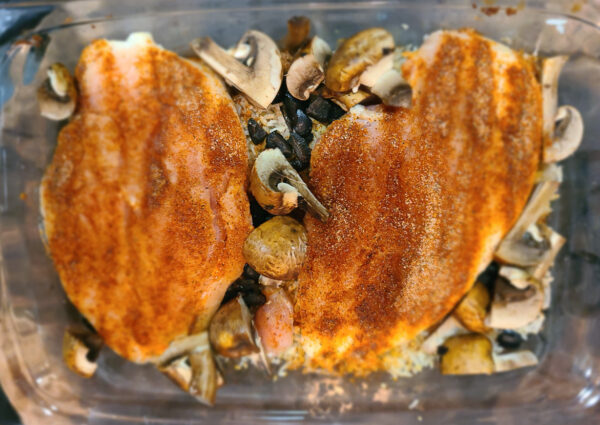 Final Addition
Two final things to add – liquids. You'll want to have 1 1/2 cups of hot chicken broth and 1 1/4 cups of hot water. I heated water in a kettle and added it to 2 bullion cubes for the broth, earlier in the day. When it came time to add to the dish, I microwaved the broth, and heated the kettle back up for the water. You can keep the 1/2 cup of broth for whatever. We like to add a little to the dog's dinner for a tasty treat.
Cover the dish with foil and place into the oven for 30 minutes.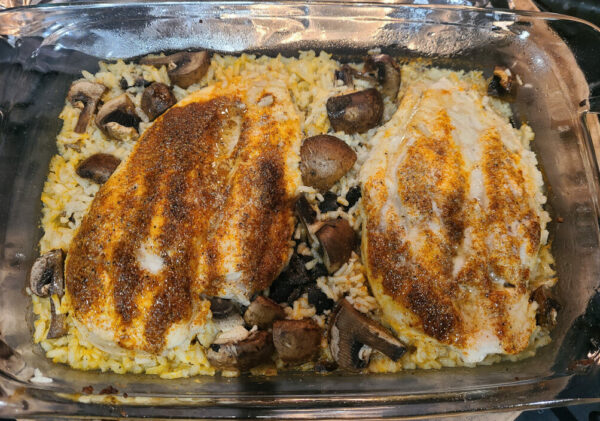 After 30 minutes, pull the baking dish out and remove the foil. It was at this point, I added a few chopped up slices of bacon that were leftover from breakfast. I thought they would add a nice touch to the dish. The hardest part was not eating all of the bacon during the day!
Place the dish back in the oven uncovered and bake for another 20 minutes.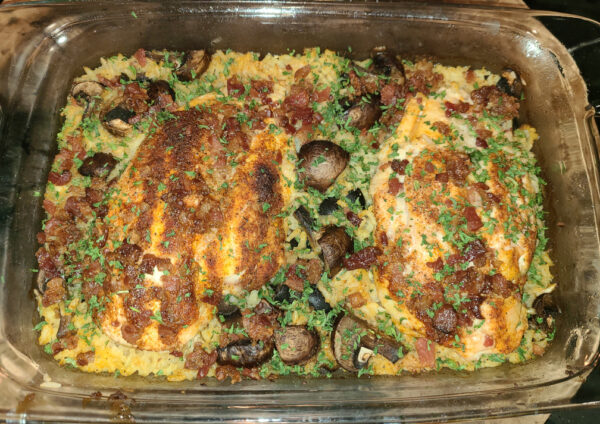 Remove from the oven and top with parsley for a pop of color. Allow to rest a few minutes before serving.
Recipe
As I stated above, the original recipe comes from the site recipetineats. You can find the original here.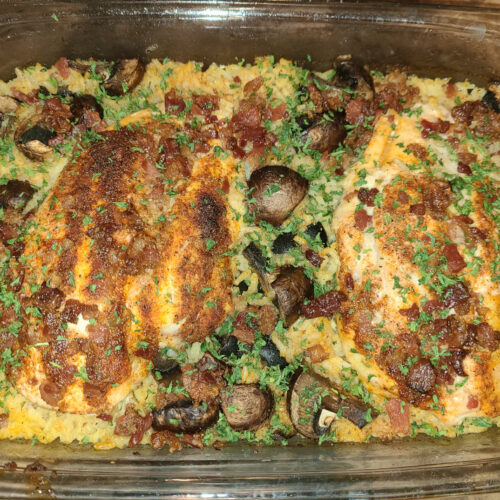 Print Recipe
One Pan Chicken, Mushrooms, and Rice
A hearty dish that requires minimal prep time and will fill up everyone at your table.
Ingredients
½

onion (white, brown, or yellow)

chopped

2

large chicken breasts

2

cloves garlic (or tbsp already minced)

2

tbsp

butter

1 ½

cups

uncooked rice

1 ½

cups

chicken broth or stock

hot

1 ¼

cups

water

hot

4

oz

mushrooms

sliced

5-10

olives

quartered

3

slices

bacon

cooked and chopped
Chicken Seasoning
1

tsp

paprika

1

tsp

dried thyme

½

tsp

garlic powder

½

tsp

onion powder

¾

tsp

salt

dash

black pepper

½

tsp

Turmeric powder
Instructions
Preheat oven to 350°F/180°C.

While oven is preheating, chop onion, mince garlic and slice/divide butter. Spread all in bottom of 9×13" baking dish and bake for 15 minutes to sauté.

While sautéing, mix seasonings together and cover chicken breasts, slice mushroom, quarter olives, and chop bacon.

When onion/garlic/butter mixture is done, remove from oven. Pour rice into dish, spreading to make sure evenly distributed. Then add seasoned chicken to dish.

Follow with mushrooms and olives.

Add broth and water. Cover with foil and bake for 30 minutes.

After 30 minutes remove dish and add bacon. Bake again, uncovered for another 20 minutes.

Remove from oven and garnish with parsley, allow to sit 5 minutes or so before serving.
We served ours alongside my favorite salad, but instead of red onion, we used chickpeas. They were a nice substitute to a salad we already love. Serve with whatever you like. A nice, fresh, colorful salad does compliment this dish quite well though. I included the recipe for that below, just switch out the onions for chickpeas if you like and this time the olives are in the hot dish, instead of the salad.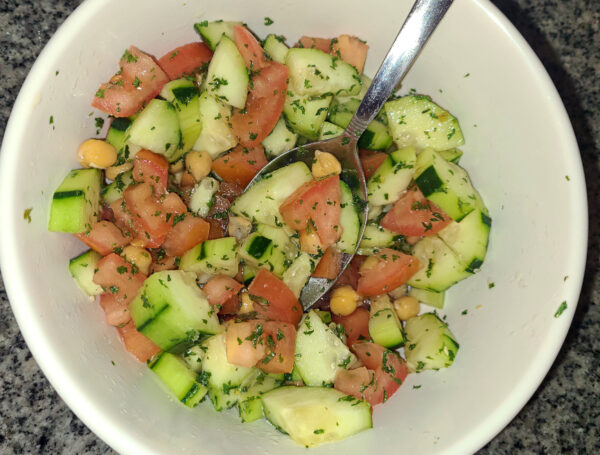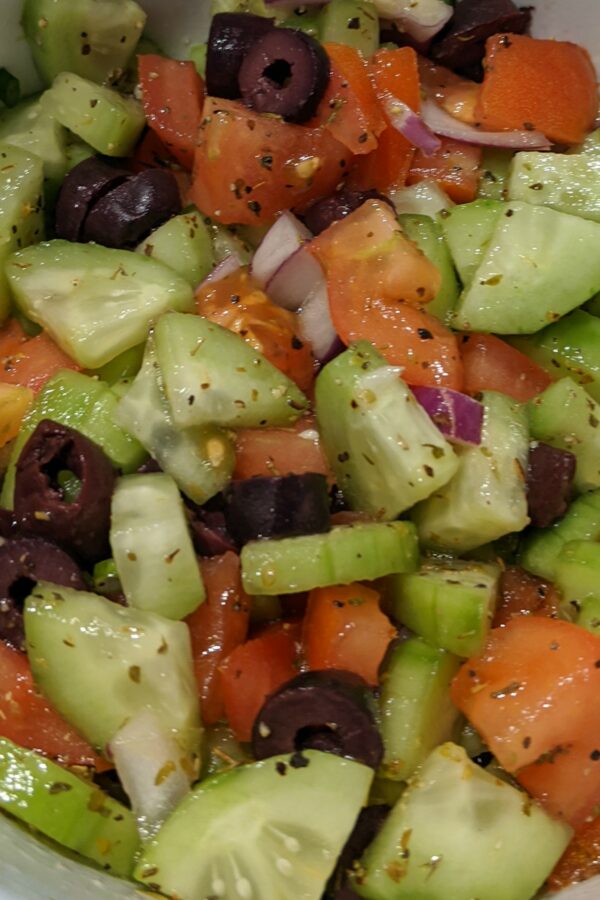 Print Recipe
Greek Salad
The perfect salad for just about any occasion!
Ingredients
2

cucumbers

peeled and chopped into quarter 1/4 moons

½

red onion

sliced

¼

cup

olive oil

1 ½

tbsp

lemon juice

2

tsp

dried oregano

½

cup

crumbled feta cheese

salt and pepper

to taste

black olives

pitted and sliced to taste
Instructions
In a smaller bowl, mix the olive oil, lemon juice, and dried oregano. Whisk together and pour over the vegetables and mix well. Season salad with salt and pepper to your liking.

Sprinkle feta cheese and olives over the top of the salad and mix before serving. Taste and adjust spices if need be.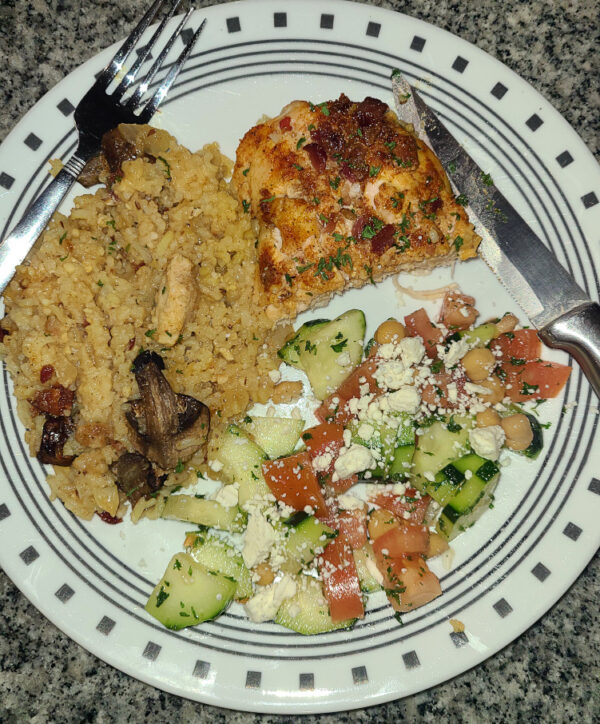 And there you have it! A one pot, oven baked chicken, mushrooms, and rice dinner, with some extras, that you can customize to your liking. Hopefully this gives you a starting point.
---
If You Like this Chicken, Mushrooms, and Rice Dish, you may also like:
Here are a few more chicken recipes, or see all of them here!
---
---
Connect with us on Social Media:
---
---
Sources:
"Why Turmeric and Black Pepper Is a Powerful Combination"; Amy Goodson, MS, RD, CSSC, LD; healthline; July 4, 2018